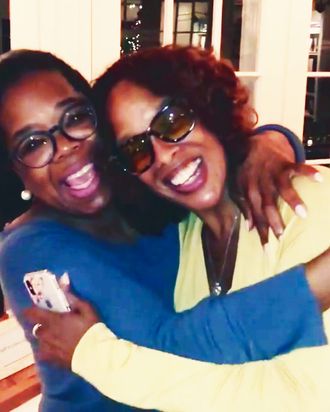 Oprah and Gayle King.
Photo: Courtesy of Instagram/Oprah
To celebrate best friend Gayle King's 63rd birthday on Thursday, queen of the seas Oprah Winfrey hosted a lovely birthday dinner — that was almost healthy.
"Hi, everybody, it's Gayle's birthday so we're having a birthday dinner," Oprah said in an Instagram video. "It's almost Weight Watchers–approved." She then showed off a buffet of glazed carrots, Dover sole meunière, braised short ribs, scalloped potatoes, butter lettuce salad with pears and truffle au gratin cauliflower. ("Because cauliflower is having a moment," Gayle explained in the video.)
Then, to top it all off, Oprah presented Gayle with a "yellow cake with yellow frosting" because, if you didn't know, "Gayle … loves YELLOW!" Oprah wrote.
So nice of Oprah to do this for Gayle … but rude of her not to invite us.