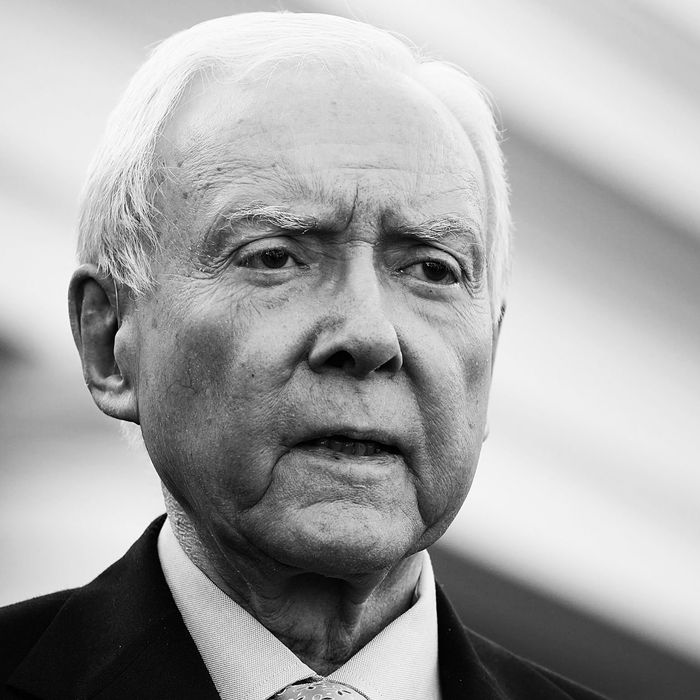 Utah's Person of the Year himself.
Photo: Chip Somodevilla/Getty Images
Despite coming in second-to-last place in an informal community poll, Utah senator Orrin Hatch was awarded the title "Utahn of the Year" by the Salt Lake Tribune, which is given to the person who had the biggest impact — "for good or for ill." According to the editorial, Hatch was recognized for his "utter lack of integrity that rises from his unquenchable thirst for power," and yesterday afternoon, he took to Twitter to express his deep gratitude for the "great Christmas honor." If you're wondering if he actually read the article, you're not alone.
In Hatch's defense, the editorial acknowledges that "he is the longest-serving Republican senator in U.S. history, that he has been a senator from Utah longer than three-fifths of the state's population has been alive," though it clarifies that Hatch's designation "has little to do" with those accomplishments.
Along with referencing his dishonesty and his support for anti-environmental, anti–Native American policies, the editorial board expressed that they eagerly await the day that Hatch is no longer in office.
"It would be good for Utah if Hatch, having finally caught the Great White Whale of tax reform, were to call it a career," the editorial reads. "If he doesn't, the voters should end it for him."
After Hatch tweeted his praise — and emphasized that he didn't vote for himself — Twitter users questioned the man's reading comprehension.
According to Matt Whitlock, Hatch's spokesperson who spoke to the New York Times, Hatch's response was apparently supposed to be tongue-in-cheek, which isn't totally surprising. As evidenced by his medical-marijuana bill, the 83-year-old senator loves to make a joke.
This post has been updated to include the statement from Orrin Hatch's spokesperson.