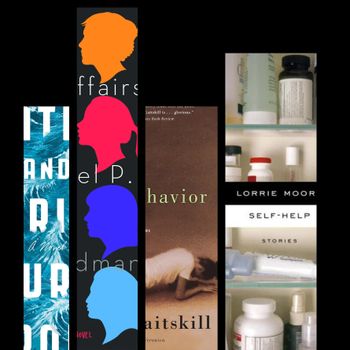 This weekend, the New Yorker short story "Cat Person" took over the internet, with everyone discussing author Kristen Roupenian's cringingly relatable depiction of online dating and bad sex, and praising its revealing exploration of a young woman's inner life. If you liked "Cat Person," here are some other books to read, all by women authors and compiled by Cut staffers and friends.
Fates and Furies by Lauren Groff captures the complex emotions that make up a marriage and, eventually, a divorce, from the perspectives of both the husband and wife. It will piss you off, like "Cat Person," and maybe depress you, but it will also make you feel sort of wistful about how ferocious and all-consuming love can be. — Jessica Roy
Self-Help is my favorite compendium of short stories by the incomparable Lorrie Moore, who's best known for her ability to make you laugh at one sentence and cry at the very next. The story "How to Be a Mistress" will definitely strike a chord with "Cat Person" lovers. — JR
Adelle Waldman's sharply observed comedy of manners follows a thirtysomething writer — with all his vanities, insecurities, and ambitions — through dating life in literary Brooklyn. — Molly Fischer
Mary Gaitskill is the queen of aggressively bleak short stories about terrible sex, and I mean that as a compliment. You know how sometimes guys read Henry Miller or Charles Bukowski at a certain age and it blows their minds wide open? Gaitskill did that for me. — Izzy Grinspan
Like "Cat Person," Catherine Lacey's novel The Answers delves into the mind of a fictional young woman as she performs a cost-benefit analysis of her relationship with a man. Lacey's protagonist Mary is one of several women handpicked by a famous actor and a team of researchers to each fulfill a single aspect of a romantic relationship: the Anger Girlfriend throws tantrums, the Maternal Girlfriend cooks, and Mary, as the Emotional Girlfriend, listens without ever voicing her own needs. Mary feels plenty queasy about all this, but, like Margot, she can't quite bring herself to walk away. The Answers came out in May, and I haven't stopped thinking about it since. — Megan Greenwell
Funny, dark short stories about being young and dating (or at least, like, "dating"). These read like internetty personal essays in the exact same way "Cat People" does. — I.G.
Sweetbitter's narrator, Tess, has a crush on a co-worker who treats her like shit most of the time. He likes rough sex, and she wakes up with bruises. There's a power dynamic, too: She's the new, young backwaiter at an upscale Manhattan restaurant; he's the hot bartender who's worked there forever. — Catie L'Heureux
For the uncomfortably consensual scene in which the protagonist loses her virginity and can't stop bleeding. She never tells the man — just takes his towel and ends up in the hospital. There are other moments like "Cat Person" in this book, too, like when she meets an aggressive guy at a bar, or fends off unwanted sex at a party. The narrator is Esther Greenwood, a stand-in for Sylvia Plath, who arrives in 1950s New York for a magazine internship. — C.L.
This book is similar to "Cat Person," but the narrator is way more comfortable being an asshole. She faces basically the same issues as Margot: She's a young woman who doesn't know how to square her own interests and desires with what's expected of her, and she deals with it by deliberately subverting expectations that she'll be nice. She is very Cool. Total Cool Girl. Whereas Margot seems pretty average. — IG
Twitter also had some thoughts:
If you buy something through our links, New York may earn an affiliate commission