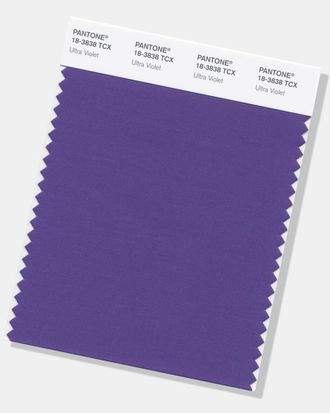 Ultra Violet.
Photo: Courtesy of Pantone Color Institute
Pantone's 2017's color of the year (Greenery) was supposed to inspire fresh new beginnings and didn't exactly work the way it was expected to. This year, the company is throwing caution to the wind and going with a glam rock purple dubbed "Ultra Violet."
Similar in shade to the color Pantone named in honor of Prince, Ultra Violet is supposed to be simultaneously empowering, sexual, and calming. Basically, it can represent whatever you need it to for 2018. Pantone vice president Laurie Pressman told the Associated Press that Ultra Violet is, "an optimistic color, an empowering color," but also "speaks to thoughtfulness, a mystical quality, a spiritual quality." While Leatrice Eiseman, executive director of the Pantone Color Institute told the New York Times that it "communicates originality, ingenuity and visionary thinking."
Purple has historically been a hue associated with royalty (which we'll see a lot of in 2018), but recently it's been a favorite of fashion designers, musicians (e.g. "Purple Haze," Purple Rain), and wellness gurus. Yes, Ultra Violet is a bit reminiscent of a highlighter. But if it worked for Prince and Bowie, it could work for the rest of us.