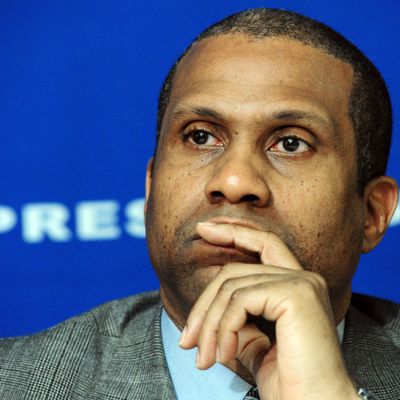 Tavis Smiley.
Photo: KAREN BLEIER/AFP/Getty Images
Amid sexual-misconduct allegations, PBS has decided to suspend late-night talk show Tavis Smiley indefinitely, reports Variety. In a statement, the network announced that it had hired an external law firm to investigate claims made about the program's host and namesake, and had found the allegations to be credible. PBS explained:
Effective today, PBS has indefinitely suspended distribution of 'Travis Smiley,' produced by TS Media, an independent production company. PBS engaged an outside law firm to conduct an investigation immediately after learning of troubling allegations regarding Mr. Smiley.
According to the statement, the investigation included interviews with "witnesses as well as with Mr. Smiley." An unnamed source told Variety that there were a total of ten witnesses of different genders and races who worked, or had worked, within Smiley's organization. The source claims that these witnesses described Smiley as "creating a verbally abusive and threatening environment," with some alleging that they felt their success within the company was linked to whether they had sexual relationships with Smiley.
Smiley is not a direct employee of PBS, but his talk show, which he produces through his company TS Media, is distributed through PBS to various member organizations across the country, including WNET New York, KOCE Southern California, and WTTW Chicago. Smiley started the show in 2004 and it has received four NAACP Image Awards.
The announcement comes weeks after PBS terminated its relationship with Charlie Rose under similar circumstances.