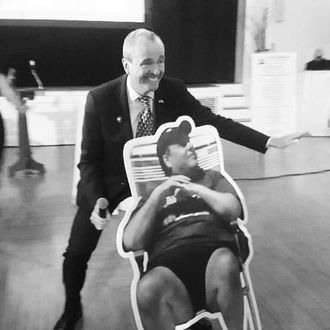 Phil Murphy, cardboard Chris.
Photo: Courtesy of Facebook/New Jersey Working Families Alliance
In January, Democrat Phil Murphy will become the governor of New Jersey. And he's preparing for the job by taking part in one of the state's apparent favorite pastimes: antagonizing current Governor Chris Christie.
While attending a gala hosted by the New Jersey Working Families Alliance on Thursday, he stopped to take photos with a life-size cardboard cutout of Chris Christie. Specifically, a life-size cardboard cutout of Chris Christie taken during Beachgate — the summer incident in which Christie ordered a government shutdown which closed the beaches, then was caught sunbathing with family and friends on an otherwise empty beach.
In doing so, Murphy kicked off Beachgatephotogate.
Christie, always one to take a joke, responded harshly. "I think someone's got to remind him that the campaign is over. It's disappointing because we've been so open and so welcoming to him, and not playing politics at all," he told NorthJersey.com. "I just think it sends a really terrible message to people about, if you say you want to bring people together and do all the rest of that, then what you should want to do is focus on the future and not be looking at the past."
For his part, Murphy told NJ.com "It was right in front of me!" and "I couldn't resist."
Meanwhile, Christie is calming himself down by doing a guided meditation that involves heckling Murphy then dumping nachos all over him.