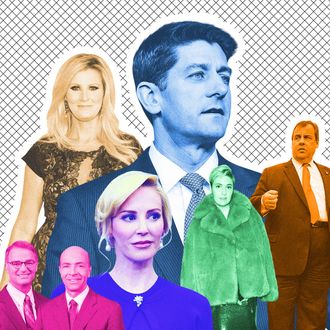 A Food Network star snubbing the Speaker of the House. A governor heckling ordinary citizens. A tragic breakup between two famous lawyers, and a sexy cow logo tearing a suburb apart. What could all these things possibly have in common? They exemplified the ways in which 2017 was rife with drama, with spectacles and petty fights taking over the political stage, various corners of the internet, and small town America.
Here, our favorite such moments of the year:
The Great Fyre Festival Disaster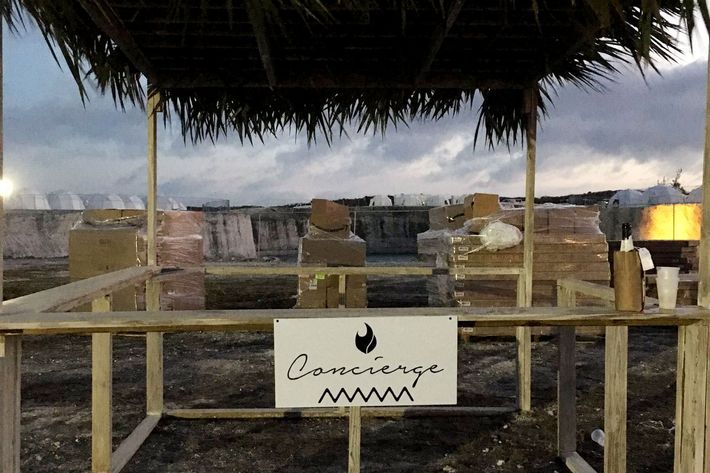 April brought us one of the greatest clusterfucks of our time: Fyre Festival. Dreamt up by Ja Rule and a millennial grifter named Billy Mcfarland, Fyre was meant to be a "luxury" music festival on an island in the Bahamas. Models advertised for it. People spent $5,000 to $250,000 on tickets. What they found when they landed was disaster tents as accommodations, iceberg lettuce and untoasted bread for meals, and, crucially, no musical acts. No matter how much you screwed up this year, take heart that it probably wasn't this bad.
Sandra Lee vs. Paul Ryan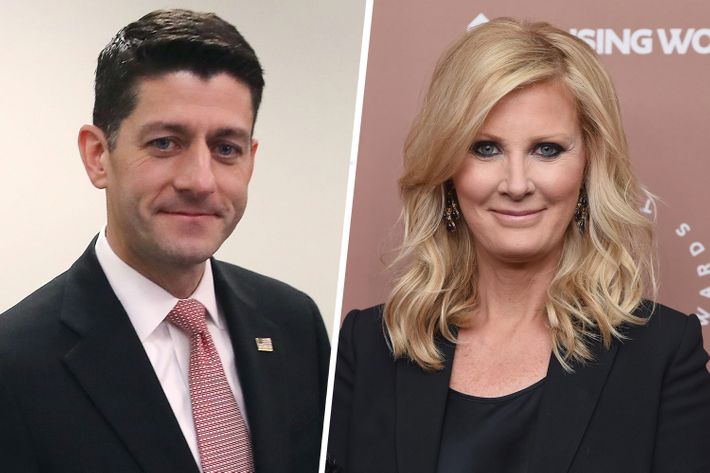 Sandra Lee has always been a favorite Food Network host — an artist who can work semi-homemade magic with her preferred medium, whether it's Pillsbury dough, a bottle of vodka, or bagged shredded cheese. She further cemented her excellence in May when she reportedly shut down Paul Ryan during a taping of Fox & Friends by telling him "I need you to go away so I can collect my thoughts, prepare, and get ready for the segment." Lee even confirmed that it happened shortly afterwards. "At first what occurred to me is that we are both from Wisconsin. And I realized he is the one thing from Wisconsin that I cannot tolerate or stomach," she said. "I just do not stand for anything he stands for. I was so angry I was shaking, and I never had that experience before in my life or on any show." Time to fire up the slow cooker in her honor.
Cellino vs. Barnes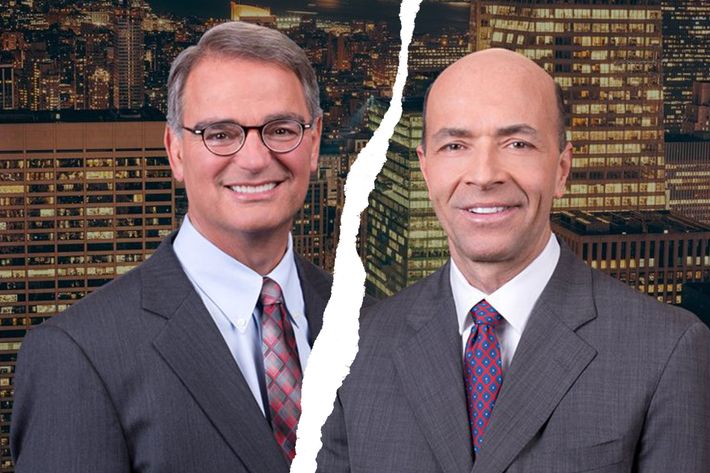 Our hearts shattered when we learned that famed New York attorneys Cellino and Barnes — and their beloved jingle — were reportedly splitting up. The legal battle between the partners continued throughout the year and soared to new, petty heights (or plunged to new, petty lows, depending on how you look at it). Cellino reportedly said that his name was "better" than Barnes and threatened to "burn the place to the ground" — while Barnes was accused of "bullying" attorneys into declaring their loyalty for him. It's still not resolved so, watch this space in 2018.
Drake vs. Josh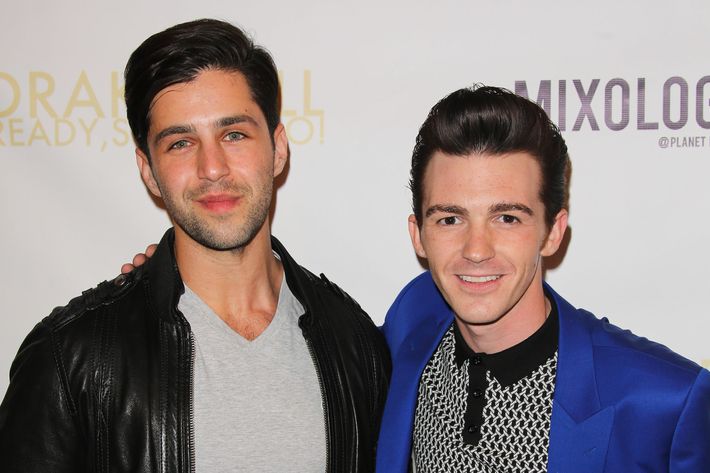 A decade after their Nickelodeon sitcom went off the air, Drake Bell and Josh Peck reemerged into the public consciousness in June — and this time, the fictional stepbrothers were at war. After Peck got married, Bell posted a few sad, now-deleted subtweets. Subtweets like, "When you're not invited to the wedding the message is clear … ," and "True colors have come out today. Message is loud and clear. Ties officially cut. I'll miss you brotha." Peck then revealed that Bell never texted him to congratulate him about his engagement, which, you know, is not great. By September — happily for them, tragically for us — the feud had ended, which they announced via a YouTube video. Here's hoping the Dog with a Blog stirs up some shit next.
Joe Biden's Niece's Credit Card Scam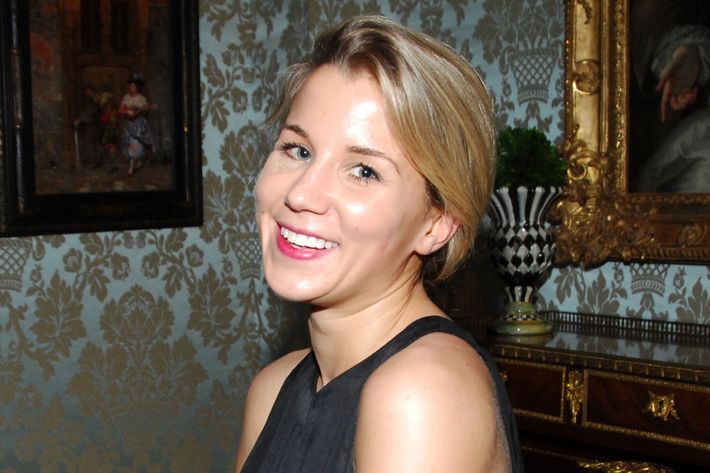 As if "Joe Biden Niece Credit Card Scam" didn't already sound like our "cellar door," the details make the story even better than imagined. In June, Caroline Biden cut a plea deal in which she admitted to petit larceny and received two years probation. The crime? She used someone else's credit card to open an account at C.O. Bigelow and then racked up a full $110,810.04 in purchases. How much lip balm could one woman possible need?!?!
Lena Dunham's Lamby Saga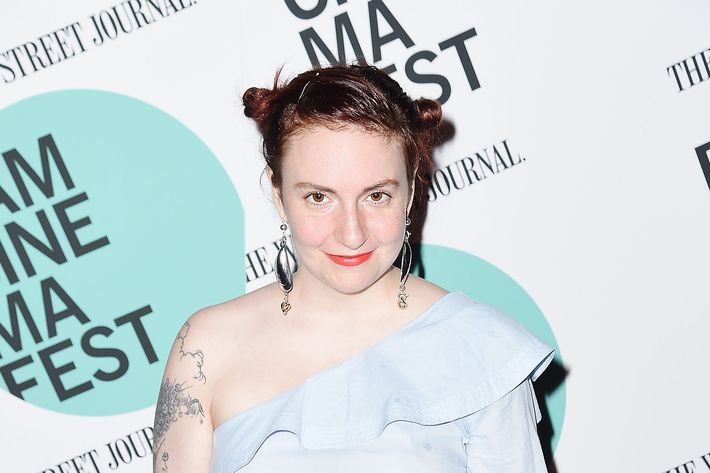 Lena Dunham's natural resting state is perpetually creating controversy, so let's just focus on one of her greatest hits in 2017: the Lamby saga. In July, Dunham revealed that she had re-homed her shelter dog, Lamby, claiming he had behavioral issues because he was abused. This prompted a shelter employee to go scorched earth on her. "When she adopted the dog from us, it wasn't crazy," said BARC Shelter spokesman Robert Vazquez. "I have pictures of the dog loving on Lena and her mom, which is weird if the dog was abused. It wouldn't be cuddling with her or be in the bed with her 'boyfriend' in the pages of Vogue." After more back-and-forth, along with half the internet weighing in, Lamby's new owner shared that the dog is "happy and well." That makes one of us.
Hobby Lobby Smuggling Ancient Iraqi Artifacts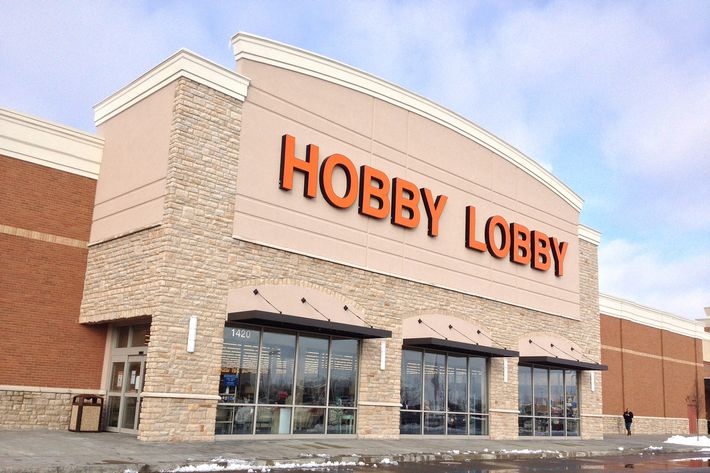 Hobby Lobby — the crafting giant that hates birth control specifically and female bodily autonomy in general — was back in the news this year for … buying over 5,000 smuggled Iraqi artifacts to outfit their upcoming Bible museum. Really!!! This happened back in in 2010, but they were reportedly warned at the time that they "were risky purchases, as many sites were illegally looted during the Iraq War and and the rise of ISIS." In July, federal prosecutors ordered them to forfeit everything and pay $3 million — or 100,000,000 pipe cleaners — in fines.
Chris Christie Being Chris Christie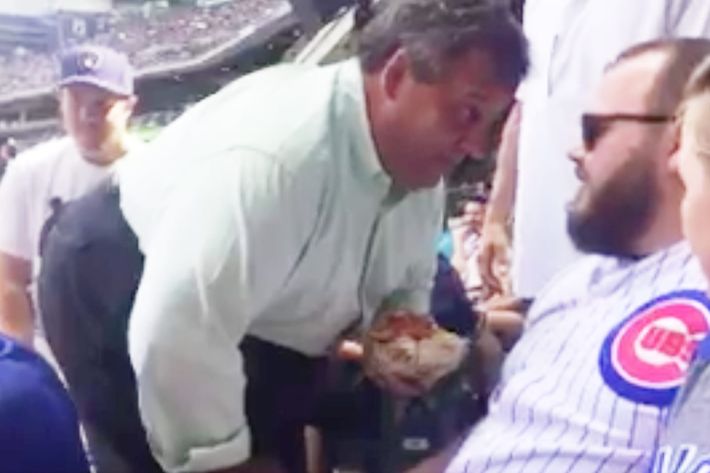 New Jersey governor Chris Christie celebrated his last year in office by making scenes, angry and often. Our favorite song of the summer was this July clip of him fighting with a radio caller who called him a "fat ass." Then there was that time in August when he got in a heckler's face at a baseball game, and even praised himself for his restraint because he didn't dump his nachos on the guy. And finally, he sarcastically heckled a voter on Election Day because he didn't want to answer her question. Always a charmer, this guy.
The Beauty Blogger Who Got Her Comeuppance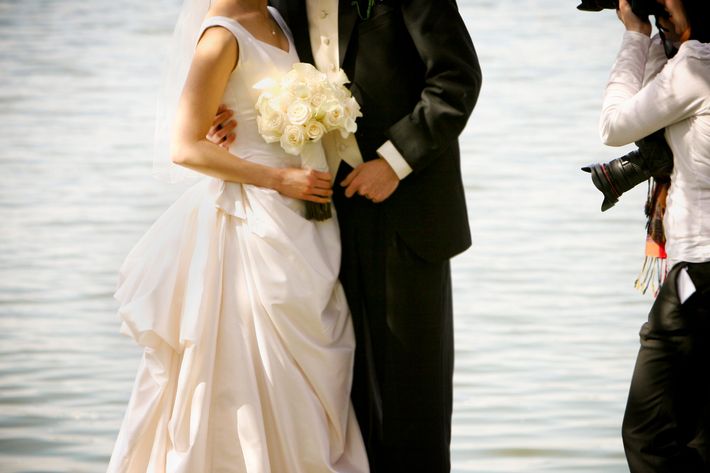 A photographer named Andrea Polito found her business ruined earlier this year — but this story has a nice ending. It all started when a newly married beauty blogger named Neely Moldovan used her platform to claim that Polito was withholding her wedding photos unless she paid a $125 fee. She went on local news, the story went viral, and Polito was soon out of the job. But it turns out Moldovan was lying, and when Polito sued for malicious defamation she won. In August, Moldovan was ordered to pay her $1 million. And we're guessing Polito and her money lived happily ever after.
The Spin Studio Terrorizing Anyone Giving Them a Negative Review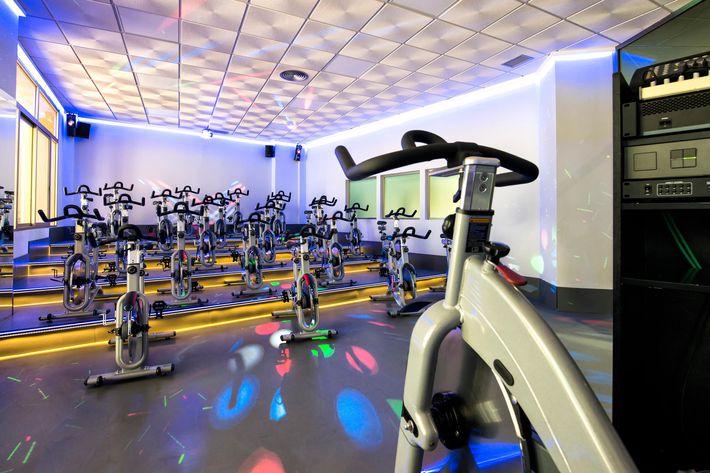 In August, a tipster let us know about Rhythm Ryde, a spin studio in Brooklyn that was responding to every negative Yelp review with a tirade against the customer. For instance: "you were not on beat nor the correct foot, let's not begin on your form," "you seem to be used to not working out correctly," and "I can assure you; you are not a frequent spinner." When we reached out to Joseph, the owner, for comment, he sent back a six (6!) paragraph long email and he was definitely not sorry. "Starting to spin in May of this year should not make you an expert in this field," he wrote in part, "so basically, we just call people out on their bs." What customer service skills?
Louise Linton's #HermesScarfgate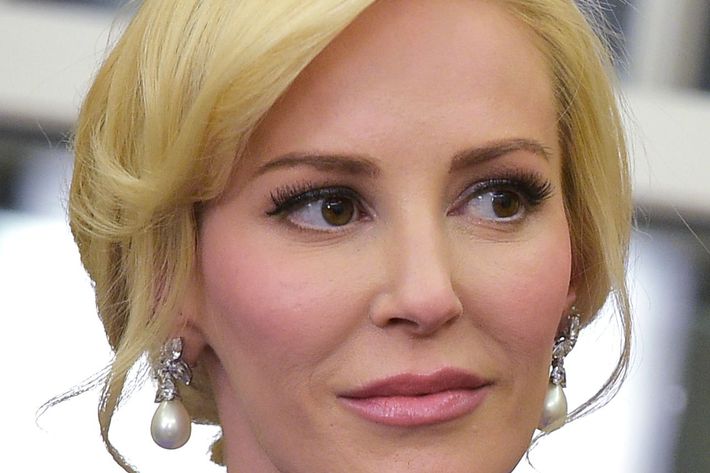 When Louise Linton posted an Instagram of herself in August disembarking from a government plane with her husband, Treasury Secretary Steve Mnuchin, and tagged it #hermesscarf she probably thought the likes would just start rolling in. Instead, it kicked off a glorious feud with user @jennimiller29 who wrote, "Glad we could pay for your little getaway #deplorable." Linton replied to Jenni Miller with a long, insulting comment. (Sample bit: "Thanks for the passive aggressive nasty comment. Your kids look very cute. Your life looks cute. I know you're mad but deep down you're really nice and so am I.") Miller wrote an op-ed for CNN after the attack, Linton apologized, and Mnuchin was widely criticized for using a government plane to allegedly just look at the eclipse from Kentucky. And to think it all started with a simple gram.
The Rogue Lawn Pooper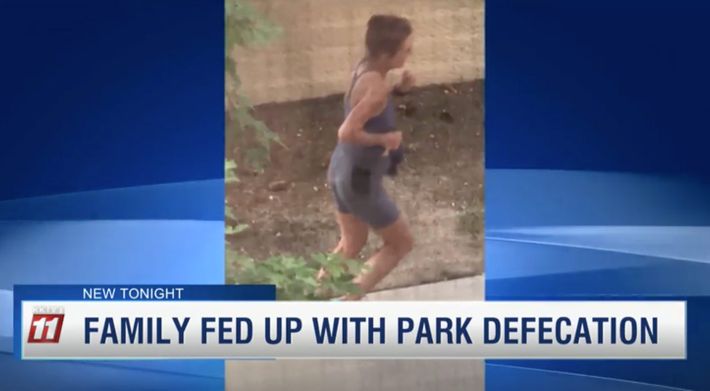 In September, America was transfixed by a mysterious lady … who wouldn't stop pooping outside one Colorado family's house. Per KKTV, Cathy Budde said she was finding waste weekly and that she once even caught the pooper — a runner — in the act. "I put a sign on the wall that's like 'please, I'm begging you, please stop," Budde said. "She ran by it like 15 times yesterday, and she still pooped." Reader: she still pooped! This woman also appears to be a thinkfluencer, as reports of a copycat lawn pooper have emerged out of New York since then.
Ivana Trying to Fight With the Other Trump Wives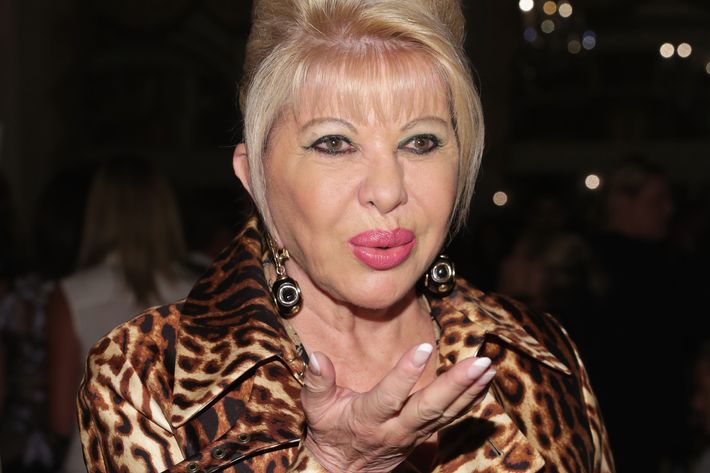 Donald Trump has had three wives and for a brief moment in time in October, the planets aligned and it looked like all of them were going to fight. It started when wife #1, Ivana, went on a press tour to promote her new book, Raising Trump and claimed that she's actually "First Lady." Melania, current Trump wife and actual First Lady, responded with a curt statement. "She plans to use her title and role to help children, not sell books," it read. "There is clearly no substance to this statement from an ex. Unfortunately only attention seeking and self-serving noise." Ivana also insulted Trump's second wife, Marla Maples, calling her a "showgirl" and saying she was "never happier" than when she got kicked off Dancing With the Stars. Maples never joined in the melee, which is probably for the best considering what unknown, ancient forces of evil that could've awakened.
Sarah Huckabee Sanders's Insane Pie Thread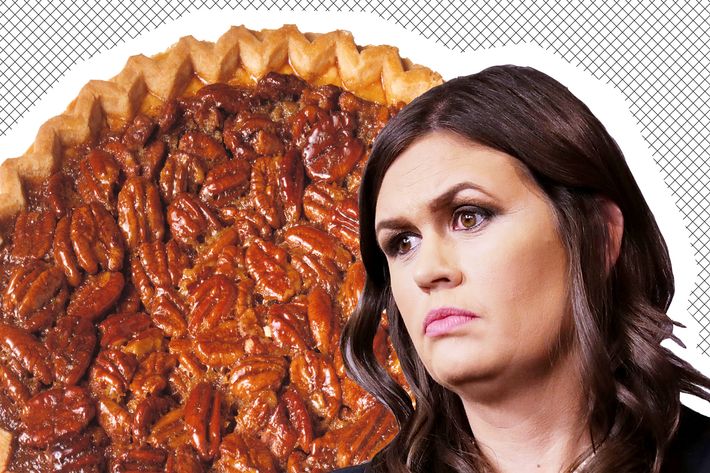 White House press secretary Sarah Huckabee Sanders gave the internet a good laugh over Thanksgiving when the photo of a pie she claimed to have baked looked an awful lot like a bad stock image. But by the time Christmas rolled around, she was ready to post an extremely chill and not at all mad Twitter thread documenting every step of pie baking. She even addressed some of the tweets to journalist April Ryan, who tweeted about #piegate the first time around, and presented her with a pie — though Ryan still refused to eat it. Guess who's laughing now? (It's still us.)
The Sexy Cow Logo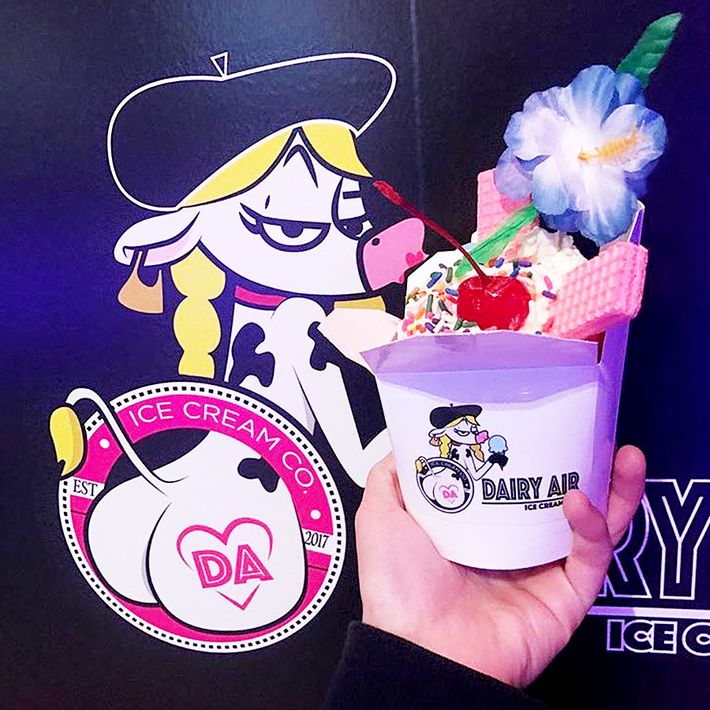 The year closes out here: with a fight over a sexy cow's human ass. Recently opened Dairy Air ice cream in Montclair, New Jersey found itself under fire for its provocative logo after business owner Amy Tingle posted an open letter to Facebook. (Sample sentence: "This kind of marketing scheme is the reason we currently have a sexual predator in the White House.") Meanwhile, the store's then-manager, Natalie DeRose, wrote, "We have heard the complaints. We take them very seriously and we are acting to change the cow to be more fun and less sexy. Our goal was always fun and not sexy."