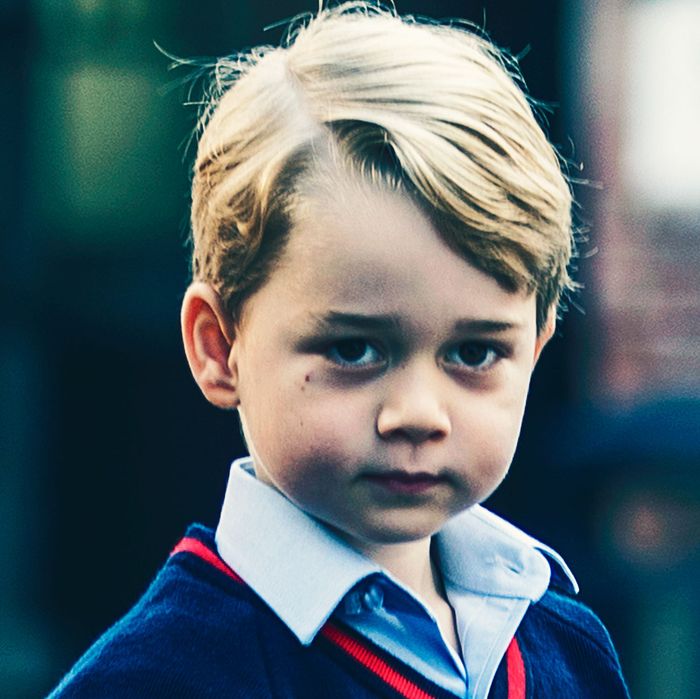 Prince George.
Photo: Richard Pohle/WPA Pool/Getty Images
George, the 4-year-old Boy Prince of England who just started his first year of school, is already carrying the weight of a nation's hopes and dreams on his tiny, sweatered shoulders. Including, it seems, the hope that he will someday meet a nice man and settle down.
In a blog he reposted after Prince Harry and Meghan Markle announced their engagement, the Very Rev Kelvin Holdsworth, a senior member of the Scottish Episcopal Church and prominent gay rights campaigner, said Christians who support same-sex marriage in the Church of England should pray for the young prince to be gay.
Reverend Holdsworth said English people interested in advancing LGBTQ rights could: "pray in the privacy of their hearts (or in public if they dare) for the Lord to bless Prince George with a love, when he grows up, of a fine young gentleman. A royal wedding might sort things out remarkably easily though we might have to wait 25 years for that to happen. Who knows whether that might be sooner than things might work out by other means?"
This is the last in a series of nine bullet-points which lay out ways in which the minister believes LGBTQ inclusion can be achieved in the Church of England, which still forbids same-sex couples from marrying in its churches.
Only time will tell with whom Prince George will choose to share his life. Until then, the minute royal is busy with his official duties of negging world leaders and petting fuzzy bunnies.