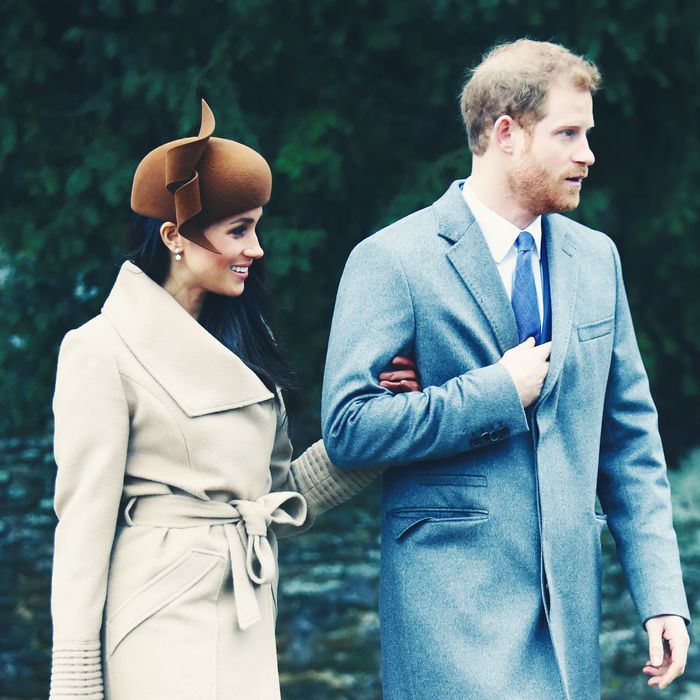 Meghan Markle and Prince Harry on Christmas Day.
Photo: Chris Jackson/Getty Images
California queen Meghan Markle spent the holidays with her ginger fiancé Prince Harry's family this year — her first royal Christmas experience (and photo op with Kate Middleton). And in a new interview, Prince Harry said Markle had a "fantastic" time.
"The family loved having her there," the royal said during his guest editorship on BBC Radio 4's "Today," per the Guardian. "There's always that family part of Christmas [where] there's always that work element there as well, and I think together we had an amazing time."
The prince went on to say that he prepped Markle on a bunch of royal traditions before she arrived at the queen's Sandringham estate, and that she handled it all with ease. "I think we've got one of the biggest families that I know of, and every family is complex as well," he explained. "No look, she's done an absolutely amazing job. She's getting in there and it's the family I suppose that she's never had."
Prince Harry also confirmed that he and Markle stayed at Prince William and Kate Middleton's house over the holiday. "We had great fun staying with my brother and sister-in-law and running round with the kids. Christmas was fantastic," he said.
How lovely.