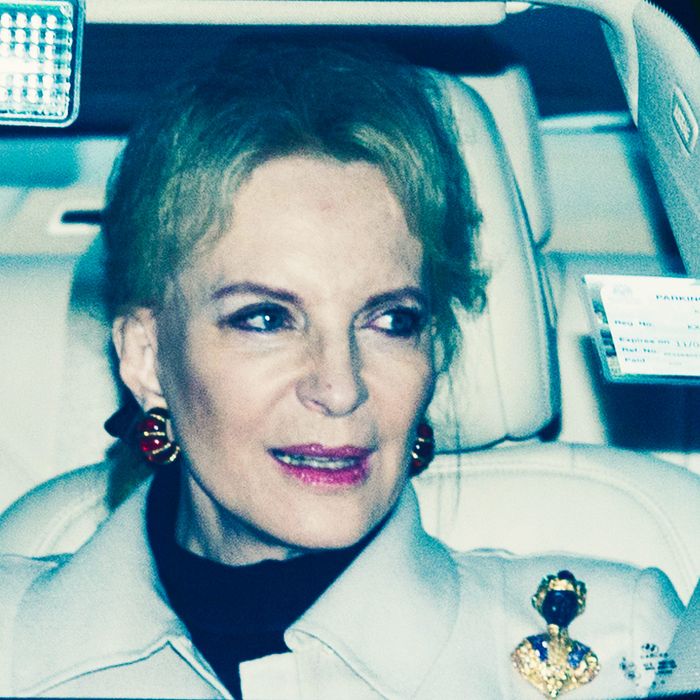 Princess Michael of Kent.
Photo: Mark Cuthbert/UK Press via Getty Images
On Thursday, Lainey Gossip pointed out that Princess Michael of Kent wore a racially insensitive brooch to Queen Elizabeth's pre-Christmas lunch — an event also attended by Prince Harry's fiancée Meghan Markle. Now, the royal has apologized for the offensive jewelry and vowed never to wear it again.
In a Friday statement to TMZ, a spokesperson for the wife of the queen's cousin said Princess Michael was "very sorry and distressed" that she wore her Blackamoor brooch to the lunch. The spokesperson explained that the jewelry was a gift, and that Princess Michael has worn it many times in the past without controversy. Per TMZ:
A source connected to Kensington Palace tells us Princess Michael was not trying to insult Meghan or any people of color. The source says she's learned her lesson, and is going to retire the brooch for good.
However, this wasn't the first time Princess Michael, whose father was a Nazi who served as a SS officer for Hitler, has been accused of racism. She once reportedly told black diners at a restaurant to "go back to the colonies." And in a 2004 interview, the royal talked about her love of "adorable" Africans in an attempt to show how non-racist she is.
The queen's pre-Christmas lunch was Markle's first holiday celebration with the royal family. Markle, whose father is white and mother is black, has been the subject of racist attacks from the British press since news of her relationship with Prince Harry broke last year. You'd hope she wouldn't have to deal with such behavior from her soon-to-be extended family as well.