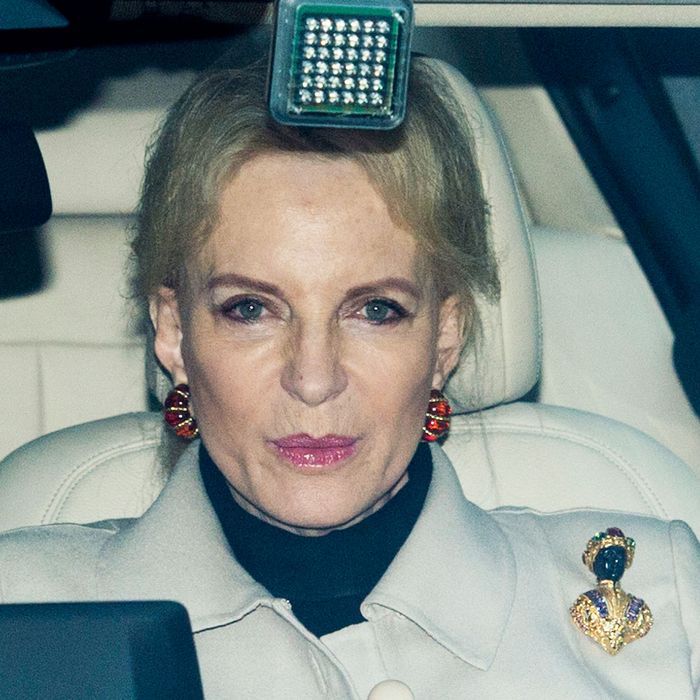 Princess Michael of Kent with her brooch.
Photo: Mark Cuthbert/UK Press via Getty Images
While the rest us were focused solely on Meghan Markle (and her lip-gloss) arriving at Queen Elizabeth's annual pre-Christmas lunch at Buckingham Palace on Wednesday, Lainey Gossip noticed something disconcerting on a royal rolling up to the event: Princess Michael of Kent's brooch.
As Lainey Lui points out, Princess Michael of Kent has been accused of racism in the past. Back in 2004, she reportedly told black diners at a restaurant to "go back to the colonies." Shortly after, to prove just how non-racist she is, the royal said: "I even pretended years ago to be an African, a half-caste African, but because of my light eyes I did not get away with it, but I dyed my hair black."
Princess Michael reportedly spoke with Markle at the Christmas lunch, which raises the question — did Markle actually come face-to-face with this brooch? The Suits actress's engagement with Prince Harry is notable for many reasons: she's American and divorced, and their engagement photos look like perfect perfume ads. But on top of that, she's also biracial, and her biracial heritage has prompted racist attacks from the press.
Per Lainey Gossip:
There's history to that kind of jewelry. Click here to read about it. These kinds of pieces depict — and fetishise — Africans in subservient roles. To put it bluntly, this is a piece of jewelry made out of slave imagery. 
You'd think a member of the royal family would know better than to wear jewelry like that in general, but particularly at an event where Prince Harry's biracial fiancée was meeting the extended family for the first time.
This post has been updated.