For Angela Dimayuga, the first step in baking a cake is finding the perfect edible glitter. "I want the inside layers to be two different types of camouflage, like my purple cargo pants," she announces, definitively, as we step into Chelsea's N.Y. Cake pastry supply store. "But I want the outside to contrast with the high-saturated color. Maybe it's silvery and more metallic?" She pauses in the cramped aisle, in front of the cow-shaped butter dishes she once served at Mission Chinese Food, to fully conceptualize her creation. "Oh my God, this is going to be weird."
The cake is for the opening party of designer Lou Dallas's pop-up inside the Chinatown concept shop Planet X, owned by Dimayuga's pal, the DJ Venus X — a situation that sounds something like downtown New York Mad Libs. The 31-year-old Dimayuga knows Venus X in the same way she knows a lot of people: because Venus X is "in the neighborhood," a "culture disrupter," and "another queer, person-of-color, business owner." A social butterfly who's cultivated a network of powerful friends, Dimayuga's bubbly and flirtatious and open-minded with anyone who crosses her path. She loves the word "sweet" and she's exactly that. She never makes you feel like you can't keep up, even though you probably can't.
The last time Dimayuga cooked for a Venus X party, the theme was "Freak Pharmacy," so she served savory soy milk out of an IV bag and flesh-colored fried rice. (When kid Dimayuga was learning how to cook, her favorite book was Gross Goodies.) This time, Venus X's theme is, loosely, a tea party, which Dimayuga has chosen to interpret as "dystopian Alice in Wonderland." Wearing an ankle-length leather trench coat, glittery Maison Margiela ankle boots, and a freshly dyed bob she calls "organic-egg-yolk yellow" (though it clearly matches N.Y. Cake's "sunset orange" food coloring), Dimayuga looks the part. "I never was really a tea-party type of gal, but I'll do a weird dystopian one," she says.
Dimayuga grew up in San Jose, California, as the second youngest of six kids, raised by "super Catholic" parents who immigrated from the Philippines in the '70s. She wanted to be a chef from the time she was 10, and at 22, she moved to Brooklyn and landed a job at Vinegar Hill House. At Mission Chinese Food, Danny Bowien's bicoastal Szechuan restaurant, Dimayuga made a name for herself — helping Bowien open the scrappy first New York location, and then relocate it to a palatial Chinatown space that feels more like a banquet hall. Dimayuga expressed herself through the food — dishes like chicken stuffed with sausage and eggs (her grandmother's secret recipe) and ramen noodles made with matcha — but she also curated art installations (Jacob Hashimoto's silk kite clouds, Grace Villamil's space cave) and orchestrated elaborate events, like a Lunar New Year party with lion dancing and custom-made snake-shaped smoke bombs. Earlier this year, after her ironclad response to a publicity request from IvankaTrump.com went viral, she began tying her work more explicitly to her personal identity politics: she now calls Mission a 'queer restaurant.' For Dimayuga, being a professional chef has become a platform for creative fluidity and political expression.
But in late October, after six years with Bowien, Dimayuga resigned from Mission. "My sphere of ambition is just different and bigger," she says, trying to avoid drama, though it's become apparent the breakup with Bowien wasn't amicable. (He's refused to comment; she's taken credit for reworking even his original recipes.) Dimayuga was spending less time in the basement kitchen, inhabiting a role more like creative director. "The role of a chef, at least in my eyes, is more fluid than what it meant there." Her many collaborative projects caused friction. "I definitely didn't want to have a boss anymore," she says. "I had to really think of myself as an advocate for what I wanted. It wasn't just about what Mission wanted." She'd realized there was little room for upward mobility when Bowien decided to open another Mission in Bushwick, instead of working with Dimayuga on a new concept or promoting her to partner. Ultimately, she says, "Removing myself from Mission and exploring the unknown is actually way more empowering."
Dimayuga left Mission without a clear vision for the future, but she's stayed busy. "I should be viewing this as a sabbatical, but actually, this time is an activation of all of the great people I've gotten to meet — to see how I can apply myself to the work they do, how I can contribute." She uses the phrase "apply myself" a lot, and as we make our way through N.Y. Cake, she's a hyperfocused, purposeful shopper — she can't talk while selecting the size of her Styrofoam cake dummies, which will add dramatic height to her final product. (When I express disbelief that some cake tiers are fake — won't people think there's more cake and then be upset? — she apologizes for "spoiling Santa.") It's clear Dimayuga has no desire to break from working, but her definition of work has quickly changed. Within a single week in mid-November, Dimayuga accomplished the following: She started a fermentation project with M.I.T. scientist Arielle Johnson to create food-safety plans for chefs. She attended a live meet-up for 17.21 Women, an Instagram project highlighting Asian women trailblazers. She hosted a party called Glam, where recent CFDA winner Telfar Clemens DJed. She hosted another called Gush, a lesbian party she created with lawyer, art curator, and vodka distiller Pati Hertling, where all the hosts, talent, and performers are queer people of color and the venue perpetually changes. "I like this idea of decolonizing spaces with queer parties," she says, smiling.
The concept of space is another thing Dimayuga mentions often and thinks about critically — how to make restaurant spaces more multi-use, how one outfit can have fluidity and be worn in different spaces, how to create safe queer spaces. "Our staff was primarily queer, and it was a queer space, so postelection, it felt important for to call Mission a 'queer restaurant' — to identify it as a safe, hyperinclusionary space, run by people who are marginalized," she says. "It's important for people to know that queer spaces exist, and they can be restaurants, which I don't think anyone has ever done." Dimayuga never expected to be this public about her queer identity; she only came out to her parents four years ago, when she wanted to move in with a girlfriend. "It's an Asian thing to hide your individuality or expressiveness," she says. Her Catholic family was accepting, but they're not without their differences. "I think my dad supported Trump," she says. "But I don't know what he would tell me, to be honest, and I don't really need to go down that road right now. It's difficult enough for me to know they spend a lot of time working with pro-life organizations." Still, she notes, they were proud and supportive of their daughter for standing up for her values through the Ivanka post.
We've moved from N.Y. Cake (the final decision: edible silver hearts, plus silver glitter) to Superiority Burger, where we're eating veggie burgers, chili on seared polenta, and banana-lime gelato. Dimayuga points to a pencil holder in the shape of bok choy that she gave owner Brooks Headley; it's a sign of prosperity. She's still not sure if she wants to ever open her own brick-and-mortar restaurant space, and she's going to take her time to decide. "I had the idea for this hair color for two months, but I really wanted to think about it — the egg tone, what mood it creates," she says. But Dimayuga is certain she wants to keep cooking. "No matter what, anything I do will always be through food. It creates space that's warm and hospitable." I say that I can imagine her running a restaurant that operates like a concept shop, someplace with art installations, pop-ups, and Greenmarket-inspired gross goodies, and she nods. "I don't think I can settle for, 'I'm just opening up a restaurant,'" she says. "But one of the things I love about restaurants is they're social places where ideas are created."
What she doesn't love about restaurants is the heteronormative, hyperaggressive culture. "The Eurocentric, idealized version of the best kitchen comes from a French brigade system — male chefs yelling at male chefs, yelling at cooks, yelling at prep cooks, yelling at dishwashers," she says. "We don't need have to have kitchens like that anymore, but it's not easy to change." Sexual harassment is especially rampant in the restaurant industry. Even as Dimayuga earned praise for her response to Ivanka, she was struggling to put her politics into practice at her own business while handling a sexual-harassment case at Mission. "There was a comment made by one of my managers that ultimately led him to being fired, but it was a long arduous process to get there," she says. The incident occurred preelection but took on greater significance in the aftermath of Trump. She worried her own staffers thought she was a hypocrite. "In a micro community, like a restaurant, there are so many sides to a story. I didn't really know how to navigate it." She pushed for Mission to invest in external human-resources support. "Serious precautions needed to be put in place, and it had to take a group of us to make it happen," she says now. "It was not something that I could have done on my own. And my issue, in reading about all these sexual-harassment cases, is that the work has to be done by women. Solely women. At the same time women are victimized, they're asked to speak, and they're asked to take action."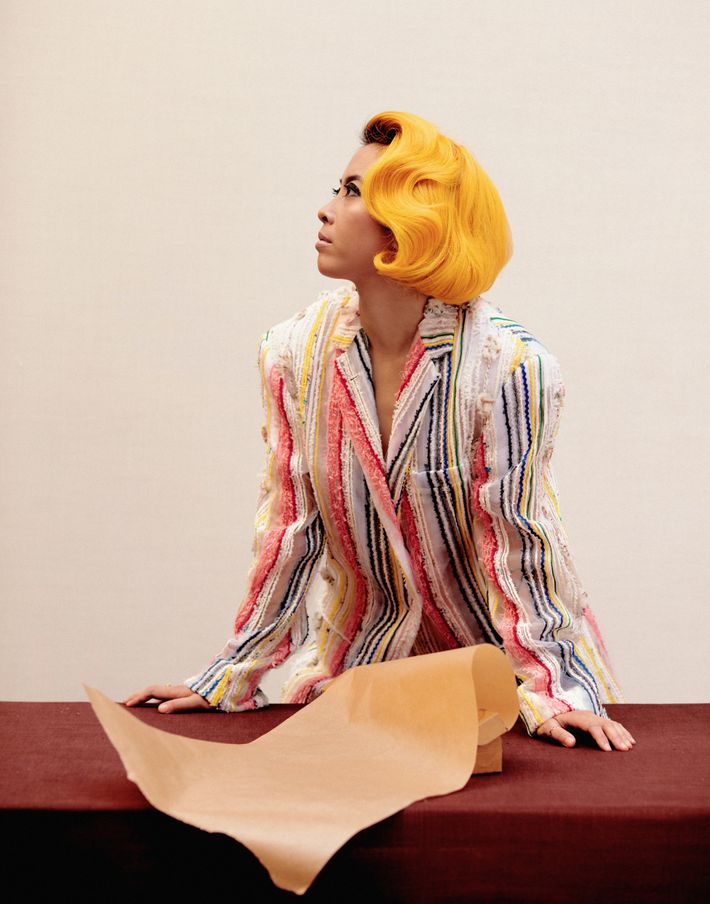 Whether she's discussing gender inequity, queer theory, or her deep appreciation of frozen banana treats, Dimayuga tends to deliver her thoughts in impassioned, analytical, TED Talk–esque speeches. Had she not pursued cooking, she imagines she'd have a career in academia. "Verbalizing my core values," she says, is what helps her stay focused. "I think every adult needs to do this — articulate what they stand for, who they are — to get a lot more out of this world." When she opened the new Mission, this took the form of defining her genre of food. "I'd say I was definitely one of the first people to reclaim the word 'fusion' in this timeline," she says. "As a Filipino-American, this is just my version of Asian food in New York City. I really saw that ripple." Postelection, though, as her political activism became a core tenet of her identity, she changed her mind. "I looked at it with a wider lens: Mission Chinese is just American food."
She wants to complicate easy versions of identity — the media coverage presenting her as a token female chef in a male-dominated industry, for example. "I was never interested in talking from the perspective of a female chef," she says. "It's a question everyone used to ask. I thought it was really fucking boring, because it's just one simple facet of who I am." She's happy to talk, specifically, about herself as a Filipino-American, an immigrant daughter, a person of color, a queer person, and a lesbian — all descriptions that she calls "more purpose-driven." They're the same kind of identifiers that attracted Dimayuga to her new girlfriend, singer Zsela Thompson. "She's also multiracial, and it's refreshing and empowering to meet somebody who's thinking about their identity and their own way of navigating," she says. "My friend who introduced us said she has such a high energy level that no one can keep up with her, but maybe I'd give her a run for her money. And I was like, 'That is hot.'" The pair recently posed together for Opening Ceremony's queer lookbook, and Dimayuga says they love dressing each other.
Access to Dimayuga's closet is no small relationship perk. After our lunch at Superiority, she walks me to Rue St. Denis, an East Village vintage shop that specializes in unworn, dead-stock vintage clothing and sounds fancier than it is. Dimayuga's style is hard to define because she likes to mix extremes. "I like to do high-low and butch-femme, which is how I identify," she explains. "And I want my outfits to be fluid from day to night." Before her Cut photo shoot, she sent a connoisseur's list of preferred designers, including: '90s Bernhard Willhelm, Gauntlett Chang, vintage Prada Sport, Eckhaus Latta, Luar, Nhu Duong, and vintage Yohji Yamamoto. She buys most of her clothing (like the patchwork Levi's she's wearing today) on eBay, because "you can sort of dream up anything."
At Rue St. Denis, Dimayuga quickly zeroes in on a '60s wool coat, bright red with oversize round buttons, but she expresses greater excitement over my find: high-waisted wool trousers in a rich shade of dried-seaweed green. Neither of us makes a purchase; Dimayuga would rather get more mileage out of the Blade Runner trench coat she's already wearing. She bought it this week for $99 at an Orchard Street leather-goods supplier, a place with the "kind of nasty vibe where a Halloween store pops up." Plus, she has to head out, to get more ingredients for her cake (specifically, healing herbs like red shiso, turmeric, and chlorella, which also add natural color). I ask what she's planning on wearing to the Planet X party tomorrow — the purple cargo pants that first inspired the cake, perhaps? "I might wear the pants," she says, pausing as if to picture her full look, the cake, how she'd design the party if she was in charge. "But I think I want to wear something even cooler."
Production Credits:
Photo by Lia Clay
Styled by Rebecca Ramsey
Produced by Biel Parklee
Hair by Sean Bennett
Makeup by Slater
Set Design by Marcs Goldberg
Photography Assistant: Nick Rapaz. Fashion Assistant: Indya Brown. Special Thanks to Industria Studios.