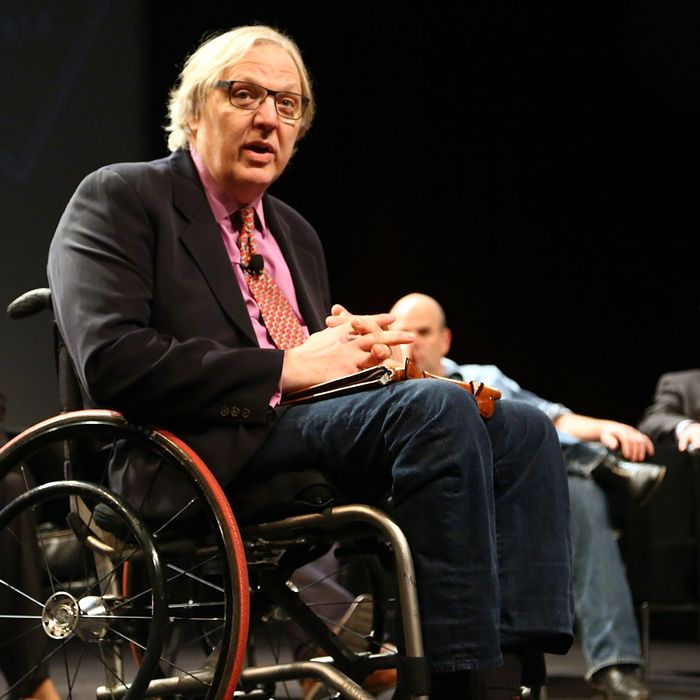 John Hockenberry.
Photo: Astrid Stawiarz
This story starts differently than most sexual-harassment accounts out there. It begins with the accused harasser honorably "retiring" after a successful career, which sets off an investigation — my own — into whether there were other women who worked with this man who'd felt as, well, violated as I did. Violated in a way that felt sexual, though the man in question never touched me. When I filed a complaint about him with his employer in February 2017 — six months before the Weinstein story broke— I wasn't even sure whether my experience counted as sexual harassment.
In August, John Hockenberry, a highly regarded, award-winning broadcast and radio journalist, left his nearly decade-long job hosting the news-and-talk radio program "The Takeaway" on WNYC. In his final audio essay, he said that his show had been "about democracy and the power of all of us, prodded sometimes, I suppose, by a host who isn't just reading." He did not announce any future plans. From the outside, his departure seemed odd: Hockenberry was only 61 years old and, according to a press release released by WNYC, "The Takeaway" was "at a high point in its evolution, with 2.7 million weekly listeners and carriage on more than 270 stations." From the inside — from the point of view of women I'd eventually interview who had worked with him — there was less surprise: What had he finally done to cross the line?
My own contact with Hockenberry, who is paralyzed from the chest down due to injuries he suffered in a car accident as a teenager, started in December 2014, when I was a guest on his show to discuss my book Without You, There Is No Us: Undercover Among the Sons of North Korea's Elite. Almost a year later, in October 2015, he sent me an email, via my publicist, requesting a meeting. I met him twice, in December 2015 and June 2016, at his request. He wanted to "brainstorm," he told me, though he'd never say about what, and he spent most of the time gushing about my work, calling himself my "fan."
That was the extent of our encounters — in person. Where things got uncomfortable was over email. Within the context of the brainstorming, he dropped hints of something more intimate: "Any interest in a museum and coffee?"; "Next time maybe we could try for something outside in the park maybe the Met or something"; "Let's do a date"; and "Need more Kim." And he also seemed to like flexing his VIP radio-host power with me — "Let's scheme some other way to get you back on the air." It was as if he was oblivious to the fact it was my own expertise on North Korea — I'm the only writer who has ever lived undercover in North Korea — that had prompted his producers at WNYC to reach out to me in the first place.
I'd always replied professionally to his emails, but in late July 2016, I got one that prompted me to stop communicating with him: "Need another dose of you," the subject line read. I'd had enough of the insinuating tone —he barely knew me, and he had a wife and five children. Two weeks later he wrote again, asking for my home address, so he could send me actual letters: "I basically hate email, and when you are my age asking for coffee and lunch dates are always construed as preludes to a hotel room somewhere." Then, in September, as though he knew exactly how uncomfortable he was making me feel, he emailed on my birthday: "Let me know if I am bugging you or creeping you out?" In October, he referred to the presidential campaign, and wrote, "I'd love to give you a chance to say something meaningful about all this." In November: "Miss you." With the New Year came yet another message: "What's new?"— the eighth time he'd emailed over the previous eight months without once hearing back from me.
While this is obviously mild stuff in a world of dropped pants, rape, and secret buttons to lock women in rooms, I live near WNYC's Manhattan office, and each time I walked by the building, I imagined the young women working for Hockenberry. Maybe I was the only one who he'd ever "creeped out," to use his phrase, but what if I wasn't? Meanwhile, producers from "The Takeaway" kept contacting me to talk about the toppling of the South Korean government and the growing tension with North Korea. Each time I checked if, by chance, a guest host would be interviewing me. My career certainly wouldn't be made — or broken — by whether I got guest slots on "The Takeaway," but why should I have to be put in a position where I had to avoid the show? Media appearances are part of the job for a writer. After the third such request, I decided the radio station should at least have his emails to me on record.
It was the explosion of sexual-harassment claims against powerful, previously seemingly untouchable men that provoked me to find out if my interaction with Hockenberry had been an anomaly. It took only a few phone calls before I found out that it wasn't. The stories I heard can be separated into two broad categories: First, there were unwelcome sexual overtures, physical and verbal, directed at the younger women who worked on the show as low- to mid-level producers, assistants, and interns. For the most part, these women did not report their experiences to WNYC management for fear of endangering their jobs. The second group of grievances came from the women of color who served as Hockenberry's co-hosts — "The Takeaway" was explicitly founded, in 2008, to bring more diverse voices to public radio. These women, his putative equals, didn't describe sexual run-ins with him, but, instead, bullying behavior that undermined their performance.
Which is not to say that the two sets of issues aren't often intertwined. Both can create what is defined in sexual-harassment law as a "hostile work environment." And with the lurid details coming at us so fast and furious these days, it can be easy to forget that sexual harassment is a form of illegal workplace discrimination. The law against it is intended to allow women to do their jobs and pursue their professional goals with the same freedom as men.
The female co-hosts who believed that they were being maltreated by Hockenberry did complain to the station, repeatedly, two of them told me. But by 2012 they were gone, and Hockenberry was flying solo. Citing confidentiality concerns, New York Public Radio CEO and president Laura Walker declined through a spokesperson to comment on the allegations against Hockenberry, though vice-president of communications Jennifer Houlihan Roussel said that the station was "challenging ourselves to do more to ensure that our New York Public Radio community can thrive and excel in an inclusive and diverse environment." Hockenberry issued a statement saying, "I've always had a reputation for being tough, and certainly I've been rude, aggressive, and impolite. Looking back, my behavior was not always appropriate and I'm sorry. It horrifies me that I made the talented and driven people I worked with feel uncomfortable, and that the stress around putting together a great show was made worse by my behavior. Having to deal with my own physical limitations has given me an understanding of powerlessness, and I should have been more aware of how the power I wielded over others, coupled with inappropriate comments and communications, could be construed. I have no excuses."
That a white man, albeit a disabled one, ended up being alone at the top of the diversity show was definitely ironic, but for some of the women at the "The Takeaway," it was more than that. The message, according to Kristen Meinzer, a culture producer for eight years, was: "If you speak up, you'll disappear."
Meinzer, who is the director of nonfiction programming at the podcast company Panoply Media, is one of those who felt sexually encroached-upon by Hockenberry. The worst moment, she said, came in the fall of 2014, when she managed to wrangle the Oscar-winning actress Marion Cotillard. It was a good get, and when she informed Hockenberry, "He rolled right up to me at my desk, grabbed my face, and started kissing me," Meinzer recalled. "I moved my head away and pushed him away, and I said, 'No, no, please don't.'"
"I just want to kiss you because I'm so thankful," he said, according to Meinzer. She replied, "A hug is fine, but I don't want to be kissed." That was the only time he tried to make physical contact with her; the rest of it, she said, was over social media. When Hockenberry saw smiling photos of Meinzer and her new husband on Facebook, he joked, "Doesn't one of you have herpes at least?" On Gchat, he wrote, "Everyone thinks you have a secret life as a dominatrix." And, another time: "Do you think about anything other than sex?" and "you and your sex obsession." Though the latter comments were in the context of a segment on the biopic about the porn star Linda Lovelace, Meinzer said she nonetheless felt diminished by Hockenberry's jabs. "I wasn't sex-obsessed," she told me. "I was just doing my job."
Another former female "Takeaway" producer, who asked not to be named, recounted a physical encounter similar to Meinzer's. Typically, she said, WNYC put morning-show staff up at in hotels near the station when a snowstorm was predicted because they had to be in the office as early as 3:30 a.m. "It was winter of 2010, or perhaps January of 2011," the producer, then in her early 30s, said. "The overnight crew went out for drinks and dinner, and on the way back, John said, 'Can we talk about something on the show?' So I went to his room, which might seem stupid now but didn't seem crazy then. We worked around the clock." She took a seat at the desk in his room, she said, when he approached her: "He came up and put his arms on mine, and kissed me. Then he said, 'I love you. We've always had this special thing.' I pushed him away, and said 'This cannot happen.' I ran out of the room."
The next morning, she couldn't imagine returning to work; she was certain she'd have to leave her job. Yet she did go to work, and mentioned not a thing to her co-workers — though she considered them like "family." She asked only to be taken off the overnight shift, to minimize her one-on-one contact with Hockenberry, and began looking for a new job. "This is a person who has an immense power," she told me. "Back then, my impression was that, after a sexual-harassment filing, the woman gets blamed; the woman will be removed." She left three months later.
Another woman who also asked for anonymity said that in 2013 she'd given notice that she would be leaving the show for personal reasons when suddenly Hockenberry started Gchatting her at all hours. The volume of his communications unnerved her, but things came to a head when the two were exchanging messages about the upcoming wedding of a "Takeaway" staffer. "Want to get a hotel room?" he asked. In shock, she responded, "ha ha," but later reported the comment to her two bosses. In the meantime, Hockenberry somehow figured out that he'd gone too far with her and sent her what she calls a "heartfelt apology." Since she was on her way out anyway, she decided not to bring the matter to HR (though her bosses had indicated they'd support her if she wanted to go that route). "I was still really upset about it," she told me. "I was so excited about that job. I loved working there. He'd been very supportive of me, and I thought he'd only been like that because he wanted to sleep with me."
As producers, Meinzer and the other two women wielded some degree of power on the show. I also spoke with interns and an assistant, several of whom described a man who, as Jolenta Greenberg (who was in her late 20s when she worked there for three years) put it, had "trouble with boundaries." "There were lots of [sex] jokes," said Greenberg, who's now a podcast host and producer. "He's touching your waist, hips — he totally touched my ass."
A former "Takeaway" intern straight out of college told me she'd been thrilled at the chance to work with Hockenberry: "I read his book and everything before I went. I really wanted to find a mentor and really admired his work." But things "got weird," she said, when she tried to set up an informational interview with him. He sent her a Gchat: "Let's get some Spanish wine in you." And another, using Slack, "Let's get you drunk." They never met for the lunch, but after the messages, Hockenberry called her into his office to discuss a story she was working on. "Your shoulders are really distracting," he offered midway through her pitch. (She hastened to add that her sleeveless blouse was totally appropriate workplace attire.)
Yet another intern, then 21, told me that in the fall of 2013 Hockenberry began Gchatting her around 10 or 11 at night. The messages themselves weren't much, just greetings mixed with "xoxo," but she was flummoxed by his attentions, since in the office she had had virtually no contact with him. "He's the big host, and I am just an intern, among six other interns," she said. She never responded to Hockenberry, she said, and he stopped after a few times. She mentioned what had occurred to a female freelance producer, who told her, "'Yeah, he's creepy — just stay away.'" Which she did.
As for the three co-hosts who reportedly did let WNYC know they had problems with Hockenberry, the first, Nigerian-American broadcaster Adaora Udoji, was gone after eight months. (She declined to comment; she reportedly signed a nondisclosure agreement with the station.) The vacant seat was filled, for about four months, by African-American journalist Farai Chideya. Initially Hockenberry was friendly, she said, but when it seemed like she might become a regular, he "got nastier." One day, after a story meeting in which Hockenberry became argumentative, she said, he called her into his office. "You shouldn't stay here just as a 'diversity hire,'" he told her, according to Chideya. "And you should go lose weight." Chideya said she recounted the incident to CEO Walker, who called it "horrifying" but didn't propose any action. A few weeks afterward, Chideya decided to leave "The Takeaway." She is now a program officer for journalism at the Ford Foundation, but she said the experience "derailed" her for a time: "All these decisions have consequences. Public radio doesn't become more diverse if you keep protecting people who abuse women of color, or just women."
Her successor, African-American Celeste Headlee, said she came into the job hearing about the conflict between Udoji and Hockenberry, and she had hoped that she'd be able to handle him better. But as Headlee laid out in emails to her superiors in April 2012, Hockenberry was professionally "sabotaging" her; he interrupted her on air, "trampled" her lead-ins, and didn't "allow guests to finish answering questions [she] posed." If she tried to discuss it with him, he'd blow up, she told the station, insulting her publicly. As a solution, her boss arranged sessions for Headlee with a "radio personality" coach, who Headlee said focused mainly on teaching her how to deal with a "difficult personality" — how to keep from getting "rattled." (As far as Headlee knows, Hockenberry was not asked to get any coaching — which isn't surprising, she added, because one of the station's execs told her that the only reason Hockenberry was "misbehaving" was that she wasn't doing her job well.) Four months after she filed a formal grievance, the station decided not to renew her contract. "How did John keep his job for so long?" she mused. "Men like John are protected for decades."
In early November, a week before I contacted her, Kristen Meinzer wrote a letter to Walker reporting what happened to her, a year and a half after she'd left WNYC. "I just need to get this off my chest because it makes me feel awful to be carrying this around with me," she wrote. "I hate the psychological toll this has taken on me." What so bothered her, Meinzer told me, was the way what happened altered her view of herself. "I'd like to think I am the person who speaks up when I see something bad happening, but then I didn't," she said. "It's the guilt. Anything he may have done to someone else — did I contribute to that?"
As for Hockenberry, when I first emailed him about this story, he said he was "currently searching for employment." Since leaving "The Takeaway," the last job I could find that he'd held was in September — as a guest host on Charlie Rose's PBS show.