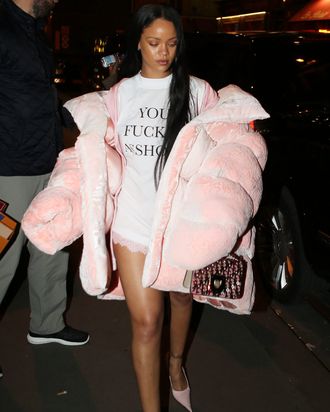 Rihanna.
Photo: KCS Presse / Splash News
On Thursday at 12:27 p.m., as the "real-feel" temperatures in New York City hit 30 degrees and flakes of morning snow melted on the ground, Vogue published a punch-to-the-gut story about how models like Kendall Jenner were showing off their "winter abs."
The piece concluded that while the "lithe limbs" of Los Angeles are running around in crop-tops, the "rest of us" will be "reworking our wintertime fitness routines."
It's true, even though we can hardly feel our toes, we're thinking long and hard about how to maximize the potential of our God-given form. But our goals are slightly different: Instead of aspiring towards winter abs this season, we're getting our puffer-coat bodies ready. Think of it as the cold-weather answer to the caftan body.
How do you do it, you ask? Just follow these seven easy steps, and you'll be expanding comfortably outwards in no time.
1. Google image search "Rihanna puffer coat."
2. Let it sink in that there is no size or shape that is too oversize.
3. Burn your crop-tops and light a joint with the flames.
4. Drape your bed comforter over your shoulders in order to see which silhouette is right for you. If you don't sleep with a comforter, bath robes and sleeping bags work too.
5. Acquire a puffer by any means necessary.
6. Never take your puffer off. (This is what we call a "power move.")
7. Fall asleep standing up, dreaming of marshmallows and clouds.
I'll admit, I was hesitant at first to try this radical new diet. About a month ago, I was this close to taking an hour-long subway ride home in order to change my coat before a date. "I don't want to have my first kiss in a puffer!" I told my friends. I imagined my inflated girth hindering this person from wrapping his arms around me — his hands slipping on my nylon shell. Who wants to make out with the Michelin Man?
"If someone doesn't want to make out with you in a puffer coat, then you shouldn't make out with this person," my wise friends told me. So, I stuck with it.
Reader, the puffer diet works: We made out. And he complimented my coat. If that isn't hotter than winter abs, I don't know what is.
Shop Our Favorite Puffers
If you buy something through our links, New York may earn an affiliate commission.