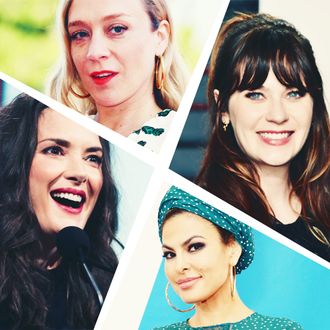 "I've worn dresses to the Oscars that I got for $10." –Winona Ryder.
Why spend more when often, you could actually spend much less? Even celebrities follow that philosophy, and plenty of them still love a good bargain. Eva Mendes wore a $6 dress to a movie premiere, Helen Mirren finds a local charity shop every time she travels, and singer SZA believes in the molecular science behind her favorite vintage T-shirts.
For thrift-shopping inspiration and recommendations, read on for stories from Winona Ryder, Chloë Sevigny, and Cindy Sherman. More famous women share their favorite secondhand items from flea markets, bazaars, and thrift stores below.
Janet Mock
"I think about my best friend Wendy who I grew up with … She was another trans girl I met in the seventh grade. We were both 12 years old. She clocked me and was like, 'I know you're trans, why are you pretending that you're not a girl? Let's just go ahead and do this.' And we were sewing up hip pads from shoulder pads out of thrift stores, and figuring out what identity was for us, and what girlhood and womanhood was for us." —Women of the Hour, November 2015
Chloë Sevigny
"When I was younger, shopping vintage gave me a sense of community — places to meet other weird kids and kindred spirits. Love Saves the Day — an old thrift store on 7th Street and 2nd Avenue (made famous by Madonna in Desperately Seeking Susan) — was one of the first places I would go when I came up to the city from Connecticut and I loved seeing how other people were dressing. There was no street style or street chic then like there is now, so it was amazing inspiration and gave everyone a sense of belonging." —Vogue, May 2017
SZA
On her performing in vintage tees: "I learned a lot about how T-shirts process. When your enzymes and sweat and body oils break down these shirts, they start to feel better; they fit to your body. Eventually I started going thrifting. You know how when you go to thrift stores and you go to the front there will be three shirts above the register that are way too expensive but way too cool? Way cooler than anything in the whole damn store? So that's exactly what happened: I started buying those. Then I'd just be skimming the racks and find some hot shit, and be like, 'Whoa! No one was paying attention!' and you take it home, and then the next thing you know you have a hat and some very old shirts. And now I'm here!" —Vogue, April 2016
Helen Mirren
"I love a good charity shop, especially when I'm travelling. When I'm going to cold places, I take nothing — just underwear. On my way from the airport, I ask the driver to take me to a good charity shop, and I buy boots, socks, trousers, jumpers, sweaters, hats and scarves — usually for £30 … On the way back to the airport, I have it all in a big bag and drop it off at another charity shop." —The Sunday Express, August 2010
Tavi Gevinson
"I honestly shop mostly at thrift stores. I think there's a big difference between thrift and vintage. Vintage stores are usually more expensive and it's already picked out for you, but I like thrift stores because they're cheaper and I kind of like having to find the gems. I just go to the Salvation Army, that's the cheapest. And I look on Etsy for nicer vintage things that are maybe a little more expensive. And it's good to keep an eye out for vintage fairs or events." —HuffPost, April 2012
Winona Ryder
"Most of my wardrobe is vintage and I've worn dresses to the Oscars that I got for $10. At Sean Penn's last Haiti gala I wore this vintage dress that I'd worn to a film premiere in 2005. I know that's kind of a no-no in the fashion world, but why wear something just once if you love it?" —Red, April 2014
Eva Mendes
On what she wore to her first movie premiere: "The debut of my latest @nyandcompany collection has me throwing back to my first red carpet. I did my own hair and makeup and that's a $6 dress from Goodwill. I've always loved a cheap find. Viva thrift shops!" —her Instagram, March 2015
Zooey Deschanel
"There's a picture of me I wish I could find. I would buy these big, cheap, fluffy '50s prom dresses from thrift stores and just put them on with a tiara and sit and type at my computer. My room was a total messy-teenager disaster area, but I'd have on a vintage dress and my hair would be perfect." —Lucky, March 2014
Zoë Kravitz
"If I'm shopping, I really like Assembly New York on the Lower East Side, Catbird in Brooklyn, or Love Adorned in NoLita, which sells vintage jewelry and beautiful things for your house. There are fewer and fewer cool vintage stores now, unfortunately, but there's a good one called Stock, on East 13th Street." —Harper's Bazaar, February 2016
Kate Spade
On how her style evolved: "I was preppy, then suddenly switched around age 14. I asked my mother to go to this vintage store, and she let me buy a leopard swing coat, pink cigarette pants, and lime-green gloves. My mom was like the Diana Vreeland of Kansas City, Missouri. Out of place in big headscarves and pink lipstick, but I loved it." —Marie Claire, September 2016
Petra Collins
"I was really into fashion as a teenager … I would constantly be going to thrift stores and my friends would always be making things … I was really, really obsessed with 1970s disco. I still am — I love the music and I love the fashion. So definitely that, forever and always." —Totally Dublin
Lorraine Kirke
"I love to go scouring. The chase is the most fun part. I once went into this old lady's store in England and found the most beautiful 1940s silk robe, and she had all these baskets of things, all just for ten pounds. I am not afraid to cut something out — like, I'll buy a dress even if there's part of it I hate, just to salvage the part that I love. It's about the hunting and gathering! We also make wedding dresses from beautiful old lace. I go to little flea markets around New York, the Brooklyn Flea and the one on 25th Street. If I pick up one thing, I am happy." —The Cut, February 2013
Margherita Missoni
"I come from a family of compulsive collectors and my first memories are really all about collecting. I remember visiting flea markets with my mother or my grandmother — she goes to local ones around Varese, Italy, every Sunday when she's at home. While my mother, Angela Missoni, would look out for hands, pin-ups, and old children's furniture or toys; the latter Rosita Missoni would hunt for mushrooms, mermaids, and anything to do with fashion (like books, thimbles, and pincushions.) With their encouragement, I felt the urge to start my own collection and so I started acquiring daisies (my name Margherita means daisy in Italian) and fish, as I was born under the sign of Pisces. Since then, I've continued amassing endless categories of things, from the most general to the most specific, much to the disappointment of my husband [Eugenio Amos, race car driver and founder of Giallo Street Food]." —Vogue, November 2014
Alexa Chung
On her thrifting do's and dont's: "Do smell it, don't not wash it." —Style.com, November 2010
Tracee Ellis Ross
"I buy a lot of vintage because, well, it's AMAZING! And truthfully you can get great stuff for not a lot of money. I have a passion for vintage clothing because of the quality and uniqueness of the pieces (you don't really have to worry about showing up in the same outfit as someone else). To update some of my vintage finds or sometimes just to make them fit, I have the help of a fabulous seamstress and dressmaker, Daniela Kurrle. She really is stupendous and our collaborations have resulted in some of my favorite dresses in my closet." —her site, February 2013
Björk
On shopping: "I like it! But it really exhaust me. I get highs, to be totally honest, in second-hand shops. My hunting instinct, I expect, really kicks in." —The Guardian, July 2007
Amy Abrams, co-founder of Artists & Fleas
"The most fun thing about shopping for vintage is that you never know what you may find. … I always check the item to make sure it's in good condition. If there are any stains or tears, I really think about if that will bother me or if I can get those flaws fixed. The most important thing when buying vintage clothing is to have a good tailor for mending and adjusting." —The Man Repeller, April 2016
Florence Welch
"[My] aesthetic came along the way, I think — just through experimenting, and going on tour, and trying stuff out onstage, having fun with it, and not taking it too seriously. If I had a ballgown at home, I'd wear it onstage. If I found something in a charity shop, I'd wear it. That's where it grew from — just wanting to play dress-up." – The Guardian, February 2010
Karen Elson
"When I was younger, Anna Sui and I would go to the Chelsea Flea Market when it was open and we would go vintage shopping. She would teach me about textiles and designers from the '60s and '70s that she'd think I would be into. Fashion has very much influenced my style. It made me more daring but also made me understand what feels good on me as well." —The Hollywood Reporter, June 2017
Anna Sui
"I love going to flea markets especially when I am traveling, because I love seeing the stuff of other cultures, handicrafts and things with historical content. I love the whole story of why something happened when it did and that's what I put into the collections, where the end result might be the newest invocation of a similar historical spirit." —T Magazine, November 2010
Natalie Joos
On her advice for new vintage shoppers: "Never shop for something specific. Just browse. Don't expect to find what you were looking for. It never works. Either go for cool pieces that stand out and are unique (you will keep them longer) or go for the big designer pieces that will last you a lifetime. Don't buy things you know you will dispose of. Try stuff on. Vintage was made for smaller people. But don't be afraid to buy things too big. Alterations are common when buying vintage. You don't want to miss a cool piece just because it's too big. Too small is not recommended!" —Elle, February 2013
Carrie Brownstein
"I shopped in the boys' section at the thrift store … It was all about finding that perfect vintage T-shirt or corduroy pants. But, I don't want to make it sound like I was totally punk. As a kid, I listened to tons of pop music that I still love today, like Madonna or Cyndi Lauper." —Refinery29, May 2014
Cindy Sherman
On dressing her characters: "I was going to thrift stores and flea markets at first, just shopping for my own wardrobe and getting stuff cheaply. But then I'd find some amazing girdle or pointy bra that would flash back memories of my own childhood, of wearing a girdle at 13 — when you certainly didn't need one. But that's what women did." —New York Magazine, April 2008
Linda Rodin
"I'm a big flea market person, so that gives me a lot of leeway. Anywhere I go, I go looking for flea market stuff. …. I could be just browsing thinking I'm going to, you know, find a beautiful vintage perfume bottle, and I'll find the perfect pair of vintage Levi's. So it's always a surprise. I don't really go with something in mind. 'Cause then you'll just be disappointed. The last thing I found was a vintage perfume bottle that was very old, with a beautiful glass stopper. I never come home empty-handed." —Vogue, July 2017
Iris Apfel
"If it's a piece of fabric, I listen to the threads. It's not intellectual at all. The price is nothing. It's the emotional content: I have to feel it in my gut. I don't know how to explain it other than that." —Vogue, April 2015