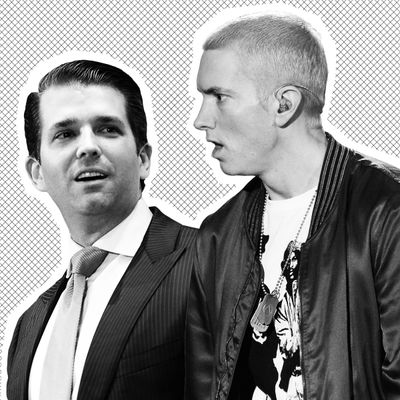 Two rap legends.
Photo: Getty Images
Donald Trump Jr. is a man of diverse interests — he's a fitness fanatic, political scholar, and most recently, a music critic. In a tweet on Tuesday, Donald Trump's eldest son (the dark-haired one) slammed rapper Eminem for preparing a response in case the president comes after his new album, and bemoaned the lost art of freestyle.
#WillTheRealLoserPleaseStandUp — ouch!
So it's probably safe to say Don Jr. will not be purchasing Eminem's new album, Revival, which was released last week, and features a number of tracks heavily criticizing Trump and the First Family.
Despite the First Boy's lament, Eminem did in fact reassert his freestyle chops earlier this year when he delivered a scathing freestyle rap about Trump during the BET Hip-Hop Awards in October. In it, he called the president "a kamikaze that'll probably cause a nuclear holocaust," and told all of his supporters who support Trump: "If you can't decide who you like more and you're split on who you should stand beside, I'll do it for you with this: Fuck you."
But Don Jr.'s line about being the "Real Loser" was pretty good too, I guess.