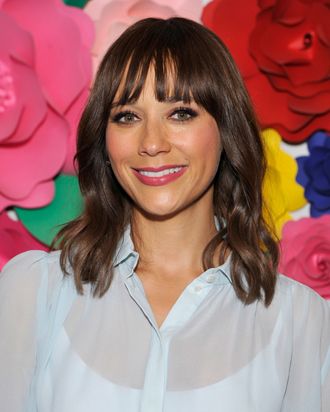 Rashida Jones.
Photo: John Sciulli/Courtesy of Almay
Do you ever look at a beauty campaign and laugh — because it's actually funny? If you have, it's probably thanks to Almay's newest beauty ambassador, Rashida Jones. Not your standard beauty face, the 41-year-old actress and producer wrote and stars in a series of videos for the brand in which she pokes fun at the social-media influencer economy. Of the role, Jones says, "We're trying to talk about beauty in a way that isn't just about what people think you should look like. We can make it funny and fun and self-effacing."
At Almay's recent event in downtown Los Angeles, Jones spoke to the Cut about all things beauty. Read on to learn how she feels about Instagram, being a modest dresser, and navigating Hollywood's double standards.
The Almay "Mega Influencer" idea for your campaign is really fun — how did it come about?
It was some combination of my own feelings about not being a millennial and the fact that this is a brand-new occupation. A lot of people and companies take it very seriously. I'm not sure I consider myself an influencer, but I like playing the part of somebody — a "millennial whisperer" who knows everything and can tell you how it is.
What intrigues you about Instagram culture?
This idea that you can define your life however you want and sell moments of your life to other people. It feels like virtual high school.
The one thing I do like is that if you pick moments in your life when you felt really pretty or you were having a really good time, you do tend to reflect back on them. You have this whole scrapbook of your life. You can be like, You know what, I did have fun on that trip. Even though I had food poisoning, I still had time to go out on the beach and take pictures of my toes.
The campaign is about the "True You." You've said before in interviews that you would like to see more real women in the beauty space. What does "real woman" and "true" mean to you?
It's not just one thing. The conversation about inclusion usually just talks about a broadening of shades but not necessarily body types — or even people who aren't models. I'm definitely not a model. I'm lucky; I have good-looking parents. But I love the idea of being able to be my age. To be what I am, which is black, Jewish, and biracial — I don't have to subscribe to some other thing to be beautiful and that's good. Women want to see themselves represented, so they can feel like what they are is beautiful.
The true me is kind of like what's in the ads. I'm goofy. I like to sort of poke fun at myself. I'm somewhere between hyperfeminine and interested in products, and then also bookish and not that. I can be both those semi-contradictory things. It's kind of the truest thing ever.
We're here in Hollywood where there's so much of a premium on our external beauty, yet everyone will say, at the end of the day, that it's inner beauty that counts. How do you reconcile those two ideas?
That is funny. Who says inner beauty counts? It's true, but it's not validated a lot. I was very lucky to grow up with incredibly supportive, loving parents. I was really given an opportunity to pursue things that wouldn't necessarily seem so beautiful to the outside world. I could be goofy and funny, or interested in math, or interested in computers.
Now, I am an amalgamation of things I was told along the way were beautiful and interesting. That counts way more than external pressure. I feel lucky because I'm not just a Barbie. I don't want people to just stand there and look at me. I want to engage. I want to write. I want to produce.
What are some of the things that make you feel good, that might not be considered "beautiful"?
I'm a pretty modest dresser. I grew up wearing a uniform. I'm never happier than when I'm in a suit or a button-down shirt. I feel so beautiful, elegant and sophisticated. Even with beauty stuff, I like a really clean face. I know it's not the sexiest or what most people are going to like.
I like when people put their hair back in a tight bun. I like a dewy face, lots of freckles so you could see everything coming out and maybe a really bright lip. I like when people can play with the art of how to wear makeup on their face.
In society and especially in Hollywood, there's such a premium on youth and beauty, but then when people try to look younger with procedures or whatever it might be, they're often criticized in the media. What are your thoughts on that?
We are prohibitively age-averse, and it's a bummer. There's so much good stuff that comes with age. I'm not sure that it's the common feeling among people. [Fear of aging] feels like a sales tool. It's just a way to get people to keep consuming things, but then you have to try to get this thing that's unattainable. You're never going to stop aging. We're born and then we start getting older.
I can't imagine the people who are really scrutinized. It's got to suck. Whatever procedure you're doing, you're probably doing because you don't feel good about the way you look. You're trying to feel better and it didn't work out that way. If I were getting deep, I would speculate that it has to do with everybody fearing their own mortality.
You think about women who spend two and a half hours getting ready for an awards show and a guy blots himself down and walks out the door. We've gotten to this place where the preparation for what it looks like to be a beautiful woman is literally just so fucking time-consuming. I don't know. I would love to say that if women just were like, Screw you, this is how old I am, and I'm not going to try to do anything to hide that from you, that things would change. Maybe it's a big, giant cultural shift. A lot of things have to change in order to bolster that.
This interview has been condensed and edited.
Rashida's Recommendations
It's a YA book. It was a huge best-seller and it's about a young black girl and it's kind of about Black Lives Matter. It's really good. I just started it.
The foundation is really awesome because it has this little smudgy thing on the top that they call a blender. I'm always trying to steal these from my makeup artist, which I then usually lose. This is good because it's part of the actual packaging. You can wash it, leave it alone, then put it back on when it's dry.
If you buy something through our links, New York may earn an affiliate commission.