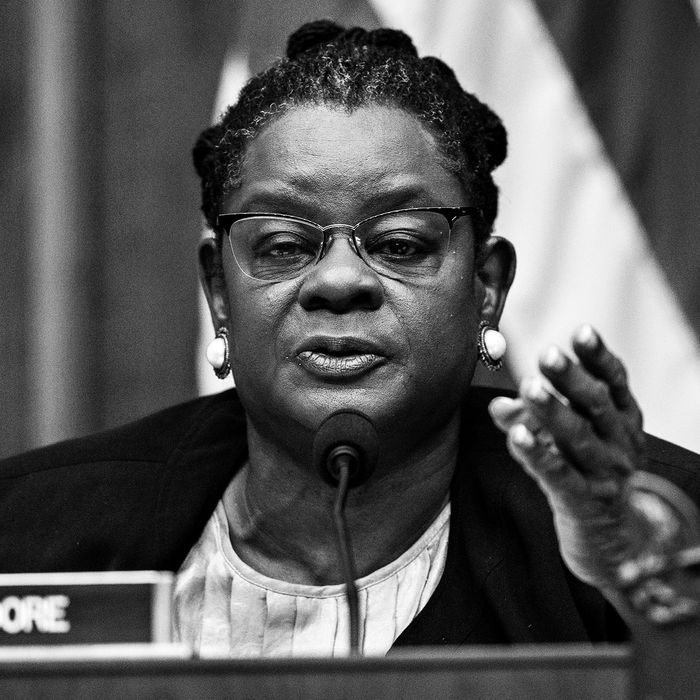 Democratic representative Gwen Moore of Wisconsin.
Photo: Andrew Harrer/Bloomberg via Getty Images
In a tweet sent Tuesday afternoon, Wisconsin congresswoman Gwen Moore alleged that a Roy Moore supporter called her office posing as a reporter for the Associated Press, before hurling racial slurs at Moore and her staff.
The day before the call, Representative Moore had written a letter asking the Senate Sergeant at Arms to take extra precautions to protect young congressional pages (mostly rising high school juniors and seniors) in preparation for the possible election of Alabama Senate candidate Roy Moore, who has been accused of harassing and abusing a number of teenage girls in the '70s and '80s.
"It would be unconscionable for Congress not to be vigilant and proactive in taking precautions to safeguard these children given the well sourced allegations against Moore," the congresswoman wrote.
This would not be the first time a Roy Moore supporter has posed as a journalist. In November, the Washington Post published a report about a woman with ties to the right-wing activist group Project Veritas, who approached the paper with false claims about Roy Moore in an attempt to uncover the Post's supposed liberal bias. Her claims were quickly debunked.