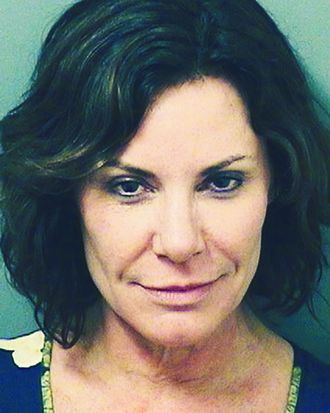 Luann de Lesseps's mug shot.
Photo: Handout/Getty Images
Former countess LuAnn de Lesseps — one of your favorites from The Real Housewives of New York — was arrested early Sunday morning in Palm Beach, Florida. We knew she had been charged with "battery on an officer, disorderly intoxication, resisting arrest with violence, and crimes against a person," but the details about what actually went down had been a bit hazy … until now.
According to "Page Six," a police report released Monday (a Christmas miracle!) revealed that de Lesseps and an unidentified man allegedly entered room 407 of the Colony hotel in Palm Beach as a maid was finishing turn-down service. The only problem? De Lesseps was actually registered to a different room. Per "Page Six":
A security guard who went to the room found the couple in bed there and told de Lesseps — who was registered to stay in room 327 — and the man that they had to leave, the report says.




Following "multiple attempts to get both subjects to leave over a five minute period," the guard called for help, and two cops arrived at the scene around 9:20 p.m., finding de Lesseps and her longtime friend Julie Olson in the room.
Olson then allegedly agreed to leave, while de Lesseps locked herself in the bathroom. When the guard tried to open the door with a key, the 52-year-old Housewife allegedly shoved a cop in the chest and slammed the door in his face. She also allegedly kept telling cops she was "going to fucking kill all of you" as she got to the police station.
De Lesseps apologized for the behavior in a Sunday statement, explaining, "This was my first time in Palm Beach since my wedding, and being here brought up long-buried emotions." Of course this has something to do with Tom!!!