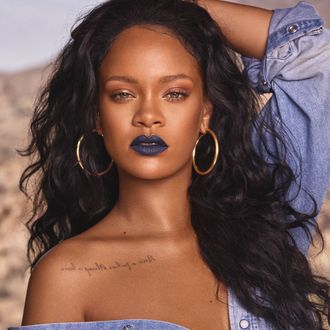 Rihanna's Mattemoiselle
Photo: Courtesy of Fenty
This month, our Lady Rihanna (née Robyn Fenty) of Saint Michael, Barbados, will bless us with a new collection of matte lipsticks. Called the Mattemoiselle, the newest Fenty Beauty release will feature 14 different shades. "Lipstick is all about having fun and expressing your mood at any given moment. This collection makes it easier than ever because there's a color for everyone," said the Lady in a press release.
Indeed, there are lipsticks for every mood. The inventive shade names continue with the best thing invented in 2017. Soon, you can wear Clapback, Freckle Fiesta, Spanked, and yes, even a shade called PMS (described as a too-real "moody brown") on your lips. There's even a shade for your dating status ("S1NGLE" or "Up2 No Good.")
Don't expect just reds and pinks, either. There's a veritable rainbow of shades, including more unusual colors like periwinkle blue, lilac, navy, and even green. True to our Lady's plan, the whole collection drops one day after Christmas — you can buy everything at Sephora on December 26. Look below for all of the shades and the fun names.