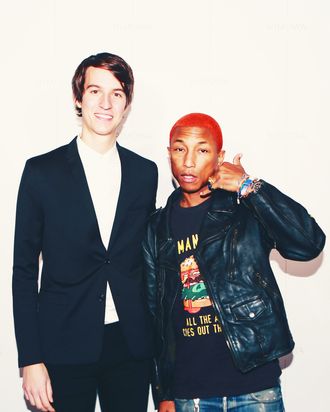 Alexandre Arnault and Pharrell Williams.
Photo: Sansho Scott/BFA.com
Welcome to This Party Had Everything, our recap of the wildest or most beautiful party look from last night.
This Rimowa party had everything: orange buzz cuts, Victoria's Secret angel Alessandra Ambrosio, and expensive luggage arranged everywhere as decorative accents … it was like partying with TSA! And just look at Pharrell's burger T-shirt! He wore leather and Rimowa's 26-year-old chief executive Alexandre Arnault opted for a suit, because that's what 26-year-old executives do. I love it! They partied together at Rimowa's pop-up store launch in Los Angeles last night. The luxury luggage brand pulled out all the stops to transform the party venue into a chic, artsy conveyor belt. Luggage hung from the walls in crazy pinwheel shapes, and a giant silver shelf displayed the rest of Rimowa's collection — it all looked like the X-ray machine you'll see in the TSA line if you're traveling for the holidays this month. Nothing is more glam than a fancy business-class lounge in a busy airport! I love parties! Plus: look who just walked in … is that Carmen Sandiego?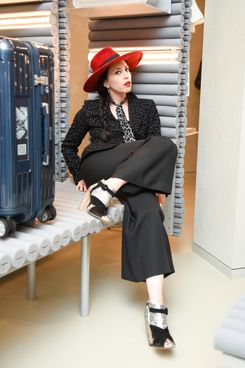 No! It's Swedish costume designer B. Akerlund, dressed like a video-game villainess in a red hat, cheetah-print blazer, and disco-ball shoes. To be fair, it was a demure look for the avant-garde designer, who also partied with Ellen von Unwerth at Monday's Santa-gone-bad party. Right now, every night means a new red party hat and a new glittery accessory. Isn't the yule tide magical?