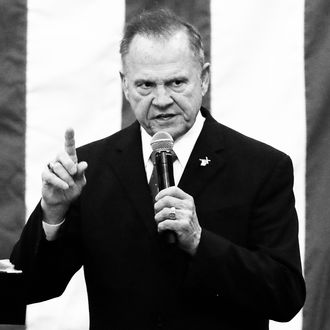 Roy Moore.
Photo: Joe Raedle/Getty Images
Win or lose, Alabama Republican Senate candidate Roy Moore is, undeniably, horrible. He's been accused of molesting teenage girls; has called homosexuality "abominable, detestable, unmentionable;" and, oh yeah, thinks life was better back when we had slavery. Here, a not-at-all-comprehensive list of reasons why Moore is the worst.
He got banned from a mall for bothering teenage girls. Moore apparently became a fixture at the Gadsden Mall in his Alabama hometown in the early 1980s — and by that we mean he apparently liked to badger teenage girls there. His inappropriate behavior was reportedly such an issue that security guards actually banned him from the mall.
He's been accused of molesting teenage girls. A number of women in Alabama have come forward to allege that Moore made unwanted sexual advances toward them while they were teenagers. The allegations span from harassment at the Gadsden Mall to even dating young girls when he was in his 30s. One woman alleges the two had a sexual relationship when she was 14 and he was 32; another claims she consensually kissed Moore when she was 17 and he was 34; and yet another woman came forward to accuse Moore of sexually assaulting her when she was only 16 years old. Moore denies the allegations — and has specified that he didn't date "any girl without the permission of her mother." Okay.
He's homophobic. Moore was well-known for his anti-LGBT views before becoming Alabama's Republican Senate candidate. According to the Advocate, Moore has long opposed marriage equality, argued that Alabama county probate judges didn't have to issue marriage licenses after same-sex marriage was legalized, and wrote in a custody ruling (in which he gave custody to an abusive father rather than a lesbian mother) that homosexuality is "abominable, detestable, unmentionable, and too disgusting and well-known to require other definition or further details or description."
He's extremely anti-abortion. Moore is an anti-abortion extremist. He has one of the most hard-core positions imaginable on the issue, is uncomfortably close with activists who justify violence against abortion providers, and has commented that abortion is bringing divine wrath on the state. He's also a leader in the "personhood movement," meaning that he believes zygotes should have full protections of the Equal Protection Clause at the moment of conception.
He doesn't think women should hold political office. According to ThinkProgress, Roy Moore co-authored a study course in 2011 that instructed students that women shouldn't be allowed to run for political office — and, if they did run, then people had a moral obligation not to vote for them. The course, called "Law and Government: An Introductory Study Course," was also reportedly critical of the women's suffrage movement.
He thinks America was great under slavery. In September, Moore was asked by a black campaign rally attendee about the last time the candidate thought America was great. Moore replied, "I think it was great at the time when families were united. Even though we had slavery, they cared for one another … Our families were strong, our country had a direction." He also reportedly referred to Native Americans and Asians as "reds and yellows" during that same rally.
He wants to get rid of important Constitutional amendments. Moore reportedly said in 2011 that getting rid of any Constitutional amendments after the tenth "would eliminate many problems." The amendments, he thinks, "have completely tried to wreck the form of government that our forefathers intended" — including the amendments that outlawed slavery and gave women the right to vote.