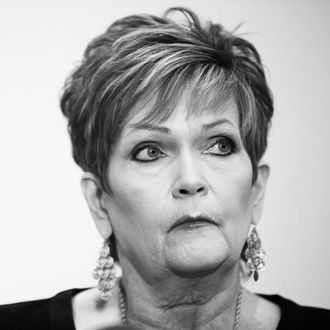 Beverly Young Nelson, who accused Roy Moore of groping her breasts and pushing her head toward his crotch when she was 16.
Photo: Jessica McGowan/Getty Images
So rarely do women get to witness men who have allegedly harassed or abused them face any sort of consequences for their actions, a major reason why so few bother to come forward in the first place. But after culture warrior Roy Moore, an accused pedophile who allegedly trawled malls for teenage girls, lost to Doug Jones in last night's Alabama Senate race, one of Moore's accusers is feeling a renewed sense of justice.
Beverly Young Nelson, Moore's fifth accuser who came forward with famed women's rights lawyer Gloria Allred, was the first to react to Moore's loss on CNN's New Day, the Hill reports. Nelson alleges that 30-year-old Moore groped her breasts and pushed her head toward his crotch after he offered to drive her home from her job at the Old Hickory House when she was just 16 years old.
"Roy Moore's loss means to me the fact that Alabama is about to make some changes, and I believe that it's going to be on the positive side of things," she told co-host Alisyn Camerota. "I'm very excited. I want to congratulate Doug Jones for his win. I'm just super excited. I could not even say more."
Accusations against Moore were first reported by the Washington Post in early November when Leigh Corfman, Wendy Miller, Debbie Wesson Gibson, and Gloria Thacker Deason came forward with incriminating stories about his predatory behavior. From that first exposé up to the current moment, eight women have accused Moore of sexual misconduct. On New Day, Nelson expressed a feeling of solidarity with the seven other women.
"I feel like my story may have played a part in this, but I also believe that it was the other victims as well that also helped with all of this," she said. "I feel like it was just not me, it was all of us."