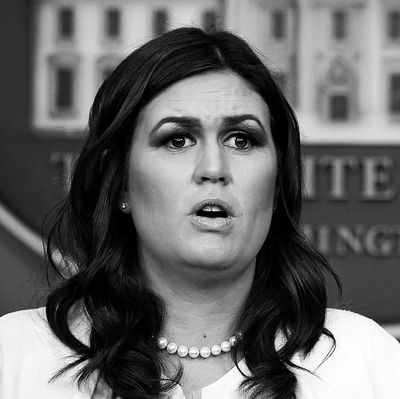 Sarah Huckabee Sanders.
Photo: Chip Somodevilla/Getty Images
At today's White House press briefing, Press Secretary Sarah Huckabee Sanders addressed the monumental tax bill, yesterday's gruesome Amtrak derailment, and whether or not the president believes in UFOs.
Interest in extraterrestrials has been piqued this week after the New York Times reported that the Pentagon had been secretly researching the existence of UFOs from 2007 to 2012.
But as The Hill's Jordan Fabian geared up to ask whether the White House plans to reinstate the secret program, and specifically whether the president believes in aliens — Fabian's cell phone went off.
"I don't know if that's a coincidence or not," Sanders joked. "I feel like I already want to pass on this question given that you have aliens sitting among you."
But when pressed, she said she'll look into it: "Somehow that question hasn't come up in our back-and-forth over the last couple days. But I will check into that and be happy to circle back."
We will update this post as the president's response becomes available.