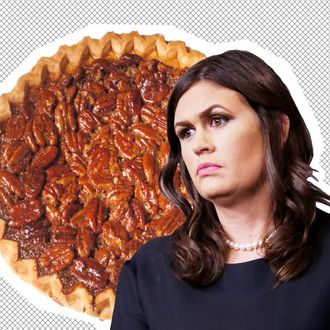 Sarah Huckabee Sanders, stock photo pie.
Photo: Getty Images
On Thanksgiving, White House press secretary Sarah Huckabee Sanders tweeted out what she probably thought would be a nice, relatable photo of a chocolate pecan pie she claimed to have baked. Instead, she was promptly roasted by the internet because it looked like she had just posted a shoddy stock image of a pie.
But Sanders, it turns out, is not one to let things go. (And neither am I, especially when it comes to that time her brother killed a dog.) With Christmas rolling around, there was more pie-baking to be done — and nothing embodies the spirit of Christmas quite like pettily documenting every step of your pie-baking process on Twitter.
Sanders even tagged White House reporter April Ryan in some of the tweets, after Ryan joined in the fun and mocked the pie the first time around.
Even during this rare attempt at transparency, Sanders failed to mention her secret ingredient: barely concealed seething rage.
Update, 3:45 p.m.: Sanders personally presented Ryan with a pie and, after an awkward exchange, asked her to say something nice to her father. "Hello Papa Huckabee," Ryan said. "I got a pie in my hand but I'm not gonna eat it but I'm thankful."