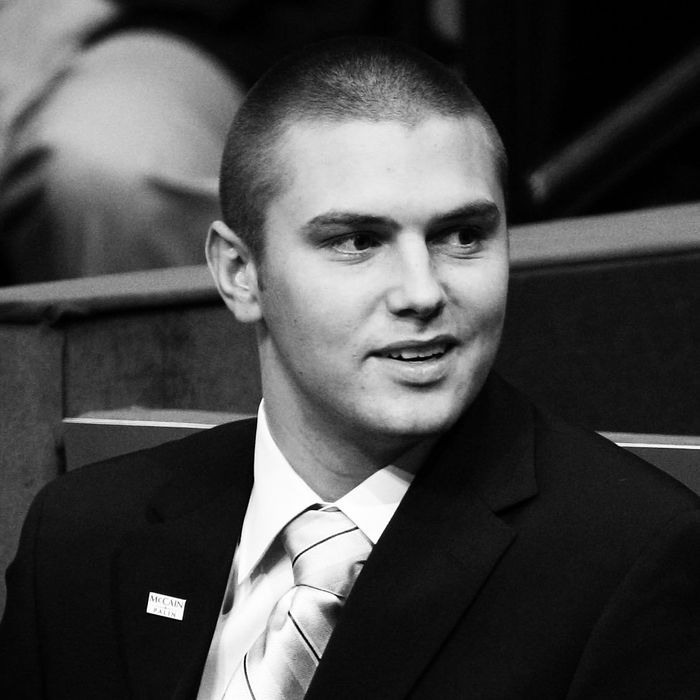 Track Palin.
Photo: Justin Sullivan/Getty Images
On Saturday evening, Sarah Palin's 28-year-old son Track was arrested and charged with assault, burglary, and criminal mischief after allegedly breaking into his parents' house and attacking his father, Todd. The court filing, newly published by the Los Angeles Times, reveals a situation rife with arguments, alcohol, and violence at the Wasilla, Alaska home of the Second Family that almost was.
According to the charging documents, Sarah called the cops around 8:30 p.m. and "stated that Track was freaking out and was on some type of medication." When they arrived, officer Adam LaPoint attests, Track was "yelling and calling myself and other officers peasants."
Track told officers that he had drank a few beers, got in a disagreement, with his dad over a vehicle, then drove over to his parents' house where he found that Todd was holding a gun. Track then alleges that he broke the window, climbed into the house, disarmed his father, and started hitting him.
Todd, meanwhile, told police the following:
During an interview, Todd stated the argument had started when Track called wanting to come get his truck. Todd told Track not to come because he had been drinking and was on pain medication at the time. Track had told him that he was [going to] come anyways to beat his ass."
This is not Track Palin's first brush with the law. In July 2016, he entered a plea deal in a domestic violence case in which he was accused of punching and kicking his girlfriend and handling a firearm while intoxicated.