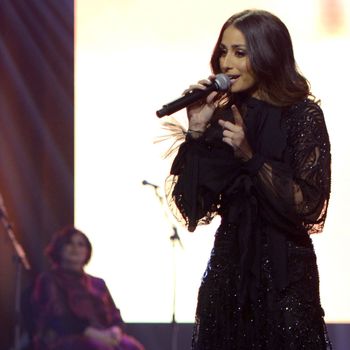 Hiba Tawaji performing in Saudi Arabia.
Photo: HAYA AL-SUWAYED/AFP/Getty Images
Saudi Arabia, which has recently hosted all-male concerts by Toby Keith and Nelly, finally allowed a female singer to perform at a public concert for the first time in its history on Wednesday, NBC News reports.
Lebanese singer Hiba Tawaji performed Arab classics and covers of Whitney Houston and Céline Dion songs for thousands of young women at the Wednesday concert in Riyadh.
"This is a very proud moment for Saudi Arabia," the master of ceremonies told the crowd, per NBC News. "All women should express their appreciation for a fact that a woman for the first time is performing at a concert in Saudi Arabia."
NBC News notes that the concert seems to be the latest attempt by 32-year-old Crown Prince Mohammed bin Salman to modernize some of the arch-conservative kingdom's practices. The government has allowed public concerts to take place within the country in recent weeks (there was recently a mixed-gender performance by violinist Yanni), and the country also recently reversed its decades-long ban on women driving.