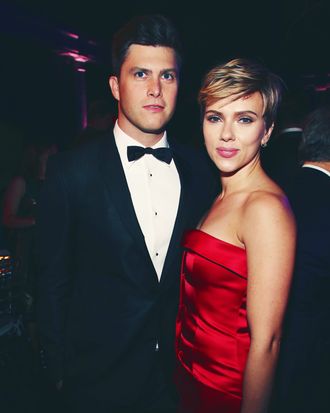 Scarlett Johansson and Colin Jost.
Photo: Sylvain Gaboury/Patrick McMullan via Getty Image
Three long months after "Weekend Update" anchor and Harvard Lampoon guy Colin Jost walked the Emmys red carpet alone, telling reporters his girlfriend Scarlett Johansson totally wanted to be there but she had to work, the couple finally posed for a photo together at a fancy event. It happened Thursday night at the American Museum of Natural History Gala in New York City! According to People, Jost and Johansson walked the red carpet separately, but Johansson did agree to be photographed with Jost inside the party. A "friend of Jost's" told the tabloid, "They're very much in love. It's serious. … They're super cute together." I guess they are.