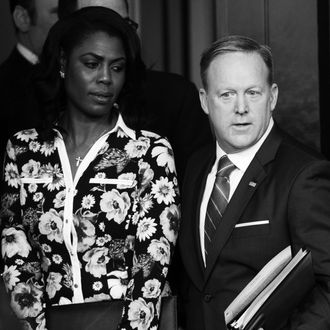 Omarosa Manigault Newman and Sean Spicer.
Photo: SAUL LOEB/AFP/Getty Images
After being subjected to six months of near-constant humiliation, most people would find a way to lay low, re-center, and maybe reexamine some of the choices they've made. But not Sean Spicer. Since resigning as White House press secretary in July, Spicey has joined the pundit circuit, made a bizarre appearance at the Emmy's, and accepted smooches from celebrities. And now, he's offering his thoughts on the latest White House drama.
In an appearance on Laura Ingraham's Fox News show on Thursday, Spicer was asked about presidential adviser and former Apprentice contestant Omarosa Manigault Newman's scandalous exit that may not have involved her being physically removed from the White House grounds, but will probably end in a tell-all book deal. When asked why he thinks Omarosa was hired, and whether she had any qualifications to work in the White House, Spicer replied:
I don't know. Look, she was very loyal to the president … I think the president brought a lot of people who wanted to fulfill his agenda. And that's his prerogative. Wish her the best. But I don't — I'm not really sure.
In fact, Omarosa worked in the Clinton White House for two years, during which she was fired from four separate jobs. So not only does she have White House experience, she has extensive White House firing experience.
Watch the full interview below.