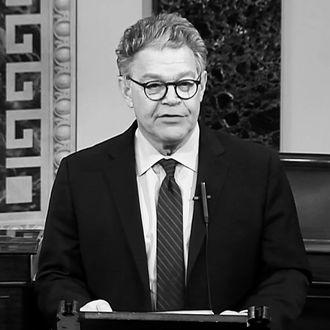 Senator Al Franken.
Photo: Courtesy of YouTube/PBS NewsHour
Democratic senator of Minnesota Al Franken resigned on Thursday amid numerous allegations of sexual misconduct. Franken, a former comedian and Saturday Night Live cast member, had been a member of the Senate since 2009.
Franken began his resignation speech speaking about the current cultural conversation around sexual assault that sprung out of the Harvey Weinstein scandal. "We were finally beginning to listen to women about the ways in which men's actions affect them. The moment was long overdue," he said. "I was excited for that conversation and hopeful that it would result in real change that made life better for women all across the country and every part of our society. Then the conversation turned to me."
He continued, addressing the multiple allegations against him and saying that he "wanted to be respectful of that broader conversation because all women deserve to be heard and their experiences taken seriously." However, Franken claims that some of the allegations against him are "simply not true" and others, he remembers "very differently."
Multiple women have come forward in recent weeks with their stories of Franken's behavior. The first, radio host Leanne Tweeden, shared that he had kissed and groped her without her consent during a USO trip to the Middle East in 2006. (Tweeden later said that she didn't want him to step down.) The U.S. Senate Ethics committee officially opened an investigation against Franken and, with allegations mounting, several of his Democratic colleagues in the Senate called for his resignation.
Franken said his decision was ultimately about "the people of Minnesota," who he felt he could not adequately serve while also focusing on said investigation. He also took digs at President Trump and Roy Moore, saying "I of all people, am aware that there is some irony in the fact that I am leaving while a man who has bragged on tape about his history of sexual assault sits in the Oval Office. And a man who has repeatedly preyed on young girls campaigns for the Senate with the full support of his party."
"Even today, even on the worst day of my political life, I feel like it's all been worth it … I know that the work I've been able to do has improved people's lives," he added. "I would do it all over again in a heartbeat."
Watch his full speech, below: