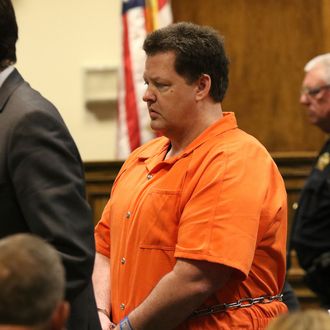 Todd Kohlhepp.
Photo: JOHN BYRUM/AP
In November 2016, 30-year-old Kala Brown was found after being missing for two months, chained up in a storage container "like a dog." Her employer, Todd Kohlhepp, was arrested in connection with her kidnapping — but his crimes were just beginning to come to light. By May 2017, Kohlhepp pleaded guilty to seven murders total. And now, he says there are more.
In a letter Kohlhepp, 46, recently wrote to the Spartanburg Herald-Journal he claims "there is more than seven."
"I tried to tell investigators and I did tell FBI, but it was blown off. It's not an addition problem, it's an multiplication problem. Leaves the state and leaves the country. Thank you private pilot's license," he wrote. "At this point, I really don't see reason to give numbers or locations."
Following his arrest for Brown's kidnapping, he also confessed to murdering four people in a bike shop massacre back in 2003. Additional searches of his property uncovered three more bodies, including that of Brown's boyfriend, Charlie Carver; two were murdered in late 2015, while Carver was killed in 2016.
These murders weren't Kohlhepp's first brush with the law. In 1987, the Greenville News reported, he was convicted of kidnapping a 14-year-old girl (he was 15 at the time). He initially faced sexual-assault charges as well, but they were dropped when he pleaded guilty to kidnapping. Kohlhepp was imprisoned until 2001 for that crime.
During a Dr. Phil appearance in February, Brown said that Kohlhepp bragged to her that his victims were "nearing the triple digits."
Kohlhepp is currently serving seven life sentences plus 60 years in prison.