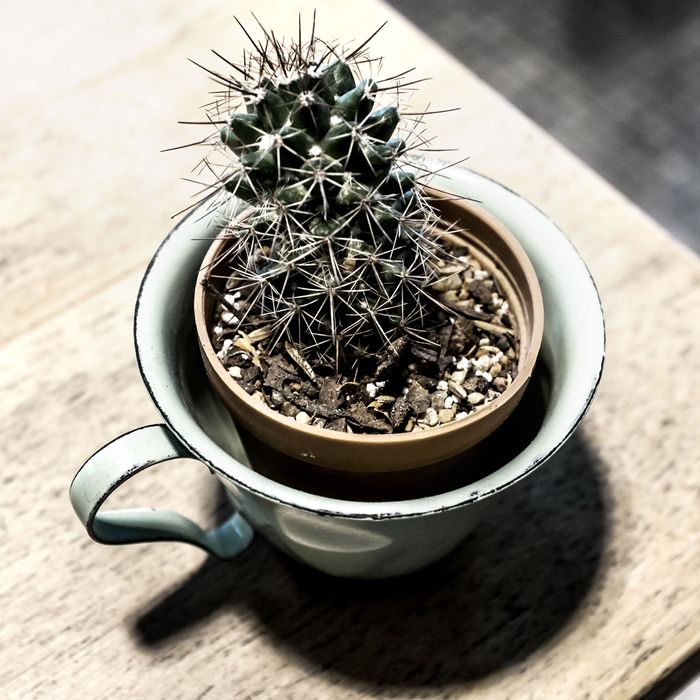 Photo: anuwattn/Getty Images/iStockphoto
Get Sex Diaries delivered every week.
New York's Sex Diaries series asks anonymous city dwellers to record a week in their sex lives — with comic, tragic, often sexy, and always revealing results. This week, a fashion writer who says she watches Larry David to avoid the "Sunday Scaries": 25, straight, single, Murray Hill.
DAY ONE
8:30 a.m. I have a splitting headache, but I have to go to a boxing class I signed up for or forfeit $20. I force myself up. The night before was brutal — a boring night out prolonged because I was scoping the bar for potentials and didn't realize how hard one-too-many whiskeys hit me on an empty stomach.
11:00 a.m. Boxing is over, and I managed to make it through without vomiting. I feel better starting my day now that I've accomplished something. I figure I should keep the momentum going by doing some laundry, which includes washing my sex sheets from two nights ago.
12:30 a.m. I make a list of the errands I have to accomplish: I need a Brazilian wax (I started waxing when I was 14, as a swimmer in high school. Now I do it because it makes me feel confident in bed, like a porn star or something).
2 p.m. Freshly waxed, I make my way over to one of my favorite cafés for lunch. I always feel extra horny when I leave a wax, so I text one of the guys I've hooked up with recently (we'll call him Hookup 1) to invite him to a party I'm going to tonight at a friend's apartment.
2:15 p.m. Holy shit this café's bartender is cute. Is he gay? I can't quite tell. He's got a lot of energy, and he's incredibly friendly. I'm reluctant to make conversation, self-conscious about being out without any makeup on and in leggings and a T-shirt. I put my newspaper down and start talking to him. He's really something.
3 p.m. Just when I've accepted that he's gay and thus can let my personality come through unguarded, he drops the bomb: It's his girlfriend's birthday, and he made her a 25-slide PowerPoint presentation about their love. I almost upchuck my yucca fries.
It's not that I don't ever want to be in a relationship again, but the last few have ended bitterly. Plus, my parents divorced one another a couple years ago and are still dealing with the fallout. Those two things don't exactly leave one feeling very romantic.
4 p.m. I feel like I need something new and vampy to wear to tonight's soirée (French for party at an overcrowded apartment downtown). Hookup 1 texts me back saying he'll come by the party if he can wrangle his friends away from their party. I hate that I'm the one asking him out again — we've hooked up three times now, each of which I've initiated — but I really want to get laid.
He's a recent Columbia grad and consultant, even more recently on the rebound after his year-long girlfriend broke up with him. He was incredibly transparent about his intentions — no-strings-attached fucking — on our second date a few weeks prior.
12:30 a.m. I'm at the party on the Lower East Side, but still no update from Hookup 1. I'm annoyed. I feel sexy in the outfit I chose, and don't want to waste that and a fresh wax on a night alone. Against my better judgment, I text Hookup 1 to encourage him to come. He says he will. I'm grateful, because my second string in the "hoe-tation" isn't as exciting.
2 a.m. Once Hookup 1 and I finally meet up, we have incredibly rough sex at my place. My arms and chest are left bruised and my ass is sore. At one point I yell out, "I hate you!" I have no idea where that came from. I don't come (I never have with a partner), but I'm satisfied nonetheless.
DAY TWO
4 p.m. Hookup 1 finally leaves my apartment to go rock climbing with a friend of his. I hardly let men stay the night in my apartment, let alone an entire day after. But his cock is perfect, and I'm feeling lonely.
6:30 p.m. I text Hookup 1 to tell him I had a great time, that it was a perfect Sunday. He responds much the same. I don't plan on answering that text.
9:00 p.m. This is about the time the "Sunday Scaries" — the regular recurrence of existential dread before the week ahead — usually hit me. Alas, nothing matters. Real Sartre shit.
10:00 p.m. I manage to escape whatever real thoughts I'm feeling with an episode of Curb Your Enthusiasm before falling asleep.
DAY THREE
8:30 a.m. I'm running late for work, which has become an outright drag on my mood. I write about fashion, which I love, but I hate how the internet wants it delivered. It sometimes feels like if it doesn't have "Trump" or "tits" in the headline no one cares.
10:30 a.m. My mind's wandering after our morning staff meeting. I start to think about Hookup 1 again, but I don't want to text him so soon. So I text four other potential fuck buddies and past hookups to see who might want to get a drink tonight. I need a distraction, and it'll be tough to coordinate anything else the rest of the week because my mom is coming to visit.
4 p.m. A new guy, we'll call him Bumble Match, says he can meet up for a drink tonight. Based on his photos he looks a little douchey (there are more than one frat-tastic images in his profile) but I don't care. I'm not meeting him for his personality.
8:30 p.m. I pick a spot near my apartment to meet, and take a personality shot before I go. Bumble Match shows up in dark-gray slacks and a crisp white shirt: standard, without much personality. It's fitting in more ways than one. I say I'm not feeling well and head home alone after one drink.
DAY FOUR
12 p.m. It's a quiet day at the office — most editors are working from home. I'm feeling blasé in my professional life; what does any of the work I do — celebrity and designer interviews, fashion collection reviews, trend spotting — matter?
2 p.m. I send a suggestive text to Hookup 1 about coming over after my party tonight. He says he's drowning in work and has to deal with doctors after a car accident he was in a few months ago. I'm disappointed, but it's probably for the best. My editor assigned me a story on the fashion party I'm going to and I have to file it as soon as I'm home. I resolve after this that I won't try to make plans with Hookup 1 again; if he wants me, he knows how to get in touch.
10 p.m. I make it to the party and scope the premises. It's a costume party, and there are some attractive men. One in particular dressed like the Russian boxer from the Rocky movies is a complete stud.
11 p.m. There's also a man dressed in a full BDSM costume, like it's 1977 and he just walked out of Mineshaft. I ask if he's gay or straight. He says the latter. I'd do whatever he wanted right then and there.
12:30 a.m. I'm technically on assignment, so I don't want to get too drunk at the open bar. My editor says I have to file my story when I'm home, and that's not conducive to executing my newly ignited sex-slave fantasies.
1 a.m. Throughout the night I've been sending Snapchat messages to at least a handful of dudes I've fucked. Most are responsive, others don't open the pictures until the morning.
1:45 a.m. I make it home and write my story before crashing. I'm exhausted.
DAY FIVE
10:30 a.m. My editors seem pleased with my work, almost enough to make me less resentful that they've ruined my sex streak.
11:30 a.m. Why did I agree to a SoulCycle date with a PR person tonight? It's my last night alone before my mom visits from out-of-state, which — if I'm being responsible — means no sex for the next four days. I've got to clean my apartment before she visits. My mom and I are close, but it's still a mother-daughter relationship, which means I'm not divulging every bit of my sex life to her.
3:30 p.m. Tinder Match asks if I want to come over to "see his new apartment." I could, I suppose, except he lives in Brooklyn and it's incredibly inconvenient for my schedule. He proposes a "sleepover." Nothing sounds less appealing. If I take him up on this, I'm going there with the intention to get laid and leave.
5:30 p.m. I have my SoulCycle class with the PR person. It's a hip-hop spin class, and I'm getting my ass kicked. There's a tiny, annoyingly well-coordinated rider directly in front of me. I'm mesmerized by how her body moves so effortlessly to the beat as I huff and puff. Shouldn't my sex cardio make this easier?
7:00 p.m. Class is over and I grab a quick dinner with this PR person. She's nice, pleasant, but I'm hardly listening to her drone on about the sorority she was part of six years ago in college. I'm busy having an internal debate about whether to accept Tinder Match's sleepover invitation.
8:00 p.m. I'm home and showered, and decide to go to Tinder Match's Brooklyn apartment. The issue with this guy is that we went on a few dates that I thought went well, and I really liked him, so hooking up callously became challenging. He'd just gotten out of a long-term relationship and wasn't looking for another. I might have a type.
9:30 p.m. I show up at Tinder Match's apartment, a housewarming succulent in one hand and an apple pie in the other because I'm a classy slut with good manners.
He's got tea waiting for me and incense is burning, his signature. My god, he's handsome. We chat for a while, catch up superficially about how the other has been in the few months since we last boned. I spot a video game console and we play a few rounds.
11 p.m. I really hadn't intended on having rough sex tonight. I'm pretty tired, I've got a few bruises from the previous weekend's rendezvous, and I'd like to leave without getting any more. Plus, there's a part of me that wants to develop a deeper relationship with this Tinder Match — he's a smart, funny person who would challenge me to be a better version of myself.
Next thing I know, I'm handcuffed and nearly helpless. There's a good amount of foreplay — he's doing his best to get me off because he knows I don't ever. But it puts an undue amount of pressure on me.
I can't really pin down why I've never had an orgasm during sex. It'd be easy to say it's because I don't feel emotionally connected with my partners, but the sad fact is I didn't come even when I was in committed relationships.
11:15 p.m. Tinder Match is putting in the effort, but I just can't climax. I feel pangs of guilt. I could fake it, but I won't. Instead I beg him to fuck me.
12 a.m. This guy's M.O. is good sex, then invasive pillow talk. It would be really nice if there were any real emotional connection there, but it's like me being physically naked isn't enough — he wants emotional nakedness, too. "So, why do you like what you like, you know, in bed?"
"Where's the mystery in telling you?" I say, then grab my lingerie and coat, tell him I'm sad I'll miss the chance at morning sex, and head down to my Uber.
DAY SIX
6:00 a.m. I wake up early to clean my apartment and do some laundry before I head to work so my place is tidy by the time my mom arrives. My back feels strange, a little out of alignment. Tinder Match did a number on me.
10:30 a.m. I text my friend for a chiropractor recommendation, and she gets back to me with "Dr. Casanova, roommate's rec." That can't be real.
4 p.m. My mom arrives in town and I leave work early. The achiness in my back is a constant reminder of last night's sexscapade. Worth it, I guess.
DAY SEVEN
7:00 a.m. I wake up with sharp pains in my lower back. I've definitely screwed it up.
I tell my mom I must have slept wrong and call Dr. Casanova's office as soon as they open for an adjustment.
2:00 p.m. My mom and I are walking around the Union Square farmer's market, killing time before my appointment with the good doctor. She's telling me about her six-month-long relationship with the guy she's currently seeing, whom I can't really stomach. I listen and offer "oohs," and "oh yeahs?" at intervals, feigning interest and empathy.
She asks me if I'm seeing anyone special, which is an obvious "no." I'm fine with that, and I'm glad she's dating.
4:15 p.m. Dr. Casanova fixes me right up. I love having at least one reliable guy on-call.
Get Sex Diaries delivered every week.
Want to submit a sex diary? Email sexdiaries@nymag.com and tell us a little about yourself.