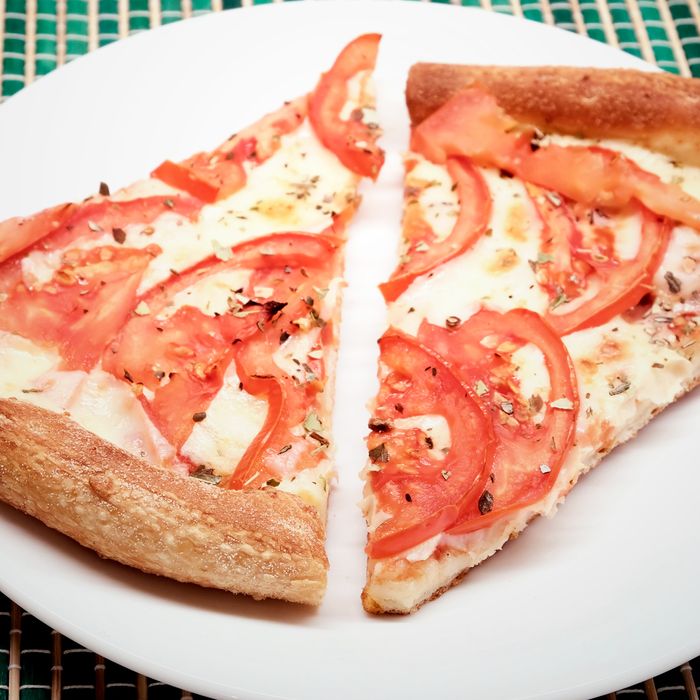 Get Sex Diaries delivered every week.
New York's Sex Diaries series asks anonymous city dwellers to record a week in their sex lives — with comic, tragic, often sexy, and always revealing results. This week, a single guy whose date goes numb after an encounter: 38, straight, Williamsburg.
DAY ONE
9 a.m. I live in a large apartment on the edge of Williamsburg. The only way I can afford to live here is that the apartment is large, with multiple bedrooms that I sometimes Airbnb. It's fine mostly and definitely than whatever toilet tank I could actually afford to live in on my salary.

9:30 a.m. I ride my bicycle to the office — the same mode of transportation I used when I was 10 years old. I do title work, which is in the real estate/insurance field. My job is pretty dull but fairly laid-back; I make the median income for New York City. And I can dress pretty close to how I normally dress, which is a huge plus.
12 p.m. It's one of my favorite times of the day, when I ask the age-old question: What's for lunch? I have a turkey sandwich and walk aimlessly around the office's post-industrial shithole neighborhood.
5 p.m. I go to the gym and work out really hard for two hours.
8 p.m. After the gym, Aileen hits me up. We met through work and later matched on Tinder, which I find to be the No. 1 most successful way to fuck somebody (meeting platonically, then later matching). People give Tinder a bad rap, but I fucking love it.
11 p.m. I go over to her apartment and hike up the stairs to her walk-up. Aileen is from the West Coast, 25 years old, and super laid-back but a fucking sexual animal. It's always the same routine: I come in and we chat for like four minutes and then start making out intensely; this time's no different. She furiously strips her clothes off, starts blowing me, and I stumble out of my pants and boots. I go down on her while she's standing up, creating sort of a seat for her butt with my hands. We tumble into the bedroom.
We cycle through three or four positions, both pouring sweat. We both come, then hang out for a little while. Her hands and face have apparently gone numb, which I guess is something that happens when she has sex. She rules. After a little while I get dressed and leave, sweat in my hair, and bike home. My face is kind of numb, too.
DAY TWO
9:30 a.m. It's fucking freezing out. I ride my bike to work anyway. The chain is making this fucked-up CHUNK-chack sound and I get some grease on the leg of my jeans, but they're black so it doesn't matter. I have just two pairs of jeans: In the winter I wear one pair until I get a visible lightly colored stain on them, usually from mustard.
12 p.m. It's lunchtime, which is the time of day when I purchase a gift for myself, the gift of food. I've decided today to go with the classic "Two Slices of Pizza and a Can of Seltzer." I'm always impressed when the guy behind the counter remembers what I get and puts it in the oven without me having to say anything.
5 p.m. I go to the gym and work out to within an inch of my life.
8 p.m. I hit up Mary, who I also met on Tinder. She's 24 and has dyed purple-green hair. She's from Long Island like me and I totally know how to relate to her on that level, even though I'm 14 years older than her. She texts back to say I should come over.
11 p.m. I go over to Mary's and right when I walk in the door, I grab her hair and push her up against the wall and start kissing her. I stick my hand up her shirt, which is a loose sweatshirt; she's wearing her chilling-at-home clothes, my favorite look on a girl. We go up to her room and she gets on her knees and starts sucking my dick and looking up at me, which she knows I like because she has really nice green eyes. I push her onto the bed and go down on her for a little while before putting a condom on and fucking  her until I finish. She's on her period, so I'm covered in blood by the end.
Then I drink a big glass of water and go submerge my dick in her sink and we chill for a little while and I bail, riding home the wrong way down the street in the middle of the night.
DAY THREE
9:30 a.m. I'm kind of bummed today because I make the mistake of starting to think about what's going on with me emotionally.
12:30 p.m. Okay, here goes: A few months ago I was in a serious relationship, the best one I've ever been in, with a great girl. I was actually happy, maybe for the first time in my life? We'd been dating for about a year, talking about moving in and all that. About eight months into the relationship I got news that my dad, who I had a complicated relationship with, had Stage 4 cancer. They gave him six months to live.
I went and visited him a few times and four months later, I was watching a priest pour his ashes into something that looked like a planter outside a church in North Carolina. That same week, my girlfriend broke up with me. I haven't heard a single word from her since.
8 p.m. It's been a hard day of thinking too hard.
DAY FOUR
12:30 p.m. Today is another turkey sandwich day.
6 p.m. I go to the gym and work out way too hard. I throw up as quietly as possible in the gym bathroom.
8 p.m. I select Gabrielle, 23, from my list of matches. Her bio says "I'm easy HMU" so I message her "I'm easy too" and she writes back, "No, you're not you look like a fuckin' headache." Which I think is awesome and we have a quick exchange before she says, "Come over." I head out, but she lives really far away on the Upper West Side. I'm hoping this won't be a waste of time, not that I ever really feel like it's a waste of time.
11 p.m. I get to her apartment and it's kind of spare, a mattress and box spring on the floor in the center of the room with a vibrator out on it. She has a tiny dog and it's going absolutely apeshit and biting at my shoes and my legs. She's kind of subdued, vaguely asking questions about me as she climbs onto the bed wearing this nightie thing and nothing else. She offers me weed, and I say no thanks I don't smoke. She's briefly incredulous but gets over it and hunts around for a lighter. She can't find one, so she gives up and just kind of rolls over and stops talking and pulls the bottom of her nightie aside so I can see everything. I'm like, huh.
I put my fingers inside her. She starts moaning and fires up her vibrator. After a little while I take a condom out and put it on and start fucking her. We have not kissed. She wants to change positions and rolls onto her back, and seems to be frustrated she cannot achieve an orgasm even with this comically oversize vibrator that sounds like a lawn mower. She tosses it aside and is like, "You should just come, which really is not the most orgasm-inducing phrase, but I get it together and I do come, inside the condom.
1 a.m. I sit next to her and it's clear she doesn't really want me around so I kind of amiably hover and chat with her for a few minutes. She says, "This is awkward," and I agree. I get dressed and leave, and then go to Duane Reade and buy a thing of pineapple and a bottle of Smart Water and an energy bar and wolf them down like I've just been rescued from a desert island.
DAY FIVE
9:30 a.m. I'm pretty fucking shot at work and can't really open my eyes all the way.
12 p.m. While I'm eating my two slices of pizza I get a Tinder message from what I'm sure is a bot, Jamie, 27. This girl is asking right up front about NSA sex, trying to get me to message her on Kik (whatever the fuck that is), the whole nine. So I give her my Google Voice number, because I'm sure this is somehow a scam. But then she says she lives at a specific place in the neighborhood, and it becomes apparent that she's real.
3 p.m. Jamie sends me some nudes. I'm covertly peeking at them in the office, but she won't meet unless I send a dick pic. I Google "dick pic" and send her one that looks close enough to my dick. She finds this acceptable and says I can come over and fuck her, but I have to be there between 5 and 5:30 p.m.
4:45 p.m. I duck out of work a little early and high-tail it over to her building. She lets me in the side door to her basement room (her roommates live upstairs). It's dimly lit and smells like weed. There's a dog barking upstairs. She takes off her shirt, and she's like, "I'll take care of the dog. Get it hard." So I do, and she comes back downstairs and takes over jerking me off and takes off the rest of her clothes. I put the condom on and she climbs up on the couch and bends over.
I fuck her for a little while, and she comes, holding her own hand over her mouth. I verbally confirm that that was indeed an orgasm, fuck her a little while longer, then give up on coming myself when I sense it's not going to happen.

6 p.m. I go to the gym and am grinning a lot.
DAY SIX

9:30 a.m. Usually on Fridays I work remotely. Today, it involves watching an entire season of Curb Your Enthusiasm.
12 p.m. I order pizza.
5 p.m. I skip the gym after work and go meet Frances, 31, for dinner in her neighborhood and then we go to her apartment. She is working on her second masters degree and has a sugar daddy who pays for her very nice place (and her entire life). In return, she goes on a date with him about once every three months and has 20 minutes of sex with him. Seems like a pretty sweet setup. We've been on one Tinder date before, after which we went back to her house, where I fingered her until she said she was feeling weird and I needed to leave, so I did.
8 p.m. She's holding my hand and kissing it and looking deeply into my eyes and everything. I think she is so rad and under different circumstances I could see myself really dating her, although I've never dated an active sex worker before. I guess I'd have to figure out how I feel about that.
11 p.m. I think maybe she is imagining some sort of future with me (I could be wrong, but I don't think I am), and I'm thinking this will probably be the last time I ever see her. We don't have sex.
DAY SEVEN
9:30 a.m. I'm 38 and I know I won't be able to do this forever — soon enough my hair will turn white or fall out or I'll get out of shape. I can't imagine how really attractive guys handle this. I'm like medium-attractive at best and old as shit and I feel like I need a secretary to schedule all of this dating and sex. But I love it, and I'm going to do it as long as I can, and probably for a while after that.
12 p.m. I basically do nothing all Saturday. The days when I'm not working, working out, or fucking, I pretty much lie around like I have the flu. I drink straight from a giant container of orange juice and marathon-watch whatever show is available, even if I don't like it, and order Seamless like 18 times and force my body to rest. I am entirely prepared to do nothing, less than nothing, all day and night, but Mary hits me up. She wants to come over and suck my dick (her words), so I'm not really sure how to deny her that basic right.
7 p.m. Mary shows up and her clothes are still radiating cold from being outside. She takes a throw pillow off the couch and puts it on the floor and gets on her knees and takes out my dick and methodically sucks until I come. As I'm coming she gives me this indescribable look with those green eyes, a look I will remember forever. She cleans up and smiles and I kiss her. We hang out for a bit before she leaves.
11 p.m. At this point I'm largely an animate corpse, a wet towel wrung dry.
Get Sex Diaries delivered every week.
Want to submit a sex diary? Email sexdiaries@nymag.com and tell us a little about yourself.