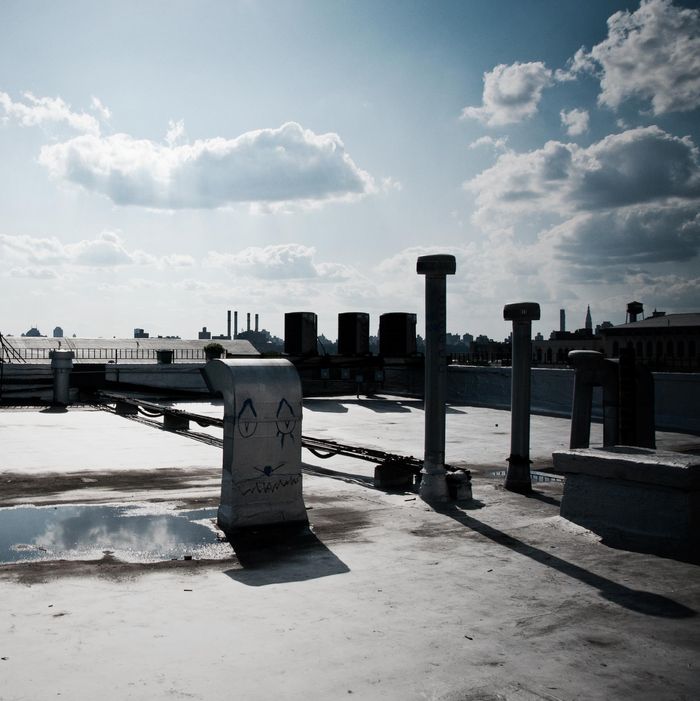 Photo: kkong5/Getty Images
Get Sex Diaries delivered every week.
New York's Sex Diaries series asks anonymous city dwellers to record a week in their sex lives — with comic, tragic, often sexy, and always revealing results. This week, a man whose relationship with sobriety comes first: 35, single, straight, Bushwick.
DAY ONE
6:15 a.m. I am awoken by the kids upstairs who stomp around and lose their minds at about 6 a.m. every day. It's not great. I'm only 35, but I don't think I'll ever want kids. I drag my ass out of bed.
7 a.m. I'm smoking a cigarette on my little terrace. The upstairs neighbors don't seem thrilled I smoke, but I'm not thrilled about their little noisy, early-bird monsters.
9:30 a.m. In my recording studio. I'm not a famous musician, but I'm a working musician who does okay. Today I'm scoring a small indie film. I smoke while I work. I smoke a pack a day. Reds.
11 a.m. I check Tinder every half-hour or so while working. I do this all day and have a bunch of flirtations going on with random women. On average, I go on three to five Tinder dates a week. It sounds like a lot, but I don't drink, so it's like, one cup of coffee or one iced tea and the date is usually over.
I've been sober two years. Before, I was a fat, gross, lazy-ass, depressed mess. I lived with my girlfriend of five years and put her through hell. I was always drinking or hung-over or farting or living in filth. She ran out of steam with me and I don't blame her. We probably weren't meant to be anyway, but thinking of those days disgusts me. Fun fact: She dates women now!
3 p.m. Coffee date No. 1. Daytime dates are usually no good because it means it's with a freelance-artist type like me, which means usually, they're a little nuts. Two people who are a little nuts isn't the best recipe. Maybe the best sex though!
5 p.m. She was a little cold, hard to read. Definitely turned off by my smoking, which pretty much everybody is. No one even tries to pretend they're cool with it. She was very pretty. Great tits. I love tits — big, small, fluffy, saggy. Hope that doesn't sound misogynistic — I'm a feminist and pro-female in every way. I have five sisters! They all live in California, as do my parents. I came out here alone for my career after college and never left.
6:30 p.m. I go to an AA meeting. I try to go a few times a week. I'm not really into it, but I promised my mom I'd commit to going so I do. I don't lie to my mom. I smoke a lot before and after.
8 p.m. I get into bed. Jerk off to image of fucking a bunch of big-titty women. Come into my hand and then use a box of tissues next to bed to wipe up. My orgasms aren't as strong as they used to be. When I come, it's quick and to the point.
DAY TWO
8 a.m. I have to record all day long. I do a little Tinder in between and I smoke a lot, but that's the bulk of my day. Work, Tinder, smoke, jerk off.
8:30 p.m. Comedy club with a Tinder girl I've been out with a few times before. She blew me the last time. We'll see how tonight goes. She's fun, low-key — which I love. Just not sure she's into me. Seems like the kind of girl who dates a ton of guys yet really doesn't need to be with a man at all.
11 p.m. We end up fucking at my apartment. It's pretty traditional sex, but nice. I like-y. Gotta say, I was surprised how un-kinky she was. These days, any woman under age 25 (she's 23) seems to be all about the spankings and threesomes. I went out with someone not too long ago who brought two butt plugs to our dinner. She inserted hers, but I couldn't do mine. It's really not my thing. This was at a trendy Mexican restaurant in Nolita. I was concerned about her digestion! Also, butt-plug girl smoked, which you would think would be a turn-on for me, but was actually gross. What a horrible, ex-drunk, tit-addicted hypocrite I am.
DAY THREE
10 a.m. A buddy is coming over to the recording studio. He brings some artisanal doughnuts, which I am very thankful for. I eat like a fat pig, even though I'm only a slightly puffy skinny guy. I guess my dick is the same, long — skinny, slightly puffy.  I think guys should talk about their cocks more. There'd be less pressure. Like that book Everybody Poops. Every Guy has a Cock. Well, most.
3:45 p.m. I leave the studio to enjoy New York City. I get ramen alone. Then some ice cream alone. I spend too much money on food, but at least it's not whiskey. Getting sober was a hard journey that involved two rehab centers and a lot of burned bridges, but I do enjoy my newfound sobriety. I don't struggle with it much. I'd like to sip nice wine with dinner, but that's the extent of the cravings. And maybe I will one day. Just not today.
8:30 p.m. Smoke. Jerk off. Last Tinder session. Bedtime!
DAY FOUR
8:30 a.m. One of my sisters is visiting today with her kids (two little girls under 10 and an 8-month-old baby boy). I gotta clean up my place. Put on some Tom Petty, my all-time favorite (so fuckin' sad he's dead). Clean my place and kind of drift away while doing it. It's days like this that I'm happy to not be hung-over.
4 p.m. Great day with the sis and her kids. She wants to set me up with some work contact who lives in Brooklyn. I'm game! I'm always game. I don't want to sound conceited but most girls who meet me like me. It's just hard for someone to stick in terms of my heart and desires. I rarely want to see someone again. If it happens, fine, and all good because that probably means sex. But the connection  rarely goes deeper than that. I'm okay with it. I think my relationship with sobriety has dominated the last two years. I'll know when I'm ready for someone or something else.
7 p.m. We all go out to pizza. I love being an uncle — I buy the kids whatever the want and they love to play with all my instruments. It's a really good time. After they all leave for the hotel, my sister texts me a photo of the girl she wants me to meet. Super cute! I text her a quick "Hey."
DAY FIVE
6 a.m. The little assholes are at it early upstairs. I go to my terrace to smoke and see the fix-up girl, Tessa, wrote back. I like that she's friends with my sister. My sisters are my best friends. I don't have a lot of other friends, to be honest. I've always been social but I don't keep up with anyone. It's my own fault. Again, probably has something to do with addiction and sobriety. But it's too early to unpack those feelings!
10 a.m. My sister's kids want to do Times Square and touristy stuff. I'm game! It's rainy out so it definitely crosses my mind that this would be a much better day if we could booze throughout the activities. Smoking is fine though.
5 p.m. I love my nieces and nephews but I've had enough. I go home to some peace and quiet and to catch up on my Tinder chats. I'm going to meet my sister and Tessa out tonight (my sister has a sitter). I choose a resto in Dumbo because it's touristy enough to make my sister feel like she's crossing something off her New York bucket list. It's also because it's a $7 Uber Pool from me.
11 p.m. Late night for me. YAWN! Tessa was funny. Great personality. She looked a little old, as in sexy cougar, for me. She's actually only two years older though. I think her job, which is very corporate, just gives her an older vibe. Not sure I'm digging that. But, great girl!
11:05 p.m. Too tired to beat off. Night!
DAY SIX
9:30 a.m. Back in the recording studio trying to make a deadline.
4 p.m. Coffee Tinder date. Her name is Willomena. I'm aroused by long, awkward names. I'm also aroused by her whole everything. I dig this girl. She's funny, vulnerable, easy to talk to. One neat thing about her is that she is trying to adopt a child.  Her brother was adopted and she really believes in adoption. I like it. I'll be the daddy, I want to say, but I don't. It's a hard process and she's super strong and positive about it all. I like her! We don't kiss. We hug good-bye. I ask if she'd like to have dinner some time and she says, "Absolutely."
8 p.m. I text Willomena to see if she can have dinner tomorrow. She says she can't. It's possible she's not feeling me. But I really think she is.
9 p.m. I ask her about dinner for the night after tomorrow. She says something to the effect of "I'll be in touch!" OUCH!
10 p.m. Smoke my last cigarette, jerk off to Willy, go to bed.
DAY SEVEN
9 a.m. Pretty sure I'll never hear from W again. It's possible that my sobriety turned her off. A serious woman who is trying to adopt a kid might be leary of an ex-drunk who smokes and doesn't have a conventional job. I get it. I'm slightly bummed but nothing I can't get over in a day or two.
4:40 p.m. I make my 5 p.m. deadline. It would be nice to celebrate. But how? With a Sprite? And with who? I feel a little bit depressed.
7 p.m. I caught up on TV. No shows excited me right now. I miss Breaking Bad.
8:30 p.m. Beat off and go to bed. I am lonely a lot of the time, but there must be something about me that enjoys loneliness — because if I didn't, wouldn't I work harder to change it? I want to love to sweep me off my feet … is that a real thing? I'd like to keep the faith that it is.
Get Sex Diaries delivered every week.
Want to submit a sex diary? Email sexdiaries@nymag.com and tell us a little about yourself.