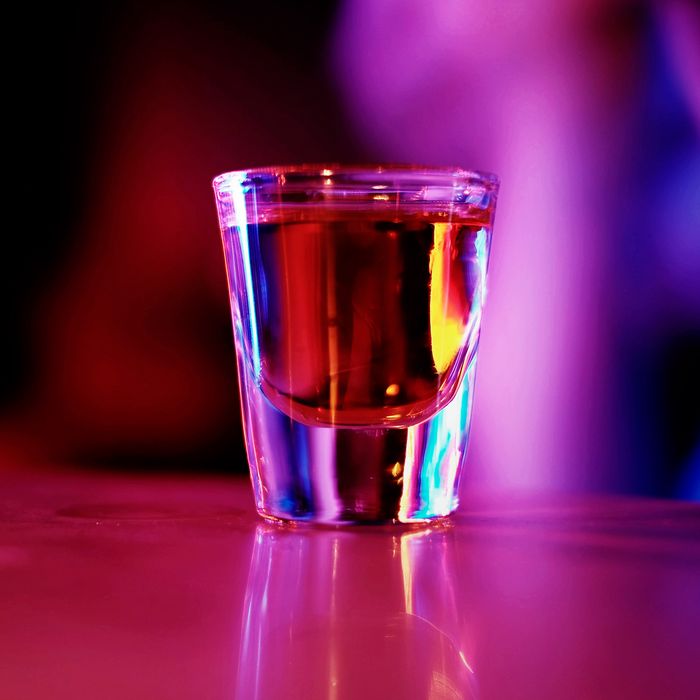 Get Sex Diaries delivered every week.
New York's Sex Diaries series asks anonymous city dwellers to record a week in their sex lives — with comic, tragic, often sexy, and always revealing results. This week, a woman lying to her live-in boyfriend about happy hour: 26, straight, in a relationship, Connecticut.
DAY ONE
5:50 a.m. Every morning I struggle with waking up. Especially lately. I've been with my boyfriend going on three years now, and recently things have been SUCH A STRUGGLE. I lie in bed a little longer and play with his hair a bit. I love the guy, I do. We met on Instagram after he DM'd me from seeing me on a mutual friend's page. Right away, we were inseparable. I was drawn to his ability to make me tap into my vulnerability and feel comfortable being emotional. But now … all too often I fantasize about the freedom of being in an open relationship, kind of like a commercial with a carefree woman running through a field of flowers, but replace flowers with dicks of my choosing. Sexual liberation. I want it.
6:10 a.m. Masturbate in the shower, fantasizing about a friend that I've had a crush on for a few years, Jameson. We made plans to have drinks this week, and my body can't help but get excited about it.
8:18 a.m. I work in the garment district in NYC and live with my boyfriend, who's a barber, in Connecticut. The commute sucks. Walking into the office, I say a sultry hello to our building's hot door man. Oddly enough I don't fantasize about him; I think it's because I make more money than he does, and the power dynamic is a turn-off. By the way, I'm young, vibrant, funny, beautiful, all the usual characteristics of a young black millennial with "the world at her fingertips" (plus, hidden commitment issues and a talent for sarcasm).
4:15 p.m. Trying to kill time at the office, I start texting old flames, just for attention. My boyfriend hasn't texted me back regarding dinner plans.
7:15 p.m. Home, walking the dog, smoking a jay, a routine I've come to really enjoy. I get in the house and begin my clean up in my phone, deleting the messages and Snapchats that entertained me all day. My bf is severely paranoid about phones (shit, I guess me too). Neither of us trusts each other, but we play along as if nothing is wrong because this relationship is too convenient right now, for both of us.
9:30 p.m. He gets in, we make dinner together and fall asleep watching TV, our ritual. I hate it because I normally jolt awake at 2 a.m. still on the couch and groggy as ever.
1:46 a.m. I get up from the bed and awaken my boyfriend from the couch and lazily tell him to come to bed.
DAY TWO
5:50 a.m. My drinks with Jameson is later this evening and my body is up off of pure excitement.
6:15 a.m. I skip masturbating today because I want the excitement to linger on my body a little longer. I hit my bowl as I get ready for work and smother my bf, who's still cozy in bed. My affection for him intensifies when I am up to no good. I'm glad he doesn't notice. Or maybe he does?
4:30 p.m. Distracted all day at work, my mind is on Jameson. I ignore most of my man's text messages — he's just not what I want right now. I touch up my makeup before I leave work and finally text my bf that my co-workers and I are heading to happy hour and I'll let him know when I'm on my way home. He sends me an annoyed emoji but recovers quickly with I love you have fun and be safe. All the assurance I need for my night to be a go.
7:30 p.m. My co-workers and I are on our second round of drinks. I receive a text from Jameson asking my whereabouts and if we're still meeting up. I ignore it, wanting to finish this drink before I text him back.
9 p.m. We all stumble out of the bar, laughing hysterically. I check my phone and realize I never texted Jameson back. I'm briefly stricken with panic, but he returns my texts promptly and gives me a place to meet him.
9:45 p.m. Jameson meets me and says he has to go back to the office to pick up some things. I don't mind.
10:30 p.m. We end up staying at his office and drinking with some of his buddies who have stayed behind. They start asking if we're an item. I get slightly uncomfortable but hold my composure. Jameson and I are both in relationships, just not with each other.
11 p.m. He shows me to his office where we make out on his desk like some TV drama, his hands grabbing me everywhere. I am beyond elated. He gets rock hard and puts my hand on it.  More rubbing, more intense making out, until I lead him out of the office and back to his friends.
2:30 a.m. Holy fuck, I just checked the clock in his car — I didn't realize it was so late. Jameson starts driving toward my place.
3 a.m. We pull up to my apartment; I'm drunk but a little sleepy. He goes in for more kisses, and I allow them, savoring these last few forbidden moments. He asks to come up and I break out in laughter. I reach in for one more final kiss and tell him I can't wait to do it again. I walk the long way into my place so as not to alarm my boyfriend or the dog. My boyfriend is livid when he comes to help me with the door. I immediately throw an excuse about my phone being dead and us getting lost in the city. It's late, I'm tired and in no mood to explain. I fall into bed and attempt to cuddle his cold shoulder, but he shrugs me off. I fall asleep tasting Jameson on my lips.
DAY THREE
8:30 a.m. I live for Saturday mornings and sleeping in past 6 a.m. My boyfriend wakes me up with butt rubs and simultaneously sliding my panties off. We have sex, my eyes are still closed. He slides off of me and gets ready for work in silence. I think he fucks me to see if I had sex with anyone else last night. I bring that up and he gets upset.
9 a.m. I roll up a jay for a walk with the dog and finally turn my phone on to a message from Jameson. I reply that I was still thinking about his lips. We start planning a New Year's escape for both of us in Miami. I know I'll never be able to pull that off with my boyfriend, but the thought engrosses me anyway; in fact, I spend my entire Saturday off masturbating to the idea.
4 p.m. I text my boyfriend that I love him and miss him. We plan a date for the evening. I spend the rest of the next few hours getting ready.
10 p.m. We had a great night together, no drama.
DAY FOUR
9:30 a.m. My boyfriend and I only have this one day off together so it's a routine for us to laze around in bed, both on our phones. He gets bored after a while and says that I spend too much time on my phone. I roll my eyes; he can be such a hypocrite.
11 a.m. We head to our usual breakfast spot, a local diner. I love how we play 'happy couple' in public, on cue, neither of us missing a beat, or a laugh, or an eye twinkle. I tell him the happy news that my older sister just got engaged. He shows fake interest before he steers the conversation around us; he gets upset when I joke or speak lightly about marriage, because I don't see marriage in the cards for me. Everyone except him has accepted this about me. I make it clear in the beginning of every relationship; I'm not into marriage or children. It's music to most men's ears at first, they assume they're either going to change my mind or I'm just waiting for "the right guy." It is kind of funny how all men are so similar in that regard.
2:30 p.m. We finished our errands. It's cold between us. Happens every time we have that talk. I don't mind. I enjoy the silence. I'm good at being angry and cold.
9 p.m. We're home in our own spaces. I'm smoking a jay in the bathroom, as my high grows, I climb on the couch and snuggle in between his arms. Weed makes me mushy; we lie there in silence for a while, watching trash TV. He gets up and goes to bed.
1:08 a.m. I've masturbated five times since he's gotten up. I have a cramp in my hand and I never took care of those munchies that have been growing in my belly. I grab a muffin and some kettle corn, wash it back with some white wine, and pray he's asleep when I walk into the bedroom.
DAY FIVE
6:40 a.m. FUCK, woke up late. I hate scrambling. Throws my whole day off.
1 p.m. I get a text from Jameson to brighten my day a bit. My boyfriend and I are in such a weird space. I welcome the distraction with open arms. He sends a simple "I want to see you" and I swear my pussy jumped. We plan for Tuesday.
7 p.m. Home, lighting a jay, walking the dog. Starting to mentally plan what I want to wear for Tuesday — something tight, I love when he gropes my curves.
10 p.m. My boyfriend is home later than usual. I don't even care to make a fuss about it.
11:30 p.m. We're in bed. I casually mention an upcoming happy hour with my co-workers. He groans and rolls his eyes, "Sure, whatever!" I am satisfied with that answer and turn to sleep.
DAY SIX
8:15 a.m. I'm arriving at the office, just as cheerful as ever. Today is the day I see my heartthrob, and I couldn't be more excited, I can barely contain myself the whole day.
5:30 p.m. My co-workers and I head over to our happy hour spot. We've already decided on shots, to speed up the process and warm us up from the frigid NY air.
7:47 p.m. Several tequila shots later and I am vying for a mouth to put my tongue in. I call Jameson, slightly slurring my words. He said he's finished up early and is heading to the train to wait for me. A man that waits for me at the train instead of me waiting in the cold … I'm more than ready.
8:25 p.m. Small talk, heading back to his office, more drinking.
10:30 p.m. I am leading him into his office for a 'Personal parent-teacher conference.' He smirks. God, he's so hot. I throw him back onto his desk and we make out ferociously. I start giving him a blow job, and he comes, fast.
11 p.m. I spit in his garbage and he laughs and kisses me on the mouth. Then I lead him out of the office and tell him I need to head back.
11:45 p.m. We arrive a street over from my place; even in my stupor I try to cover all my bases. More making out and promises of another visit.
11:50 p.m. When I walk inside, my boyfriend is lying on the couch annoyed that I ignored his texts from a few hours ago. I blame it on my phone dying yet again. He isn't buying it so I did what any other woman in my position would do: Climb on top of him and take him into my mouth. He looks surprised but doesn't stop me.  We have amazing sex and fall asleep like nothing happened. Perfect. I chuckle to myself at having given two blow jobs before midnight. Instead of guilt, excitement sets in.
DAY SEVEN
7:30 a.m. On the train, can't stop smiling and thinking about last night. I feel so wicked.
12:30 p.m. My boyfriend calls me. He mentions last night and I can hear him grinning. I love when he's happy like this. I wish it wasn't only sex that made him that way.
7:45 p.m. Jameson calls me on the way home. I ignore it. I'm in a happy place and plan on making more love this evening. I shoot him a text that I'm at a dinner. He says he wants to see me again, and soon. I smile. How about next Wednesday?
TKTK
Get Sex Diaries delivered every week.
Want to submit a sex diary? Email sexdiaries@nymag.com and tell us a little about yourself.