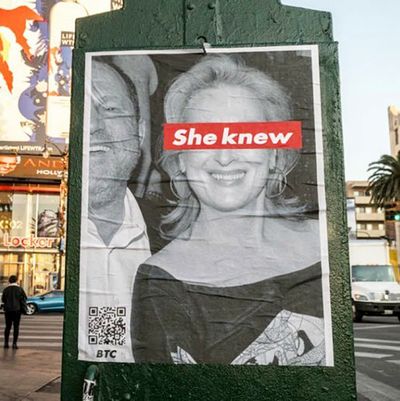 Photo: Courtesy of Twitter/ali
Posters claiming Meryl Streep knew about Harvey Weinstein's alleged history of sexual abuse showed up in various locations around Los Angeles on Tuesday, People reports. The prints feature a photo of Streep posing with Weinstein, while a red graphic with white text — in the style of artist Barbara Kruger and, later, Supreme — that reads "She Knew" obscures her eyes.
Whether or not Streep, a close collaborator of Weinstein's, was aware of his actions has been a matter of discussion since the allegations against him first became public. Shortly after the New York Times published their bombshell report, Streep released a statement saying she was "appalled" by Weinstein and that the women who came forward with their stories were "heroes"; she also claimed she didn't know about his behavior. Earlier this week, actress and vocal Weinstein accuser Rose McGowan sent a now-deleted tweet calling out Streep's "hypocrisy" in choosing to wear black to the Golden Globes as part of a silent protest against sexual harassment in Hollywood. Streep responded with another statement, saying, ""I wasn't deliberately silent. I didn't know. I don't tacitly approve of rape. I didn't know. I don't like young women being assaulted. I didn't know this was happening."
It's still unknown who's behind the "She Knew" street art but, as People points out, alt-right personality Mike Cernovich has repeatedly been promoting photos and stories about them on his social media feeds. Cernovich has been quick and vocal about bringing attention to sexual-misconduct cases when it involves left-leaning figures — back in October he threatened to publish the full "Shitty Men in Media" list, which contained anonymous harassment and assault allegations about various male members of the media. (Cernovich has previously claimed that "date rape does not exist" and was charged with rape in 2003, though it was reduced to "misdemeanor battery.")
The Cut will update this post as new information becomes available.
Update, 1:50 p.m.: The conservative street artist known as Sabo has taken credit for the work on his site, Unsavory Agents. He's also responsible for the image of a muscular, tattooed Ted Cruz that circulated in 2015 as well as other disparaging pieces based on liberal figures like Barack Obama and Hillary Clinton.