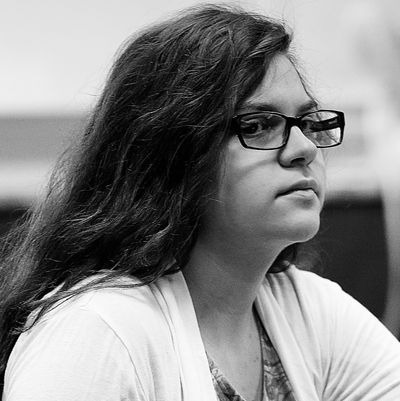 Anissa Weier.
Photo: Rick Wood/AP
One of the two girls from Wisconsin who attempted to kill a classmate to curry favor with the fictional Slender Man horror character was sentenced on Thursday to 25 years in a mental hospital, the Associated Press reports.
In August, Anissa Weier, 16, pleaded guilty to attempted second-degree homicide as a party to a crime. She and Morgan Geyser had been accused of luring a schoolmate into the woods in 2014 and stabbing her 19 times when they were only 12 years old — all for the Slender Man meme. The victim, Payton Leutner, was 12 at the time as well, and narrowly survived the attack.
Slender Man is an extremely creepy (and completely fictional) character that originated in a Photoshop contest on the Something Awful forums. He's a tall, thin mythical creature in a black suit and blank face, with tentacle-like appendages. Weier and Geyser reportedly told detectives that they had hoped to serve as proxies for Slender Man through the attempted murder.
According to the AP, Weier claimed she wasn't responsible for her actions since she was mentally ill. A jury agreed in September, and Waukesha County Circuit Judge Michael Bohren subsequently sentenced her to a mental hospital for 25 years since the date of the crime. She will therefore be institutionalized until age 37.