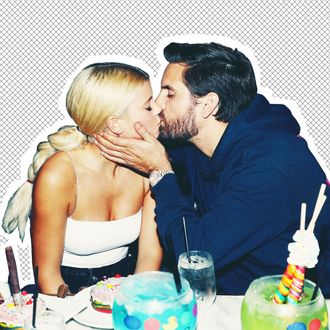 Sofia Richie and Scott Disick at Art Basel.
Photo: Getty Images
Welcome to You Know What I Heard, the Cut's weekly celebrity gossip column about the peregrinations of the rich and famous. Have gossip? Email me at allie.jones@nymag.com, send me a message on Twitter, or contact me on Signal (ask for the number).
As a rule, I try to avoid learning about anything that's going on at Art Basel, but this year, one story was inescapable: Sofia Richie and Scott Disick. Richie, who was born in 1998, has been dating Kourtney Kardashian's 34-year-old baby daddy for the better part of this year, and this past weekend in Miami, they posed for photos together for the first time. You can see them kissing at a "pop-up club" with drinks that look like they were designed for alcoholic toddlers in the photo above. According to People, Richie and Disick were "very touchy" at various ridiculous events throughout the festival.
"Page Six" reports, however, that Richie and Disick got into a fight on Saturday night. At the "Kith x Daniel Arsham" event hosted by Jayma Cardoso at the Surf Lodge pop-up at the W hotel (long sigh), a source saw the couple arguing. "[Richie] wouldn't even talk to [Disick]," the source told "Page Six." "He grabbed her neck to try and kiss her, and she wasn't having it. They ended up leaving."
But then, they made up: Per "Page Six," Richie and Disick "were later spotted arriving at LIV at the Fontainebleau around 4 a.m. Richie got into the DJ booth."
How does Disick maintain this disturbing relationship? According to People, he is … charming. "Scott has a sarcastic sense of humor that people love to be around — especially women," a source told the tabloid. "Despite his public persona, he can be charming and make you feel like the only person in the room."
The Kardashians' dedicated news network, E! News, reports that Kourtney is "happier than ever" leading a life separate from Disick.
Back in Hollywood, people are starting to get upset about awards season. The Golden Globe nominations were announced on Monday, and naturally, not everybody got one. Armie Hammer did, though, for his supporting actor role in Call Me By Your Name. Will he go on to win an Oscar?
He is certainly trying. Just before the Globes nominations came out, Hammer apologized for comments he made about Casey Affleck in an interview with The Hollywood Reporter. Affleck, you may remember, won Best Actor at the Globes and the Oscars last year, despite the media resurfacing sexual-harassment claims against him. (He settled lawsuits with two women who worked for him on his directorial debut in 2010.) Hammer pointed out to The Hollywood Reporter that Affleck coasted to the Oscars, while Nate Parker, who directed Hammer in Birth of a Nation, lost his career when a 1999 rape allegation against him resurfaced. It's a "double standard," Hammer said.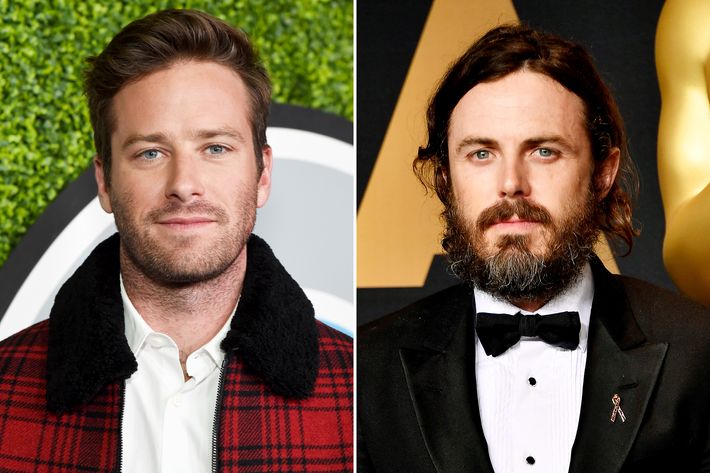 Except, now, uh, Hammer regrets the comparison. "I would like to sincerely apologize to Casey and his family for my recent comments about him in my THR interview," he said in a statement over the weekend. "Without knowing the facts about the civil lawsuits at issue (which I now understand were settled), I misspoke. I conflated sexual harassment cases with a criminal case involving sexual assault charges."
As Lainey Gossip pointed out Monday, the apology feels calculated. Hammer and Affleck are both represented by WME, for one thing. And "right now everyone's trying to angle their way in for a better chance at Oscar," Lainey wrote. "Everyone's trying to make sure they're not alienating a certain block of voters against them."
So, after everything that has come to light in the last few months, Hammer still has to embrace an accused sexual harasser to avoid upsetting certain members of Hollywood and succeed during awards season? Perhaps the whole thing should be cancelled this year.
In (happy?) relationship news, Dakota Johnson is "definitely dating" Gwyneth Paltrow's ex-husband and Coldplay frontman Chris Martin. A source told Us Weekly that "it's more than just a fling" and "Chris sends Dakota music to get her opinion." Another source said that during a recent dinner date at Sushi Park in Los Angeles, Martin "hummed a little bit" and asked Johnson what she thought of it. I have never dated a musician before, but I think I've got the idea now.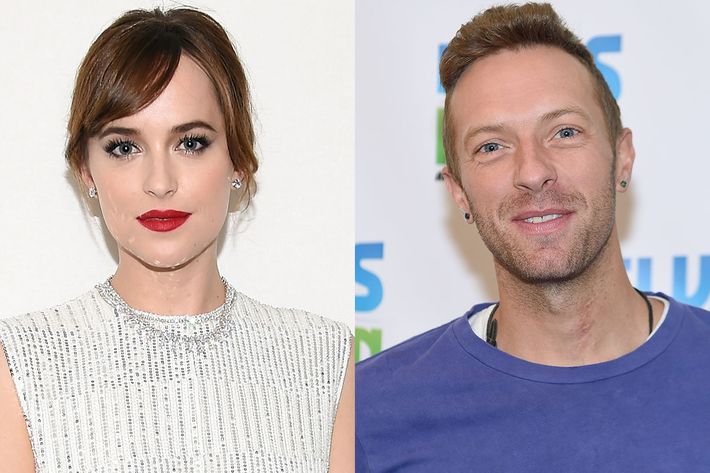 Us Weekly also reports that Robert Pattinson has found a "mystery blonde." He was spotted holding hands with her at Seth MacFarlane's "annual holiday party" on Saturday night. Pattinson broke things off with his fiancée FKA Twigs this year, and then he was rumored to be dating Katy Perry, but perhaps Mystery Blonde is The One.
Liev Schreiber is dating a blond with a name: Taylor Neisen. She is a 25-year-old former Miss USA contestant. (For the Miss USA historians: She competed the same year as Nick Jonas's ex-girlfriend Olivia Culpo.) "Page Six" spotted Schrieber and Neisen on an odd date Friday night: They attended the "Losers Lounge Tribute to Burt Bacharach" at Joe's Pub in New York. According to a source, "They seemed tentative with each other, and not all over each other. They left together after intermission."
Perhaps this is because she's actually the nanny? The New York Daily News reported in October that Schreiber and Neisen were dating, but Schreiber's publicist said that the pair "are friends and she sometimes helps out with the kids — they are not dating." A source told the Daily News, however, that Schreiber was only telling people that Neisen was his children's nanny because he agreed not to date anyone publicly for a year after splitting with Naomi Watts.
David Duchovny is dating a woman called Monique Pendleberry.
One small blessing from this week:
Here is a video of Taylor Swift's 26-year-old British boyfriend Joe Alwyn enjoying a concert with Taylor Swift.
Finally, which celebrities would you like to hear about next week? If you have questions about Ben Affleck or Kim Kardashian or Jennifer Lawrence's ex-boyfriend Darren Aronofsky, please let me know, and I will answer them to the best of my ability.
You can email me at allie.jones@nymag.com, send me a message on Twitter, or contact me on Signal, if you'd like to chat. Thanks for gossiping, and I'll see you next week.