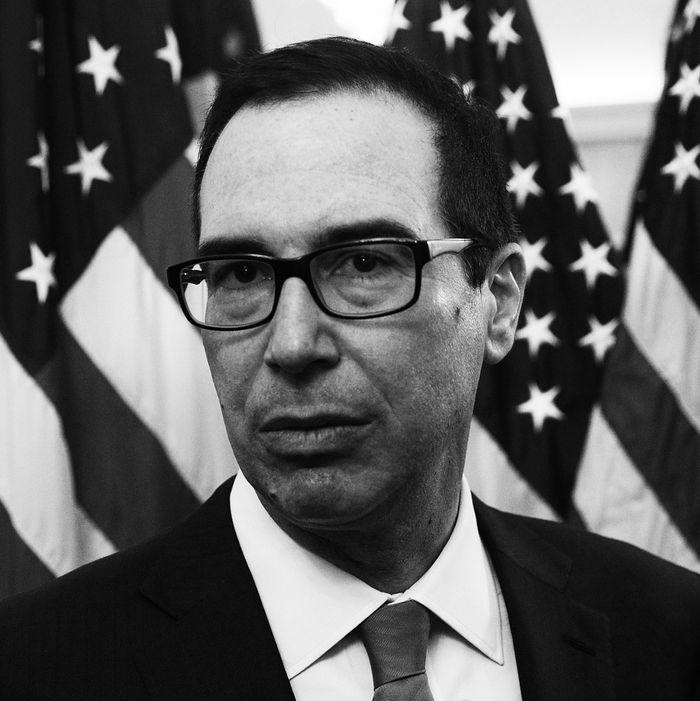 Steve Mnuchin.
Photo: Alex Wong/Getty Images
Shortly before Christmas, a Los Angeles Police Department bomb squad was deployed to Treasury secretary Steve Mnuchin's house to inspect a suspicious gift-wrapped package — which turned out to be filled with horse poop. Now, a man claiming to be the poop-gifter is speaking out, saying that it was an "act of political theater."
Los Angeles–based psychologist Robby Strong reportedly provided AL.com with "strong evidence" suggesting that he is the brave soul who left the horse-manure package outside of the real-life Bond villain's Bel-Air estate. He also posted several pictures to his Facebook page on Saturday, including images of himself with manure, a box full of manure, and an image of the package outside of a mansion.
Strong told AL.com that the package was meant as a "prank," and also a means to raise awareness about how the "Republicans have done nothing for the American worker." Per AL.com:
"The thing I live by is a rule of transparency and I was exercising my First Amendment rights," Strong told AL.com. "A few years ago when [a Supreme Court ruling] said that corporations are persons and money equals free speech, that is so absurd and my rule of thumb is now that if corporations are free speech, then so is horses***t."
The man claims that the Secret Service showed up at his house on Sunday to interview him, though they did not make any arrests. Strong also stressed that the "prank" was not dangerous — "It was a gift-wrapped package of poo, something a frat boy may do to another frat boy," he said — and explained that he dropped off the package himself because there are restrictions on mailing manure. "Is there a law that you can't drop off a box of poo? Not really," Strong added.