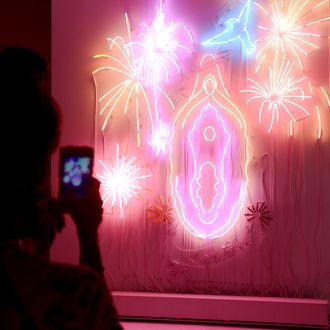 Vagina at Art Basel.
Photo: Madison McGaw/BFA.com
If your social-media accounts are lacking in vagina-related content, might we suggest heading down to Miami this week for Art Basel, where you can take as many selfies as your heart desires in front of a giant neon vagina?
Artist Suzy Kellems Dominik's light-up vagina installation, entitled I Can Feel, is on display in the lobby of Miami's Nautilus Hotel during the art festival. "It lights up for 26.8 seconds, which represents a fantasy orgasm," Dominik told Elle. She went on to explain that "the lights begin on the clitoris" (how nice) and that she's "poetically objectified myself as the 5'3" vagina in the center of the piece. That's my actual height."
Looking forward to seeing this vagina in everyone's profile pics.