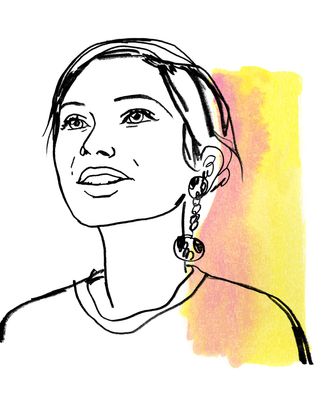 Illustration: Lauren Tamaki
Tavi Gevinson, 21, is the editor-in-chief of Rookie, an online magazine for teens, which she launched in 2011, at the age of 15. She began her career in publishing at 12 years old, when her incisive fashion blog Style Rookie made her a critical voice in fashion writing and nabbed her front-row seats at fashion shows around the world. Though she's had several acting roles over the past few years — such as appearing opposite Julia Louis-Dreyfus in 2013's Enough Said, and starring in This Is Our Youth on Broadway in 2014 — her focus is now back entirely on Rookie. Here, she shares how she gets it all done.
On the first few minutes of her morning:
My alarm is set for 8 a.m., and I do have the horrible habit of reaching for my phone immediately. What I've been trying to do lately is write down five things I'm grateful for that morning in my notes app. It's a mental-health thing. I was like, Oh, well, if I can't stop reaching for my phone first thing because it has my alarm on it, then I should start with that routine instead of reading whatever Trump tweeted last night.
On working from home:
If I know I'm going to be walking around and carrying my computer with me, I don't wear anything cute because I know I'm going to have my utilitarian backpack with me. So it's jeans and a T-shirt a lot. If I'm working from home, it's even worse — just pajamas, or a T-shirt and boxers. It's not great. I could probably stand to change that up. But I really love working from home and then emerging into the world at night. I don't get ready until it's 6 p.m. and I'm on my way to meet someone. I'm used to this; I've been unstructured for so long. There are certain kinds of structure or boundaries that I try to set, like not reading my email after a certain hour, but usually when I go home there are still things I have to do. I'm accustomed to working on my laptop while I'm watching TV at night.
On her role as editor-in-chief:
Right now, I am working on Rookie full-time. That's kind of ebbed and flowed over the years depending on other projects I've taken an interest in, usually acting-related. A lot of my day is meetings and editing writers and going back and forth with our other editors. I just try to be straightforward. Obviously, not everyone loves being edited, but it's typically a teenager I'm working with, so it could be their first or third time. I guess I try to be — not hand-holding, but the good kind of accessible. It's definitely been a learning curve, figuring out how to take this thing that I started in the space under my loft bed when I was 15 and seeing what it looks like now, as a job. It's interesting: when to be passionate and when it's just a job.
On her secret project:
I'm working on a book, and it's still not clear to me if it will be the best version of itself as nonfiction or more of an autobiographical novel. Right now I'm spending more time editing, which is kind of easier but also not as invigorating. It's not my full day right now; I've just been like, Okay, you just need to do a little bit every day. No one just sits down and completes a book all at once. I try to do 15 pages a day, usually at night. It feels weird to talk about some personal writing project that isn't done, but I also think that part of the reason it always feels like everyone else is killing it and you're falling behind is because people only give interviews and talk about what they've done once they've already done it — when they're promoting it and it's all over. It's nice to be a little transparent rather than create a lot of buildup around it in my head.
On the past and future of Rookie:
Looking back, I've become aware of some of my blind spots. In the beginning, it was easiest to pull stories from a smaller pool of people —because I started this by saying on my blog, "I'm starting this online teen magazine and who wants to be involved?" — and then taking those submissions. From there, a very consistent group of contributors emerged. As we had more people — editors, not just contributors — we were able to look more closely at the rest of our community. One of the biggest changes is that it feels, I hope, more inclusive and aware. We have a much wider range of voices, but hopefully without losing that tight-knit feel. Now that the readers and the tone have been established, I don't have to control as much anymore. And I am relieved. In the future, there's a lot more I'd like to do with it, and what really excites me is imagining the point where the people working on it — who I hire not just as writers and artists, but as editors — will be people who grew up reading it. I can mentor them and train them and it can feel even more like a collective. To be in a place that nurtures artists and writers and isn't heckling them to write clickbait is very important to me.
On pursuing acting:
I had an audition today. It's more about the individual projects, I guess, rather than saying, "I really want to do a movie this year and I'll just audition for every movie that comes my way." I have too much pride, and I'm naturally an insecure and paranoid person, and I don't know if auditioning constantly would work for me full-time. But if there's something I am specifically interested in, or excited about, I really try to go after it.
On using her platform for good:
We get so many questions at Rookie that are like, "I really want to do something to create meaningful social change! I want to be like Tavi or Amandla Stenberg or Rowan Blanchard, but what am I doing wrong? I'm not getting traction. I feel like my voice isn't important." And I want to be like, "Dude, I ran a fashion blog before I started talking about or wanting to write about anything at all related to social justice." Amandla and Rowan are actresses who were known for something else before they realized they could use that platform to speak out. There's this illusion that the internet is a democracy or a meritocracy, and that if your voice isn't rising to the top immediately, it's some problem with you. All of that is so defective. I think change is long and slow and hard. At the same time, I can go, Oh, I have this big follower count, so I should say something about the health-care bill and how to call your senators today, because it's super-easy. Every day is so upsetting and angering and can make me feel really nihilistic — but it also makes me thankful for what I do have.
On responding to readers:
I don't look at my comments and I don't look at my DMs. I've been doing this for almost ten years, and my brain's been developing at the same time, so I'm very interested in getting helpful feedback but also kind of … leaving behind the general chorus of voices that can make honest, creative freedom totally impossible for me. I'm not a school counselor. I'm not a therapist. I only have as many hours in a day as anyone else. I edit this publication and I write because I need to, but if I looked at everything and responded to even one person, then I would have to respond to everyone and the work wouldn't happen. A couple of times I've gotten involved in people's lives like that, and it never ends well. It doesn't help them. It's not an equal power balance. When girls write to us about how inadequate they feel and how shitty Instagram makes them feel and how cool other people look and how lame they are, I just want to be like, No, no, no, no! This is all strategic. You're doing great. Nothing exciting is happening over here except ambitious people in a constant state of panic. Including me.