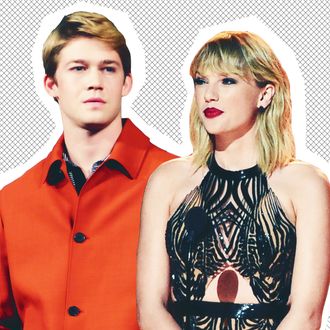 Taylor Swift and Joe Alwyn.
Photo: Getty Images
After months of waiting in darkness, Taylor Swift's followers finally received a blessing on Friday: a photo of Taylor Swift holding hands with her super-secret boyfriend, Joe Alwyn. (Alwyn is a 26-year-old British actor and Pisces.) The couple made their paparazzi debut outside Z100's Jingle Ball at Madison Square Garden, where Swift was performing. According to a People source, "Taylor was in the best mood. She was smiling and waving to fans."
A source told Us Weekly that Swift had a "private party" backstage at the concert, where "everyone was having a great time and Taylor was beaming." Beaming! Which celebrities were invited to witness this private happy party? According to the same source: Blake Lively and Ryan Reynolds, Ed Sheeran, the Dear Evan Hansen guy, and Jack Antonoff (sans Lena Dunham … hmm).
You can see more photos of Swift and Alwyn holding hands here and read some facts about Alwyn here.