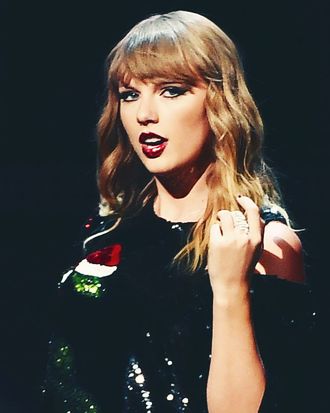 Taylor Swift.
Photo: ANGELA WEISS/AFP/Getty Images
Almost immediately after its release, Taylor Swift: The Swift Life, the app which promised users a Swift-themed, utopian social network in which they could share all of their Swiftiest hopes and dreams, has been plunged into chaos and rancor. According to the Daily Beast, less than 48 hours after its launch on Friday, The Swift Life was overrun by political posts, many from Trump supporters eager to defend their Swift standom.
"Republicans and Trump supporters have just as much right to be here as everyone," a fan named Britt wrote over the weekend in a since-deleted post. "There are people who voted for him or may vote Republican but didn't vote for him. They may not agree with his beliefs but at least he supports our troops."
"I just don't accept gays lesbians and bisexuals," another user said in the comments.
That Swift has a legion of Trump-supporting fans is far from surprising. Though she posted a picture of herself in line to vote for last year's presidential election, the singer never revealed for which candidate she cast her ballot. She has never publicly criticized Donald Trump, nor has she denounced his supporters on the alt-right who have praised her as an "Aryan goddess." Regardless of the political and cultural climate, she has done her best to remain the sweet, relatable girl-next-door, a blank canvas onto which her fans can project whatever they choose.
But, hey — toxic political vitriol aside, the app has Taymoji stickers of Swift's cats, so … that's pretty cool.
Read the full story here.