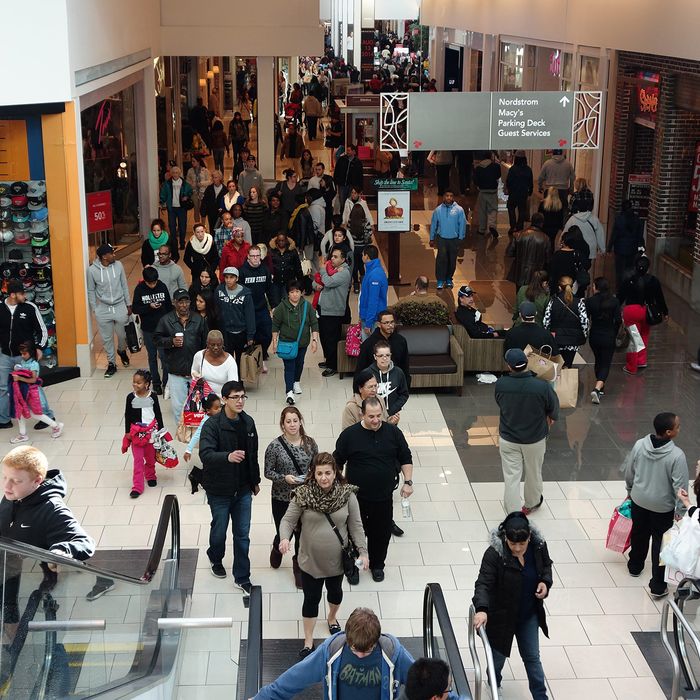 Cherry Hill Mall in New Jersey.
Photo: Robert Barnes#109827/flickr Editorial/Getty Images
When teens aren't busy having illegal Ikea sleepovers or jumping into zebra exhibits at the zoo for love, sometimes they find time to flock to the malls of New Jersey, where they kick doors and run up escalators the wrong way.
As NBC-10 reports, between 700 and 1,000 teens created such a disturbance at the Cherry Hill Mall in southern New Jersey the day after Christmas. Fellow shoppers were reportedly frightened as the teens moved around nonsensically, and a few fights even broke out.
"Kids [were] running up and down the escalator the wrong way, so they shut them off, but they just kept going up and down," one horrified witness told NBC-10. Another, speaking with WPVI, recalled, "They were shaking on the doors, kicking the doors. The kids outnumbered the adults ten to two. It was bad."
Police arrived around 7:30 p.m. to disperse the crowd, and five juveniles were eventually charged with disorderly conduct, resisting arrest, and other offenses. Luckily, no injuries to either teens or peaceful non-teen mallgoers were reported .