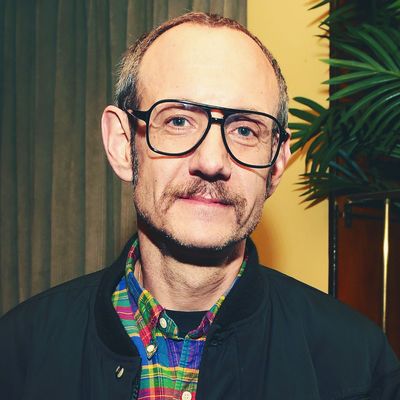 Terry Richardson.
Photo: Jason Kempin/Getty Images
On Wednesday, a model and designer named Lindsay Jones accused the once-celebrated photographer Terry Richardson of sexually assaulting her during a photo shoot in 2007. Richardson forced his penis into her face, Jones said in an interview with HuffPost, and ejaculated into her mouth. Richardson denied the allegations to the Post, and his lawyer, Lisa M. Buckley, called Jones an "opportunistic publicity seeker." Well, now another woman has come forward with a strikingly similar story about Richardson just one day later.
The New York Daily News published an interview this afternoon with a model named Caron Bernstein, who says Richardson forced oral sex on her during a shoot in 2003. The photographer took out his penis, forced it into her mouth, and ejaculated on her chest, Bernstein said. She described the alleged assault to the Daily News this way:
"It was like literally being shot with a stun gun. My brain just went on pause. I wasn't doing anything. I wasn't performing as a model. … I was like a deer in the headlights. I wasn't drugged, I wasn't handcuffed. Thank God that never happened. But in a weird way, that would have made it easier to forgive myself for not fighting him off."
Another of Richardson's lawyers, Brad D. Rose, told the Daily News that any contact Richardson had with Bernstein during the shoot was "consensual." He added, without citing any evidence, that Bernstein agreed to shoot sexually explicit material.
Bernstein denies this. "I didn't know this man from Adam," she told the Daily News. "I would never walk in somewhere and agree to a sex act with a stranger. I've never done that in my entire life. Never in a million years." Several friends confirmed to the Daily News that Bernstein told them about the alleged assault at the time.
Since the mid-2000s, several models have accused Richardson of sexual assault. Only recently, in the wake of the Harvey Weinstein scandal, has he completely fallen out of favor with the fashion crowd, however. In October, the New York Times reported that Richardson shot the cover image for Elle's January issue. That shoot was scrapped, the Times reported, after the Weinstein allegations came to light.