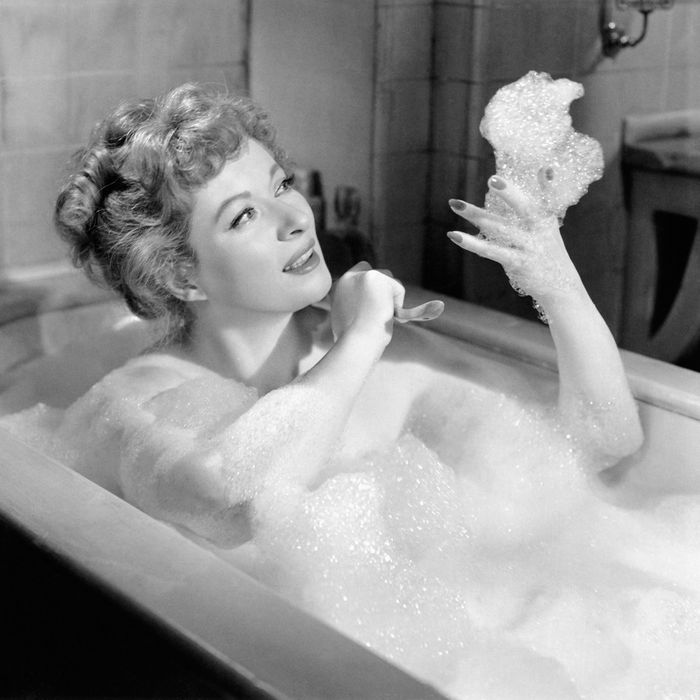 Photo: Vintage Images/Getty Images
Ever since I moved into my own apartment a few years ago, I've been taking an average of two baths a week whenever the temperature dips below 55 degrees. My tub is humble and barely fits my 5'3" body, so I need to rely on really good product to feel fancy. To me, that means lots and lots of bubbles — I want to feel like I'm Kate Moss at the Ritz in Paris, in a bathroom that's in danger of being engulfed in pink foam. But I also want it to smell great, and emerge from the bathtub with slippery, dewy skin. These are my current three favorite bubble baths for making that happen.
Epsom salts are typically known for more business than pleasure, but this bubble bath is so sudsy that it makes soothing muscle aches feel like a good time. Pour in a mere capful for a tub full of bubbles that last up to a half hour. If you don't like very strongly scented baths, you're in luck: it smells like almost nothing. And a giant bottle costs under $7.
The lavender scent of this bath has a melatonin-like effect; add a little to a bath for a fizzy cloud of sleepytime bubbles. One time, I got distracted listening to Serial and soaked in this for a full 45 minutes. Afterwards, I fell into one of the best naps of my life, my skin warm and my brain fuzzy but calm. Note that you want to be careful with the cap — it'll rust if you don't wipe it after using.
If You Enjoy a Nice Pinot Grigio
This bubble bath, which de-corks like a fine wine, makes Oprah's Favorite Things every year. It's scented like a gentle perfume with notes that sound like they came straight from Ina Garten's pantry (bee blossom honey figures prominently). The company claims that the bubbles "chatter" in the water, and they're very chatty — you'll be able to bathe in total frothiness till you become a nicely scented prune. Oh, and the Vitamin E in the formula will soften your skin while you're at it.
If you buy something through our links, New York may earn an affiliate commission.