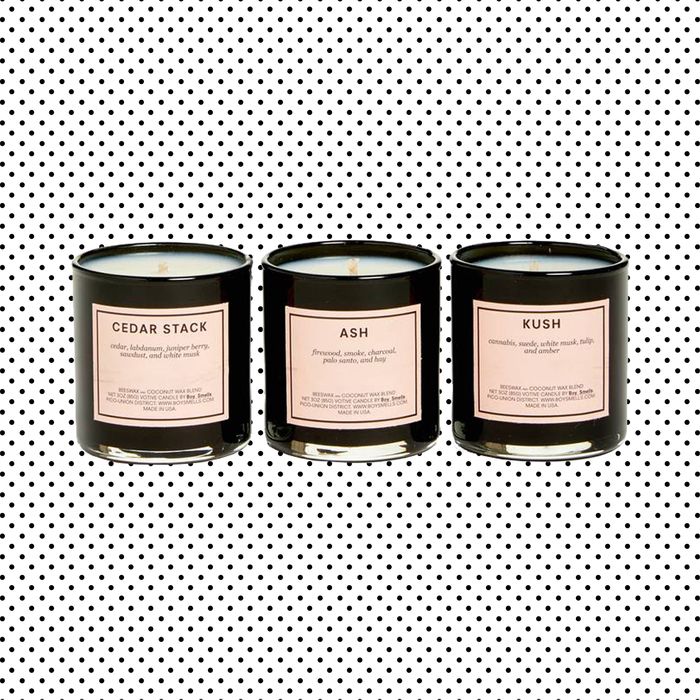 The Cut's Advent Calendar Gift Guide: Counting down to Christmas with one guaranteed-to-please gift idea under $100 every day.
I'm a fervent candle maniac (my winter night ritual includes lighting one every evening), but I was seemingly late to the party when I discovered the hype surrounding candle newcomer Boy Smells. Everyone is obsessed with these candles. Unironically created by two boys (really men), David Kien and Matthew Herman, Boy Smells is the manifestation of millennial aesthetics: Yes, the sleek millennial-pink packaging makes for a great Instagram backdrop, but the quirky, unconventional scents are what really set them apart. With names like Ash, Coin, and Kush (which actually includes notes of cannabis), they're far more interesting than a gardenia or lavender blend from Bath and Body Works.
Choose from more than 13 options or if you're completely new to the brand, try the votive set to sample their greatest hits (Kush is the favorite). They're less than $45 and make for cool decorative accents after they're burned. A cool gift for a friend … or for yourself.
Boy Smells Set of 3 Votive Candles
If you buy something through our links, New York may earn an affiliate commission.