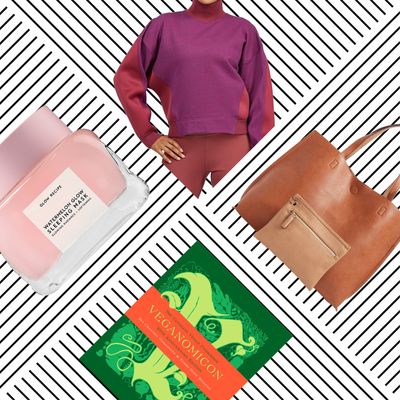 All of a sudden, it feels like all of my friends have gone vegan. And as someone who's tried and failed to become a vegan herself, I know it's a major lifestyle change. You can't just give up meat and dairy; you have to rethink what you wear, how you shop, what kind of bag you're using to tote your spiralized zucchini noodles to work. (One friend, a fashion editor, wound up selling all of her Céline bags to Buffalo Exchange. Gasp!) Below, we've rounded up 7 gifts that fit the bill for cruelty-free, animal-friendly gift giving, from a face mask to a faux-leather bag.
According to the best review on Amazon, this comprehensive recipe collection is "one more step in the quest to prove that vegan food really doesn't taste like cardboard when you know what you're doing."
A Gift Box They Won't Stop Talking About
For $23, your favorite vegan gets a box each month with ten or more goodies. One of the Cut's senior writers has bought these multiple times and swears they're always a hit.
A Vegetable Lover's Dream Appliance
You don't have to be vegan to need a spiralizer, but they're especially crucial if you've given up meat and dairy. This one has four attachments so that meals don't get dull.
A Sleeping Mask That Smells Like Watermelon
It's one of Sephora's top products, it's vegan-friendly, and our beauty director loves it.
A Faux-Leather Tote That Looks Real
This is the bag I'm buying my girlfriend. It might not be Céline, but the quality is high and it's the right size for work.
Vegan food can be a little tasteless. Herbs — especially fresh herbs that you grow yourself — can make a huge difference.
A Chic Cruelty-Free Sweatshirt
Stella McCartney, the fashion world's biggest champion of veganism, created this sweatshirt. It's so sweat-resistant that you can wear it even during hot yoga.
If you buy something through our links, New York may earn an affiliate commission.