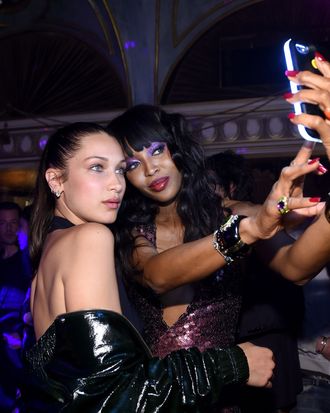 Photo: Dimitrios Kambouris/Getty Images
While the iPhone X may deliver masterpiece selfies, it is also absurdly expensive. This is a conundrum for you and your selfie-obsessed friends. But there's hope! There are plenty of cheap gadgets out there that can enhance photos so they look just as good as the iPhone X's. From a light beloved by beauty bloggers to a tiny phone stand, here are all the devices sure to please any serious selfie artist.
It takes a special selfie gadget to earn the Kardashians' approval. The Lumee Duo phone case, which is endorsed by Kim Kardashian West, is equipped with two bands of adjustable soft light. Click the case button once to activate flattering selfie light, or hit it twice to illuminate the foreground. Available for iPhones and Galaxy phones.
The Blogger-Approved Option
So a light-up case isn't your scene? Another option is a clip-on ring light you can toss in their bag post-selfie. Popular among beauty photographers and bloggers, ring lights distribute uniform, complexion-enhancing light. This one has three brightness settings so you can customize how ethereal you look when you're #bored, #hungry, or #lovinglife.
For Professional-Looking Selfies
Maybe you shouldn't limit yourself to three brightness settings, and step it up with ten. This set is equipped with three lights of varying warmth that can be dimmed and brightened to ten different levels. An enclosed stand and remote let you take hands-free photos, because you deserve to be your own Annie Leibovitz.
A Cheaper Hands-Free Option
If you only need a stand, here's a sturdy one you can attach to any table.
Shaky hands shouldn't hinder anyone's selfie ambitions. Attach this grip to the back of a phone to provide balance and avoid amateur hour blurs.
If You Must Buy a Selfie Stick
Here's a selfie stick that won't break after one use like so many do. This durable gadget grips to any phone, and it converts to a stand for the all-important studio selfie (Bluetooth remote included).
To Give Photos a Dramatic Edge
Professional photographers use reflectors to cast shadows or amplify flat light. You can create your own vivid photos with this foldable version at home.
If you buy something through our links, New York may earn an affiliate commission.