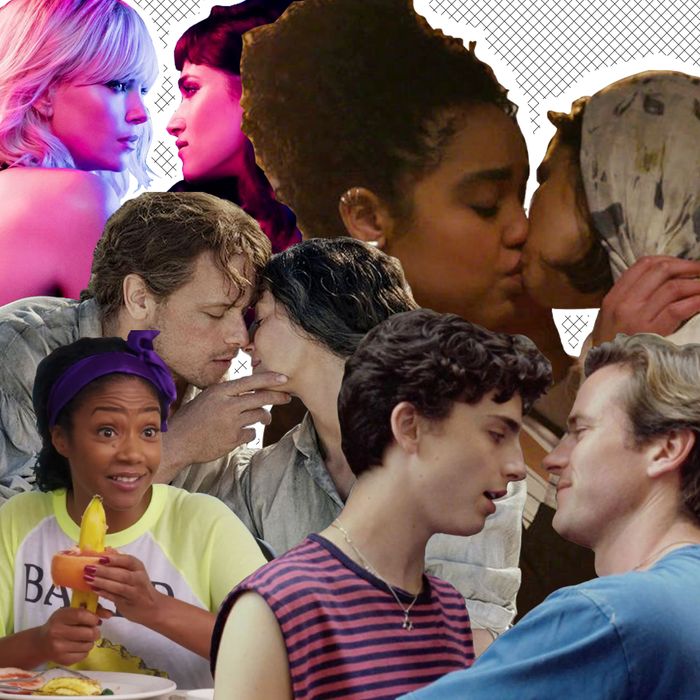 When it comes to boning in film and TV, 2017 offered an embarrassment of riches. This year's best sex scenes pushed the boundaries of familiar onscreen sex: from American Gods' epic four-minute gay sex scene to The Bold Type's queer mixed-race love story to the radical female gaze of I Love Dick. Some of these sex scenes were painfully relatable (Insecure); some were pure fantasy fodder (Outlander); and others made us see fruit in a whole new light (Girls Trip, Call Me by Your Name). 
While we chose some of these scenes simply because, well, they turned us on, a lot of these scenes used sex as a gateway to discuss larger concerns, whether that meant exploring the nuances of domestic violence (Big Little Lies), rebelling against an oppressive patriarchal regime (The Handmaid's Tale), or simply getting to the bottom of who Did the Dicks at Hanover High School (American Vandal). 
Here — in no particular order — are the best of the bunch:
The threesome scene in Professor Marston and the Wonder Women
Mrs. Marston and the Wonder Women, a biopic about the polyamorous BDSM relationship that inspired Wonder Woman, is an erotic delight from start to finish. After a whole lot of anticipatory buildup (involving a sexy lie-detector test and a voyeuristic sorority hazing ritual), our central trio (Rebecca Hall, Bella Heathcote, and Luke Evans) finally get it on for the first time backstage in a college auditorium. In a lush, sensual extended threesome scene, we watch the three lovers take turns giving and receiving pleasure, swaddling each another in various costumes and furs as they finally unleash their forbidden desires. It's one of the kinkiest — and most unexpectedly romantic — things I've seen all year. –Anna Silman
Tiffany Haddish's blow-job tutorial in Girls Trip: 
If Call Me by Your Name earned the humble peach a spot in the Fruit Sex Hall of Fame, then Girls Trip did the same for grapefruit. In Girls Trip, four friends gather for a raucous reunion weekend in New Orleans. And, of course, because this is a movie about friendship, bonding, and the power of sisterhood, there has to be at least one scene in which a more sexually experienced girlfriend imparts some wisdom to a girlfriend who hasn't gotten laid in a minute. In this case, Lisa (Jada Pinkett Smith), a single mom on a D mission, is confronted with the Mount Everest of dicks and doesn't know how to handle it, so Dina (future Oscar winner Tiffany Haddish) steps in with an age-old trick: "The Grapefruit Method," complete with a demonstration that requires her to slip a grapefruit onto a banana and go to town. Is it sexy to use a grapefruit as an enormous cock ring? Not at all. But what the scene lacks in eroticism, it makes up for in ingenuity and creativity. —Allison P. Davis
The peach scene in Call Me by Your Name
The greatest act of fruit-related autoeroticism since Girls Trip (made even better by the knowledge that director Luca Guadagnino and star Timothée Chalamet did in fact try this at home). –A.S.
Grey Worm and Missandei get it on on Game of Thrones
After three seasons of buildup, we finally got to see Essos's cutest couple — Missandei (Nathalie Emmanuel) and Grey Worm (Jacob Anderson) — have sex. And it's the rare Game of Thrones sex scene that feels like meaningful character development instead of gratuitous titillation. Grey Worm reveals his castrated nether regions to Missandei and then goes down on her — an encounter that feels unabashedly feminist, as well as offering a reminder us that there's more than one way for couples to be intimate. –A.S.
The American Vandal hand job
Hand jobs aren't typically the most exciting of sex acts, but the infamous hand job that Sarah Pearson allegedly gave Alex Trimboli at Camp Miniwanka — which, if it happened, could blow the entire American Vandal case wide open — deserves to go down in history. While we don't get to see the infamous act go down, we do get a high-quality 3-D reenactment, thanks to the video team at Hanover High — the most thorough sexual forensics unit since CSI: Miami. –A.S.
The four-minute gay sex scene in American Gods
From the second episode of American Gods — which involved a goddess who gains power by swallowing her sexual partners through her vagina — we knew that the Starz epic had a bold vision for onscreen sex. And with an explicit, epic four-minute-long gay sex scene between two Muslim men, featuring full-on dong shots and one of the men literally ejaculating a jet of flames, the show truly delivered. Bring on season two! –A.S.
Jamie and Claire finally have reunion sex on Outlander
It took 20 years (in show time) and six episodes before Jamie and Claire were reunited in the same century. You might hope they'd rip each other's clothes off on sight — but this was a slow burn rather than a gas fire. Their physical union started with Jamie's timid "I would very much like to kiss you, may I?" and then slowly, slowly progressed over awkward attempts at making out, tears, long conversations, and a multicourse dinner. Someone passed out and wet their pants; a brothel was involved. But after six episodes (and 20 years!), a 40-minute delay only heightened the moment they finally got it together and got it on. Turns out Outlander stans know the power of those teen promise rings: it's worth the wait. —APD 
Perry and Celeste's violent sex in Big Little Lies
Anchored by an award-winning performance by Nicole Kidman, Big Little Lies gave us one of TV's most nuanced depictions of domestic violence. In episode two, we see eroticism and abuse dangerously intertwined: Perry (Alexander Skarsgård) slaps Celeste (Kidman) violently across the face during a fight; shortly after, when they make rough, passionate love against a wall, viewers are left uncertain whether to be titillated or disturbed. As Hillary Kelly writes, "The scene is sexy and revolting all at once, since it's entirely unclear whether Celeste holds any power. Perry grips her wrists so tightly, and enters her so violently, that it's difficult to say whether it's consensual. Is she channeling his rage into sex to save herself? Is he raping her?" It's this ambiguity that makes the scene — and Perry's ongoing descent into full-blown monstrosity — that much more affecting. –A.S.
Issa's ho-tation on Insecure season two
After breaking up with her long-term boyfriend Lawrence, Issa spent about five seconds mourning and then decided boldly initiate a hook up with her hot, sleepy-eyed neighbor. She went over to his place with a flimsy excuse (lost phone charger? please), took control of her sex life, learned to feel herself, and started having fun … for a while, at least. Issa sort of lost control of her ho-tation (and sparked a battle of the sexes), but her first conquest is still an inspiration. —APD
Chris and Sylvère fantasize about Dick in I Love Dick
I Love Dick is all about the psychology of female desire — how sexual arousal takes place in the mind just as much as it does the body. In episode two, we see how Chris's (Kathryn Hahn) relationship with her husband Sylvère (Griffin Dunne) is reanimated by her attraction to another man (the titular Dick, played by Kevin Bacon). As Chris and Sylvère have sex, Chris imagines Dick sitting in a chair, directing them, watching them, even telling Chris when to come. As Chris sublimates her desire for Dick, Sylvère gets turned on by his wife's desire for another man. It's one of the best depictions I've seen of how couples integrate fantasy into their sex lives, and it's shot entirely from a woman's POV. –A.S.
Kristen Stewart's high-fashion solo sex in Personal Shopper
Maureen (Stewart), a professional shopper to the rich and famous, spends much of Olivier Assayas sumptuous erotic thriller sexting with a ghost — so it's fitting that the film's only sex scene would be between Maureen and nobody. Maybe it's because of all that pent-up sexual energy that comes from exchanging charged texts with a stranger, maybe it's the transgression of trying on her bosses clothes, or maybe it's because she looks so damn good in the sheer dress, leather harness, and five-inch Louboutins she slips into, but Maureen finds herself so turned on she ends up masturbating right in the high-thread count sheets of her employers bed one night. It's a nice acknowledgement that sometimes we put on fuck-me heels just because we want to fuck ourselves. —APD
Kat and Adena's airport tryst in The Bold Type
From its very first episode, the love story between Kat (Aisha Dee) and Adena (Nikohl Boosheri) on The Bold Type was shipping fodder — after all, how often is it that you see a mixed-race lesbian love story on prime-time TV (not to mention one featuring a Muslim woman who wears a hijab)? In episode nine, when Adena gets held at customs and is threatened with deportation, Kat makes the ultimate romantic gesture, shelling out $11,000 to spend a night with Adena in the first-class airport lounge. What follows is a gorgeous evening of talking, smooching, and sexing in a lush pillow fort — one that handily delivered on a season's worth of high-stakes tension. –A.S.
Charlize Theron and Sofia Boutella in Atomic Blonde
Typically in action films, your Tom Cruises or Daniel Craigs end up sleeping with their damsels in distress. It's boring. Atomic Blonde, Theron's Soviet-era spy movie, proves that action movies really don't need men at all: not for the brutal extended fight sequences, and especially not when it comes to sex. There was no scene more satisfying than watching two beautiful women, Theron and Sofia Boutella, have hot sex after a day spent destroying lunkhead bad guys and outwitting their whiny enemies (looking at you, James McAvoy). Bonus: The lingerie choices were impeccable. —APD
Sally Hawkins and a Fish-Man have surprisingly moving sex in The Shape of Water
Sex with vampires: Over it. Banging a werewolf: C'mon. Everyone knows the new hot species is a half-man, half-fish. Who knew sex with a Merman could be so tender? Guillermo del Toro, I suppose. —APD
The Square's condom fight
Come for the lengthy sex scene between Elisabeth Moss and hunky Danish Jon Hamm–alike Claes Bang (yes, his real name); stay for the condom tug-of-war at the end, when the pair tussle vigorously over some semen remnants (he thinks she's going to use it to impregnate herself because he's such a hotshot; she is rightfully appalled at the suggestion). It's one of The Square's most delightfully absurd comic set pieces — and that's before you factor in the random chimpanzee chilling the next room. –A.S.
The threesome in Blade Runner 2049: If Tinder is any indication, Blade Runner's vision of future relationships — healthy, loving partnerships with bespoke artificially intelligent holograms — is probably a best-case scenario. At least Denis Villeneuve's vision of the sex we'll have with our computer lovers has been upgraded from Spike Jonze's 2013 Her. In Blade Runner, Mariette (MacKenzie Davis) acts as a surrogate for K's (Ryan Gosling) holo-girlfriend Joi, who projects her digital form over Mariette's human form. It's a feat of visual effects and by far the weirdest, most original sex scene of 2017. And sometimes, weirdest is best. –APD
The only triumphant sex scene in The Handmaid's Tale
Honestly, the sex in Hulu's The Handmaid's Tale was mostly harrowing: a parade of nonconsensual, mechanical acts that reminded viewers over and over how easy it is for women to lose control of their bodies. But there was a single, shining moment in episode five when sex was shown in a different light — when June, in a moment of resistance and rebellion, has sex with Nick, her Commander's driver for the second time. While the first was orchestrated as an attempt to get her pregnant, this time was purely about June's desire. It was consensual, filled with want and power and life, and June totally got on top. In 2017, is there any sex hotter than sex that's a tool against the patriarchy? —APD